U-Turn Audio Set to Launch Orbit Theory Turntable in September
U-Turn Audio has just announced the September launch of the Orbit Theory Turntable, the next-gen upgrade in the company's popular Orbit series of 'tables. The Orbit Theory comes with an OA3 Pro tonearm, featuring a one‐piece magnesium armtube with an Ortofon 2M Blue cartridge included. (The company tells me an Ortofon 2M Bronze cartridge option is "coming soon.") The Orbit Theory is available with either an ebonized white oak or rift-cut walnut hardwood plinth. (The latter option is shown above; the former option can be seen further down in the story.)
The 'table's list price is $999, but if you want a Theory with a built‐in Pluto 2 phono preamp, that will cost you $1,069. The Pluto 2 features WIMA film capacitors and precision resistors, an active subsonic filter, and dual high-performance gain stages.
The upgraded gimbal bearing in the OA3 Pro is said to allow for near‐frictionless tonearm movement, and is easily adjustable. A knob located in the lower lefthand corner of the plinth enables manual adjustment for 33 and 45rpm playback, respectively.
Other Orbit Theory features include an ultra‐quiet motor with electronic speed control; Sorbothane‐damped feet for vibration isolation; a frosted, grooved acrylic platter; machined aluminum spindle; and seamless silicone belt.
Finally, every U-Turn turntable is assembled by hand and tested in U-Turn's Woburn, Massachusetts workshop. When the company is ready to take orders for the Orbit Theory, you can go here to find out where to get yours.
With all this in mind — and you can further study all the features and specs below — it sounds to me like we oughtta schedule an official AnalogPlanet product review of the U-Turn Orbit Theory 'table, STAT.
Spoiler alert: We have, in fact, just scheduled said review, so stay tuned for that evaluation, coming soon to AP.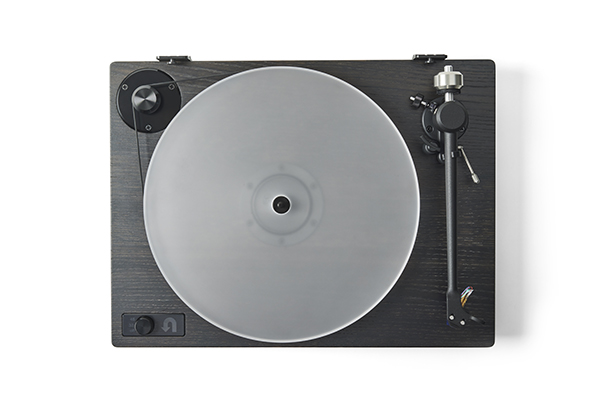 U-TURN ORBIT THEORY TURNTABLE
$999 / $1,069 with built‐in Pluto 2 phono preamp
Features
Tonearm: OA3 Pro molded magnesium armtube with adjustable anti‐skate and dial counterweight
Cartridge: Ortofon 2M Blue with nude elliptical stylus
Cue Lever: silicone‐damped
Ultra‐Quiet Motor: AC synchronous with advanced motor controller
Electronic Speed Control: knob-turned (33rpm / 45rpm)
Drive Belt: seamless silicone
Main Bearing: self‐lubricating polymer bearings with stainless steel shaft; precision aluminum spindle
Plinth: choice of solid hardwood ebonized white oak or rift-cut walnut
Isolation Feet: adjustable‐height aluminum feet with Sorbothane for vibration damping
Platter: grooved acrylic platter with frosted finish
Specs
Dimensions: 16.75 x 12.5 x 4.25 in
Wow & Flutter: < 0.1 %
Nominal Speed: +/‐ 0.5%
S/N Ratio: ‐79 dBA
Rumble: ‐72 dBA
Input Voltage: 115V/60Hz
Output Connection: RCA
Warranty: 3‐year limited warranty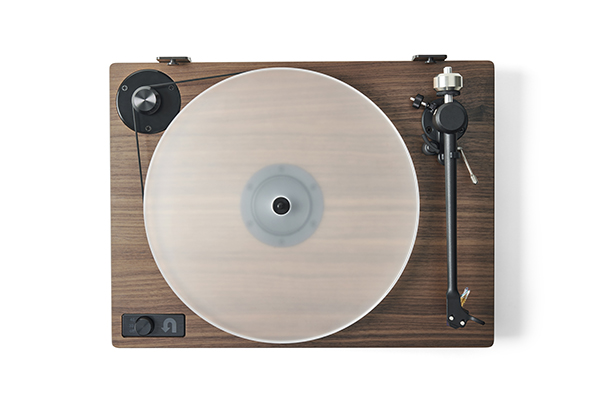 <!- ------------------------------------>