Ultrasonicrecords Adds Dryer Cube to Compliment V-8 Cleaning Machine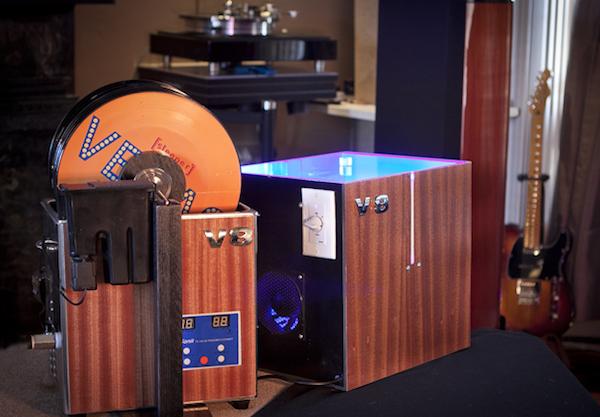 Owners of the ultrasonicrecords.com V-8 ultrasonic record cleaner have long been clamoring for a drying device. Now there is one.
The Dryer Cube is an approximately 12"x14"x15" five pound box incorporating a timer controlled high speed fan. Simply lift the cleaned but wet records (up to 8 at a time) out of the V-8 and drop them into the Cube. A steady stream of filtered air dries them. With an extra drive rod and a set of spacers it's possible to clean 40+ records an hour says designer David Ratcliff, who builds the Dryer Cube all himself by hand.
Price will be $795 "a la carte". Current V-8 owners ordering by April 15th can save $300 and get one for $495. New customers ordering both a V-8 and the Dry Cube by April 15th will get a package price of $1995.
Mr. Ratcliff says the unit will be available in both the standard black finish and an upgraded wood finish. The V-8 will also be available in the upgraded wood finish.
Visit ultrasonicrecords.com for ordering and additional information.
<!- ------------------------------------>
| | | | | | | | | | | |
| --- | --- | --- | --- | --- | --- | --- | --- | --- | --- | --- |
| | Equipment Reviews | | The Gruvy Awards | | Blogs | Columns | | Show Reports | | News |