UMe Readies Huge Reissue and First Issue Series Celebrating Leonard Bernstein's Centenary
UMe celebrates the centenary of Leonard Bernstein's birth with a late career "completist" agenda of his DGG and DECCA catalogs as both a conductor and composer. The series includes for the first time his complete works as a composer.
While the vinyl outpouring is small from this enormous recorded catalog UMe began the celebration last November with "the release of perhaps the most famous Bernstein recordings of all: the nine Beethoven symphonies with the Vienna Philharmonic. Not only artistic and musical benchmarks, they also established new technical standards through their use of quadraphonic sound. These legendary performances from 1977/78 can now once again be enjoyed, both on 5 CDs and on a Blu-ray Audio disc on which they are presented for the first time in surround sound." The press release says the Beethoven cycle will be released on vinyl as a 9 LP limited edition box set on April 13th.
The source of the vinyl box or who mastered it was not given but let's assume it was from the Blu-ray 192/24 bit files.
Here's another part of the blurb:
Los Angeles – March 8 , 2018 – Deutsche Grammophon/UMe marks the Leonard Bernstein centenary (born August 25, 1918) in suitably monumental style. For the first time, Bernstein's complete works will be available on CD in a single boxed set, as will his legacy as a conductor. In addition there will be a series of spectacular new releases and reissues reflecting some of the many high points of this multifaceted musician's rich and varied career – the legendary Beethoven recordings of the 1970s, for example, as well as previously unreleased live recordings from Tanglewood, Mass with Yannick Nézet-Séguin and, of course, examples of Bernstein's celebrated work in musical theatre.
Leonard Bernstein (1918-1990) was a man of many roles – composer, conductor, pianist, musical educator – a man hailed by pianist Arthur Rubinstein as a "universal genius." A charismatic communicator, he had few equals when it came to enthusing others about music. Whether at festivals such as Tanglewood in the U.S. or Schleswig-Holstein in northern Germany, in a TV studio or a university lecture hall, Bernstein's presence, passion and unquestioned commitment to his art were palpable.
That same intensity also characterised his work as a performer. A number of his recordings still have reference status – his Mahler cycle, for instance, or Gershwin's Rhapsody in Blue with Bernstein himself at the piano. The son of a Ukrainian immigrant, he knew no musical boundaries: he played jazz, engaged with Jewish folk traditions, and was as at home on Broadway as he was in Europe's venerable opera houses. In his own music seriousness stands cheek by jowl with satire, musical with Mass, the modern with the traditional. His reinterpretation of Beethoven's Ninth as an "Ode to Freedom" in Berlin, shortly after the fall of the Berlin Wall, was simply unforgettable. Less than a year later, he died of cancer."
Anyone who grew up watching Bernstein's televised "Young People's Concerts" (which you can find on YouTube and should watch preferably with your children if you have any) was forever impressed.
The blurb continues: "His work remains, however, and an incredible range of recordings will now be issued by Deutsche Grammophon at regular intervals throughout the anniversary year. Both familiar material and rarities are on the menu, as is a set of world-premiere recordings, with DG releases planned for virtually every month, the label's schedule running in parallel with the Leonard Bernstein Office's "Leonard Bernstein at 100" centennial celebration program. At the heart of the DG project are the two editions of Bernstein's œuvre as composer and performer respectively.
Bernstein – Complete Recordings on Deutsche Grammophon and Decca, available March 9, contains all of Bernstein's recordings as a conductor for DG and Decca, together with his complete DG/Unitel DVD catalog. Comprising 121 CDs, 36 DVDs and a Blu-ray Audio disc, it features such legendary recordings as Wagner's Tristan und Isolde (1981), Bizet's Carmen (1972), works by Stravinsky and Shostakovich and, of course, the complete symphonies of Beethoven and Mahler.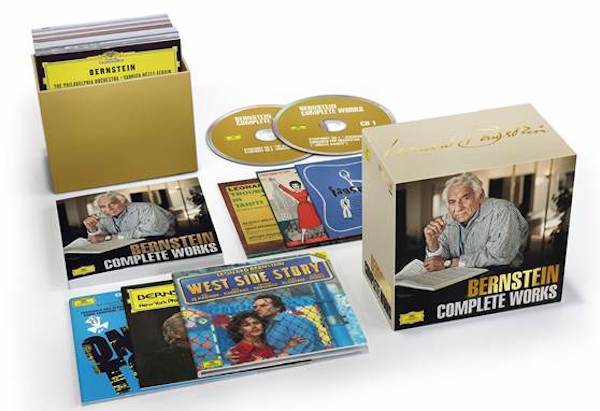 AnalogPlanet has made a digital exception here, prompted by the Beethoven cycle on vinyl but this will not become routine! Don't worry.
I have the original Bernstein DGG Beethoven symphonies box. I haven't played it for years as I found the recording "odd" and not nearly as good as Von Karajan's early '60s "from the balcony" one for DGG. What I most recall odd about it was that you could easily hear Bernstein tapping his feet on the podium—and that was before I had speakers that could go deep—so I wonder if the engineers have found a way to digitally clean that up!
It would be great if UMe would open the tape vaults for outside reissue labels to honor Bernstein with some AAA vinyl releases.
<!- ------------------------------------>