"Uncle Meat" and "Roxy and Elsewhere" Reissued On Vinyl By Zappa Records/Barking Pumpkin Records—Sources Revealed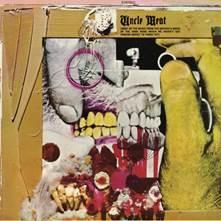 The Zappa Family Trust recently announced remastered vinyl reissues of these two significant double LP Frank Zappa records. Release date is December 17th. The press release says "Joe Travers, Zappa Family Trust Vaultmeister worked with Chris Bellman of Bernie Grundman Mastering on these vinyl projects".
Zappa Family Trust "vaultmeister" Joe Travers says Roxy & Elswhere was cut from original 1/4" analog tape masters. Unfortunately the original 1968 edited Uncle Meat master is "damaged in parts", so he transferred the tape at 96k/24 bit along with a second set of analog safety masters that were in "excellent shape" and produced from those two elements and new cutting master. So it is, he says a "high res digitally restored master from U.M.R.K. 2013." U.M.R.K standing for "Utility Muffin Research Kitchen", Frank Zappa's recording studio.
Meanwhile thanks to an Analogplanet reader I got to hear the digitally sourced vinyl reissue of Freak Out and the analog sourced reissue of Over-Nite Sensation. The digitally remastered Freak Out sounded better than my AAA version on side one, while the rest was close enough to render a "buy" verdict. My side 1, with a "RE-4" in the inner groove area sounded murky and plain lousy compared to the digital remaster and to the earlier version he also brought along. The remaining sides sounded identical.
The Over-Nite… reissue sounded arguably better than the original as I recall the listening session.
Uncle Meat, first released in 1969 ranks among the most creative and musically enjoyable Mothers albums and even made the Billboard charts, peaking at #43. It also sounds great.
Roxy and Elsewhere, a double live set was pulled from three 1973 evenings at the Sunset Strip's famed Roxy and 1974 dates at Edinborough State College in Pennsylvania and Chicago's Auditorium Theater. It highlights what a fine touring group Zappa had back then, though there were some studio overdubs (guess what? Most "live" rock recordings are either partially or totally overdubbed!).
We'll get the source poop on these titles ASAP.
<!- ------------------------------------>