Vinyl Review Explosion: Sweet Trip, Mac Miller, Brendan Benson, and Ed O'Brien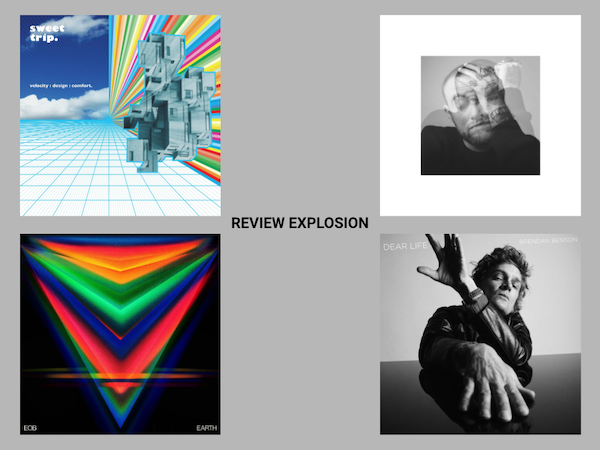 (Review Explosion is a recurring AnalogPlanet feature covering recent releases for which we either don't have sufficient time to fully explore, or that are not worthy of it. Curated by AnalogPlanet contributing editor Malachi Lui, Review Explosion focuses on the previous few months' new releases and reissues.)
Sweet Trip - Velocity: Design: Comfort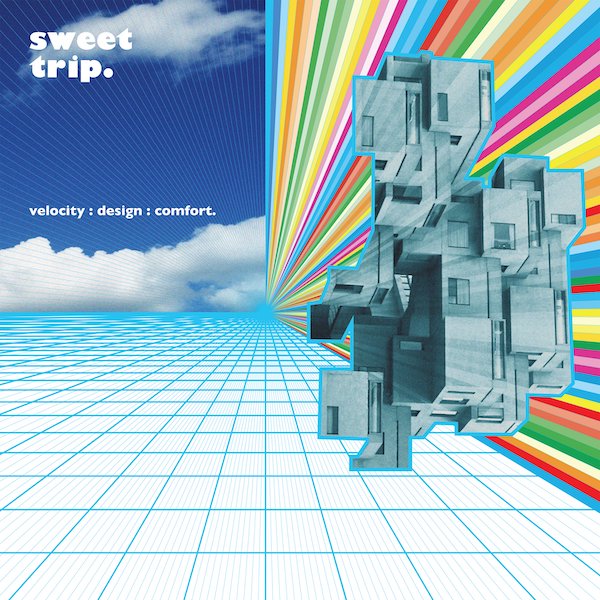 Darla DRL-136-1 limited edition clear/blue 2LP (sold out; limited purple/pink 2LP still available)
Produced by: Sweet Trip
Engineered by: Sweet Trip
Mixed by: Sweet Trip
Mastered by: Scott Hull at Masterdisk
Music: 8
Sound: 9
Long acclaimed on /mu/ and RateYourMusic yet virtually unknown to the rest of the world, Sweet Trip's 2003 album Velocity: Design: Comfort just got its first-ever vinyl release. Masterminded by musical architect Roby Burgos, on V:D:C Sweet Trip perfected their unique dance punk-infused blend of IDM and shoegaze. Musically, it simultaneously exists inside a computerized universe and a lonely real-life locked bedroom (the album's actual recording location for two years), each side sonically portrayed as vast and desolate. The lyrics, sung by Burgos, Valarie Reyes, and Sue Mee, are minimal to the extent of completely open to interpretation; Burgos claims Velocity: Design: Comfort to be a breakup album of sorts, while online communities theorize a narrative about a robot and a human falling in love. The commonly accepted latter isn't invalid, as several mid-album songs have almost conversational bleeping and blooping. In spite of its slight over-length, V:D:C is a melodic, expansive, immaculately arranged, and timeless LP like no other. I could go into extensive song-by-song specifics, but it's best personally heard as a full piece. Fans of My Bloody Valentine, Aphex Twin, and Stereolab will especially love this album.
V:D:C's legendary status prompted Darla Records to finally and correctly release a vinyl edition with a slightly rearranged tracklist (for even side lengths). Available in two colored vinyl editions of 1000 each (sold out clear/blue and still accessible pink/purple), the $33 double LP set sounds excellent. Scott Hull at Masterdisk remastered the album from the 44.1/24 masters, revealing more musical detail than before. The individual elements in even the densest mixes stand out, and the quieter moments have seemingly infinite space. The colored vinyl LPs pressed at Gotta Groove are dead quiet with by far the blackest backgrounds I've heard on any new album or reissue this year. Adding to the truly deluxe presentation is the gatefold sleeve with new artwork (even the front cover differs slightly from the original CD) and UV spot gloss, proving the cover also ahead of its time. Altogether, this Velocity: Design: Comfort double LP is a must-have edition of a classic record.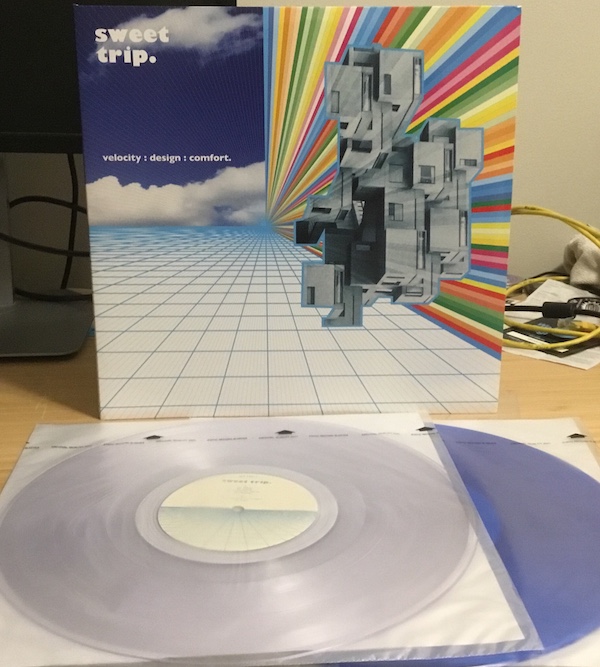 Mac Miller - Circles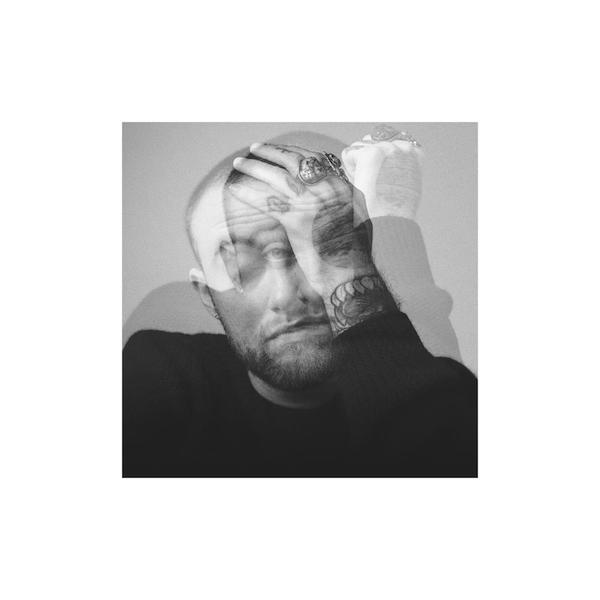 Warner Records 093624905592 clear vinyl 2LP
Produced by: Mac Miller, Jon Brion, etc
Engineered by: Vic Wainstein, Eric Caudieux, Greg Koller, et al
Mixed by: Greg Koller
Mastered by: Patricia Sullivan at Bernie Grundman Mastering (digital), Ian Sefchick at Capitol Mastering (vinyl)
Music: 7
Sound: 8
In the midst of his 2018 LP Swimming's release, rapper/singer/musician/producer Mac Miller recorded much of its follow-up, Circles (the two connecting as Swimming In Circles). Before finishing the record, Miller sadly died at 26 from an accidental mixed toxicity drug overdose. Swimming prominently utilized R&B backing, but Circles is mostly a rock record of sorts, marked by live instrumentation and Miller's often raspy sung lyrics. Following his death, producer Jon Brion (known for his work with Fiona Apple, Kanye West, and on many film soundtracks), "based on his time and conversations" with Mac, compiled and finished the record.
Knowing the circumstances of Miller's death, Circles is far from an easy listen; his lyrical honesty makes it seem as if you're hearing his last words. Despite the laidback instrumentals' glimpses of light, the lyrics and vocal performances are resigned and hopeless. On "Good News," Mac sings about isolation from those around him ("Good news, that's all they wanna hear/No they don't like you when you're down") and wishing for more in the afterlife ("There's a whole lot more for me waiting on the other side/I'm always wondering if it feel like summer"). "Blue World" desires to "turn around, do 180º" and how "the Devil's on my doorstep, being so shady," and on the bare album closer "Once A Day," he says, "Every now and again, baby, I get high." Also difficult given the recording's close proximity to his death is the title track's opening line, "Well, this is what you look like right before you fall." There are still some lesser cuts: "Woods" underwhelms, "Hand Me Downs" gets repetitive, and the physical edition bonus tracks don't provide anything special. However, when heard amongst the aforementioned highlights plus "I Can See," "Complicated," and a cover of Arthur Lee's "Everybody's Gotta Live," the filler is more than tolerable.
The $35 vinyl edition, dropping May 29 (CD and digital already available; I procured an early LP copy), for a new release shows the utmost care. Patricia Sullivan at Bernie Grundman Mastering prepared the already great 44.1/24 digital files, while Ian Sefchick at Capitol Mastering cut the Precision-pressed clear vinyl LPs. Adding to a presence rarely felt on posthumously-completed albums, above the rest of the instrumentation Mac's closely and carefully miked voice towers. The (mostly) live drums have perfect timbre and depth, supplemented by the other instruments' excellent sound. Because of some songs' inferior vocal recording quality, the sound rating is an 8, but the frequent sonic highs meet audiophile standards (though the overall bright tonality won't universally appeal). The Precision pressing is physically good, and the music obscures the frequent underlying surface noise. Further, the uncoated capacity jacket's debossed cover image almost feels like a photo frame; the package also contains a double-sided 36x24" credits poster. Overall, Circles' vinyl edition is finely executed and consumer-minded, fitting for an album so immensely considerate of its late artist's legacy.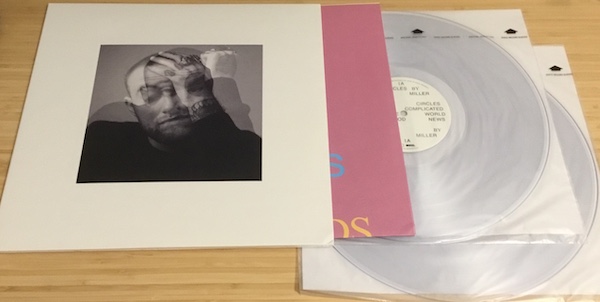 Brendan Benson - Dear Life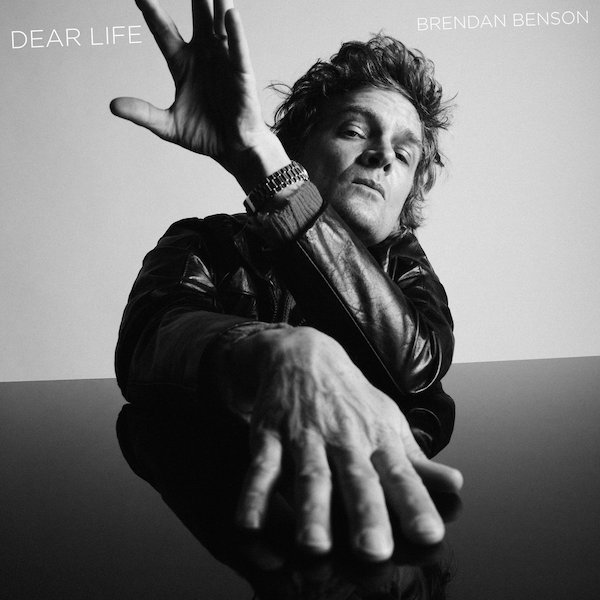 Third Man Records TMR-650 LP
Produced by: Brendan Benson
Engineered by: Brendan Benson
Mixed by: Michael Ilbert at Hansa Studios
Mastered by: Joe LaPorta at Sterling Sound (digital), Bill Skibbe at Third Man Mastering (vinyl)
Music: 6
Sound: 7
Seven years after his previous solo LP, the self-released You Were Right, singer-songwriter Brendan Benson returned recently to Third Man Records to release Dear Life. While among mainstream audiences he's best known as the Raconteurs co-frontman, Benson's two decades of solo work, often categorized as power pop, proves quite consistently good. With some added electronic elements, Dear Life is a generally well-written LP celebrating family life (Benson, now 49, is married with two kids). Side one's highlights are excellent; lead single "Good To Be Alive" is melodic dance pop, "Half A Boy (Half A Man)"'s harmonies are perfectly and simply constructed, and "Richest Man" is fun, vintage-sounding rock n' roll. Side two's songs, although pleasant, end almost too quickly to notice; before you know it, you hear the somewhat dangling closer "Who's Gonna Love You" (the LP runs 32 minutes).
Unfortunately, the mixing is quite inconsistent. Tracks like "Good To Be Alive" and "I Quit" have properly tight mixes, but others sound unorganized. "I Can If You Want Me To" goes between volume extremes with sounds in the mix hanging too loose, "Half A Boy (Half A Man)" (released as a standalone single three years ago) is somehow mastered lower than the rest of the album, and "Who's Gonna Love You"'s incoherent mix adds to the song's inconclusive feeling. The mixing issues are prominent enough to negatively affect my enjoyment of the LP,and reveal that the musical production could've perhaps been better focused. Still, the mastering is tonally pleasing, the Third Man pressing is good, and a tip-on gatefold jacket rounds out an enjoyable album's affordable ($18 retail) release. Dear Life, notwithstanding its structure and production issues, delivers quality songs that will entertain a wide-ranging audience.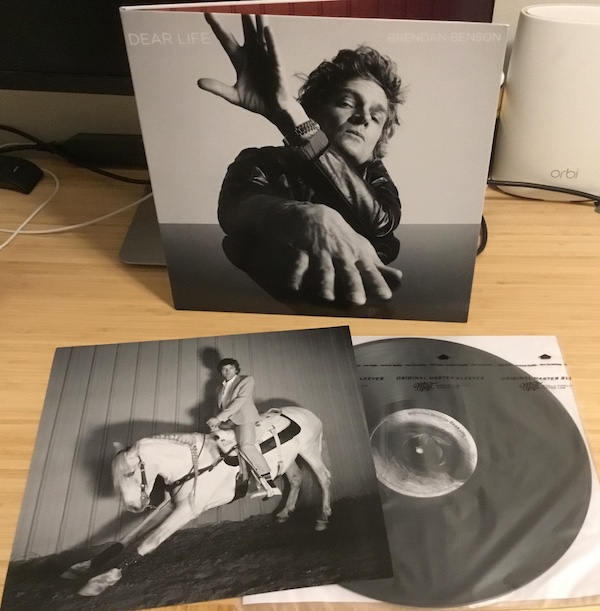 EOB - Earth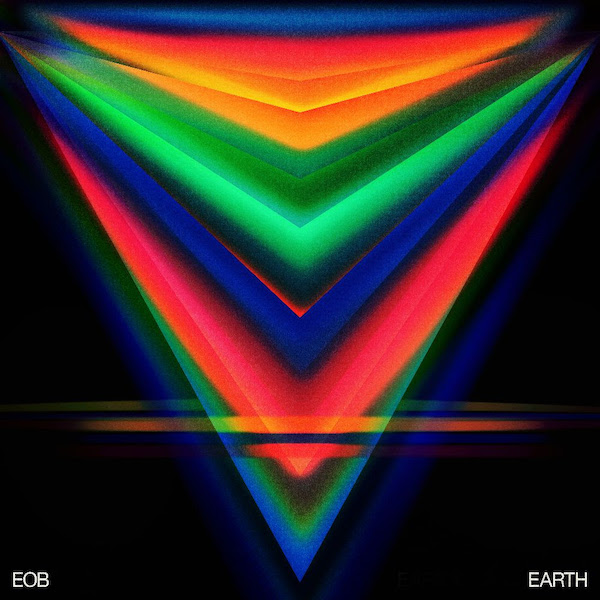 Capitol Records B003133201 indie-exclusive transparent orange vinyl LP (black vinyl widely available)
Produced by: Flood
Engineered by: Adam "Cecil" Bartlett, Richie Kennedy, and Ian Davenport
Mixed by: Alan Moulder, Caesar Edmunds, and Flood
Mastered by: Stephen Marcussen (digital), unknown (vinyl)
Music: 6
Sound: 7
Long presumed to be its secret weapon, Radiohead guitarist Ed O'Brien (under his initials EOB) finally dropped his debut solo LP Earth. Inspired by his extended 2012 stay in Brazil plus Primal Scream's 1991 album Screamadelica, Earth is not the genre-bending epic O'Brien clearly intended. Whereas Screamadelica defied classification and even with its timestamped context sounds fresh 30 years later, Earth already sounds dated and mostly boring. In stark contrast to Radiohead's consistently innovative explorations, EOB's solo record stays safe in the comfort of conventional post-OK Computer British rock. He alternates between sluggish electric guitar numbers and gentle folk, the former mostly backed by questionably programmed drums. The elements simply don't mesh; for a record titled Earth, it sounds strangely manufactured. Still, there are a few highlights: album opener "Shangri-La" is a calm rocker with a graceful buildup, and the first part of "Brazil" is soothing folk, detailing O'Brien's temporary move to the country. Both are stylistically and melodically enjoyable, but Earth's 46-minute runtime drives those formulae into the ground.
"Where did all the money go?" EOB repeatedly asks on the 2008 recession-themed "Banksters." I'm wondering where my $27 went, because this record underwhelms musically and sonically. I bought the US translucent orange vinyl pressing, manufactured at an anonymous but mediocre pressing plant. The insert credits John Davis at London's Metropolis Mastering as the lacquer cutting engineer, although the American pressing has neither his initials nor handwriting (there's a separate EU version, actually cut by Davis and pressed at Optimal). Save for the painfully bloated bass, it sounds mostly identical to the 88.2/24 MQA stream. "Brasil"'s electronic kick drum on the stream sounds fine, but on the US LP causes earaches; I reduce the bass 3dB for this album. The overwhelming low end could possibly be a plating issue, as there's no reason to cut drastically boosted bass. Thankfully, the vinyl is at least quiet with only a slight edge warp. All paper packaging components are on recycled stock, including the gatefold sleeve and six lithographs. The artwork is just like the album: colorful but boring. All in all, Earth is a waste of money for Radiohead completists who probably won't even like it.
(Malachi Lui is an AnalogPlanet contributing editor, music lover, record collector, Drainer, and highly opinionated sneaker enthusiast. Listen to his monthly playlist on Spotify and Tidal, and follow him on Twitter: @MalachiLui.)
<!- ------------------------------------>