Vinyl Review Explosion: Yves Tumor, Grimes, Perfume Genius, and King Krule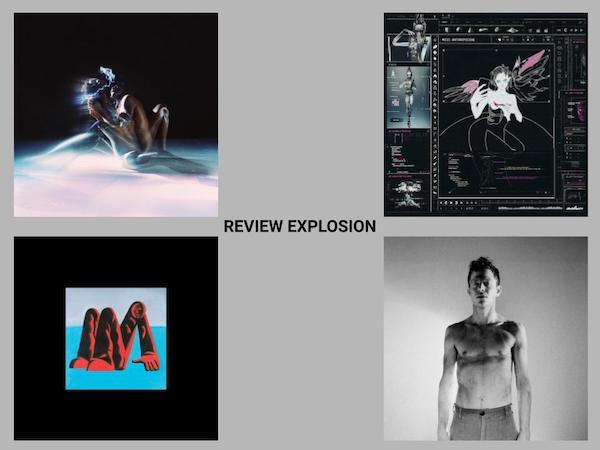 (Review Explosion is a recurring AnalogPlanet feature covering recent releases for which we either don't have sufficient time to fully explore, or that are not worthy of it. Curated by AnalogPlanet contributing editor Malachi Lui, Review Explosion focuses on the previous few months' new releases.)
Yves Tumor - Heaven To A Tortured Mind
Warp Records WARPLP304 standard black vinyl LP (indie-exclusive silver vinyl also available)
Produced by: Justin Raisen, Yves Tumor, and Yves Rothman
Engineered by: Anthony Paul Lopez, Justin Raisen, and Yves Rothman
Mixed by: Colin Dupuis
Mastered by: Mike Bozzi at Bernie Grundman Mastering
Music: 8
Sound: 8
As their often-jarring work gets more attention, Yves Tumor (a moniker of Sean Bowie, who goes by male and nonbinary pronouns) released their most accessible album yet, Heaven To A Tortured Mind. Whereas their previous LP Safe In The Hands Of Love is at times pure experimental chaos, Heaven To A Tortured Mind is abstract, futuristic psychedelic soul; it's familiar yet fresh. Yves Tumor's lyrics are fragmented and dreamlike, alternating between disturbing ("Medicine Burn" and "Pure Water"), romantically pleading ("Gospel For A New Century," "Romanticist," and "Super Stars"), and a combination of both ("Folie Imposée"). The compositions incorporate manipulated or almost hidden horns and woodwinds, layers of distorted guitars, unusual vocal harmonies, and elements unidentifiable. Even with such focus-grabbing detail, Heaven To A Tortured Mind retains a very dreamlike landscape, its only disruption being the somewhat awkward track order. It's one of the most daring art rock albums in quite some time, and Yves Tumor's all-around cutting-edge nature is bound for further success.
The vinyl edition (same pressing for all territories) was pressed and likely cut at Optimal. Mike Bozzi at Bernie Grundman Mastering digitally mastered the record, which sounds quite good. The imaging is excellent and the timbral balance, especially on the full-sounding drums, with an added modern sharpness, is reminiscent of 70s recordings. The visually mysterious gatefold jacket and printed inner sleeve are both laminated, and the download card (with a 44.1/16 download through Bleep) has a custom design. For the inexpensive ($20) price, the vinyl edition of Heaven To A Tortured Mind adds a dimension not found on the digital stream and is definitely worth the purchase.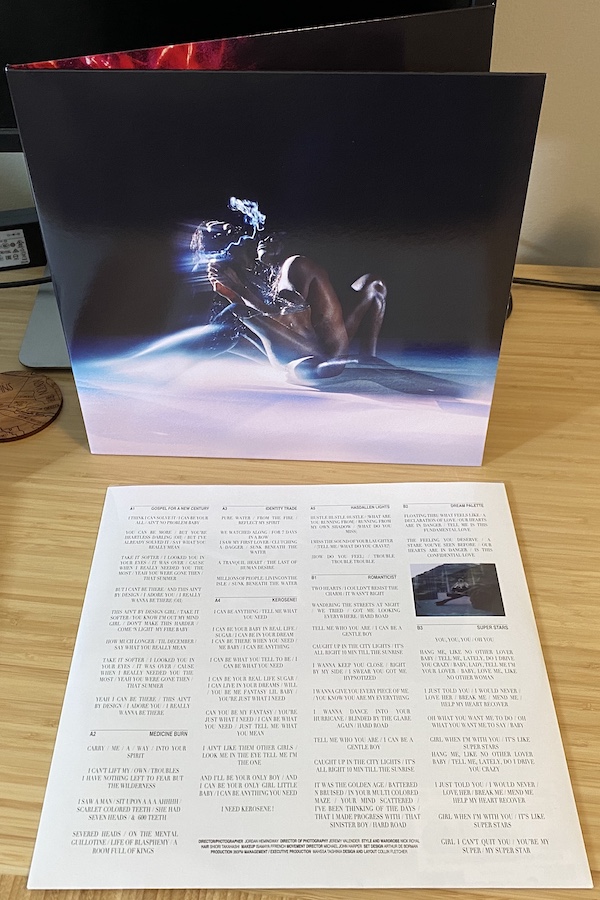 Grimes - Miss Anthropocene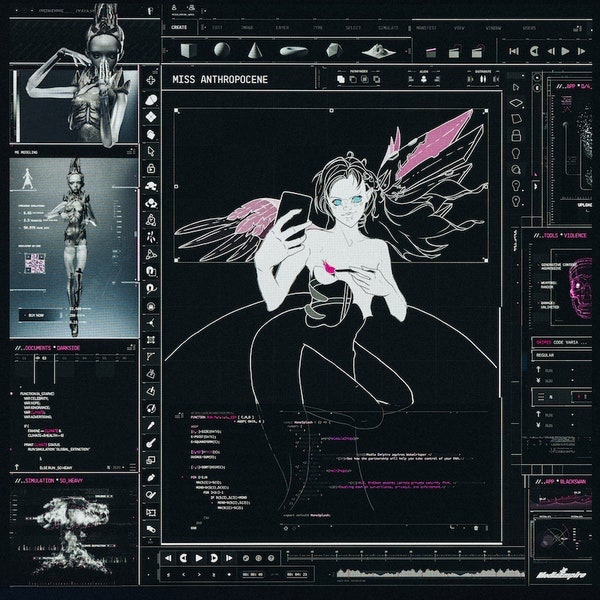 4AD 0211 EU pressing LP (US and EU indie-exclusive colored vinyl pressings also available)
Produced by: Grimes
Engineered by: Grimes
Mixed by: Various
Mastered by: Dave Kutch (digital) and Mark Santangelo (vinyl) at The Mastering Palace
Music: 7
Sound: 7
With her first record since 2015's Art Angels, indie pop artist Grimes (real name Claire Boucher) returned with Miss Anthropocene, an interesting albeit lesser effort. While Miss Anthropocene takes on a darker, more dystopian overall tone, many of the songs, despite on the vinyl mix never exceeding five minutes, are quite redundant. Lyrically, the loosely conceptual album touches on climate change, media attacks (assumed to regard Boucher's relationship with Elon Musk), and drug abuse – some subjects covered better than others. "Delete Forever," written on the night of emo rapper Lil Peep's fentanyl overdose death, is a stark view on the opioid epidemic that killed six of Grimes' friends, with minimal production and unprocessed vocals. The climate change idea, on the other hand, is extremely vague and instead focuses more on the apocalypse. There are other enjoyable moments, notably "4ÆM"'s catchy hook (is that song title a reference to her now-newborn son X Æ A-12's name?), the gloomy dance beat of "Violence," and "So Heavy I Fell Through the Earth"'s grand opening synths. Despite its 39-minute length, though, the record is too inconsistent and long to regularly listen through ("Delete Forever" significantly boosts the album's overall score).
The EU vinyl pressing, which I ordered from JPC in Germany, was cut by Mark Santangelo at the Mastering Palace and pressed at MPO (Independent pressed the likely inferior US copies). Compared to the unmastered version of "You'll Miss Me When I'm Not Around" (heard from the official 44.1/32 multi-tracks in ProTools First), the released master is sometimes a bit overly compressed, dry, and bass-heavy. It's not bad, but not immersive either. The unmastered version of that song, although unpolished, has far more air and dynamic slam, and makes for a better listen than the LP master. Still, for the other songs that don't have released multi-tracks, the EU pressing satisfies enough. The packaging includes a thick printed inner sleeve with center hole die-cut and a four-page art and credits insert, which communicate the album's themes more clearly than the music itself. Considering Independent Record Pressing's spotty track record (their plating/pressing seemingly results in bloated bass), those in the US who like Miss Anthropocene should import the EU pressing (there's also a probably decent Canadian pressing cut at GZ and pressed at Precision).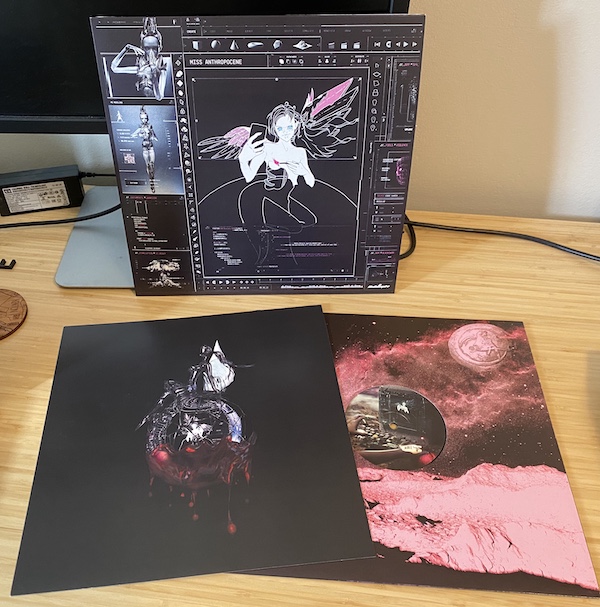 Perfume Genius - Set My Heart On Fire Immediately
Matador OLE1549 US standard 2LP (indie-exclusive blue vinyl and EU pressings also available)
Produced by: Blake Mills
Engineered by: Joseph Lorge and Greg Koller at Sound City
Mixed by: Greg Koller
Mastered by: Patricia Sullivan at Bernie Grundman Mastering (digital), Ian Sefchick at Capitol Mastering (vinyl)
Music: 7
Sound: 8
One of this year's most widely acclaimed albums (91/100 on Metacritic), Perfume Genius (Michael Hadreas)' Set My Heart On Fire Immediately is a meticulously constructed, well-written LP. Produced by Blake Mills and utilizing many of LA's best session musicians and engineers, with Hadreas' careful, expressive vocal performances Set My Heart On Fire Immediately is expertly performed art/chamber pop. The individually minimal lyrics focus on Hadreas' relationship struggles as a gay man, often highlighting abuse. On paper, the album seems perfect; in practice, many of the tracks are good but forgettable, more respectable than regularly suited for listening. While reviewing, I spun the LP many times and still only remember what half of the songs specifically sound like. Save for those highlights (particularly "Whole Life," "Jason," and "On The Floor"), I understand the praise but don't share the same enthusiasm.
The album, recorded at Sound City, has good timbre and adequate space. The US 2LP vinyl edition, digitally mastered by Patricia Sullivan and cut by Ian Sefchick, sounds nice, although Independent's plating and pressing muddied up the low end. There's an EU edition cut and pressed at Optimal, and while probably better balanced, it likely lacks the US pressing's detail. Overall, the sonics are average. The direct-to-board gatefold and thick printed inner sleeves round out the package, which for $27.99 retail does the job well enough.
King Krule - Man Alive!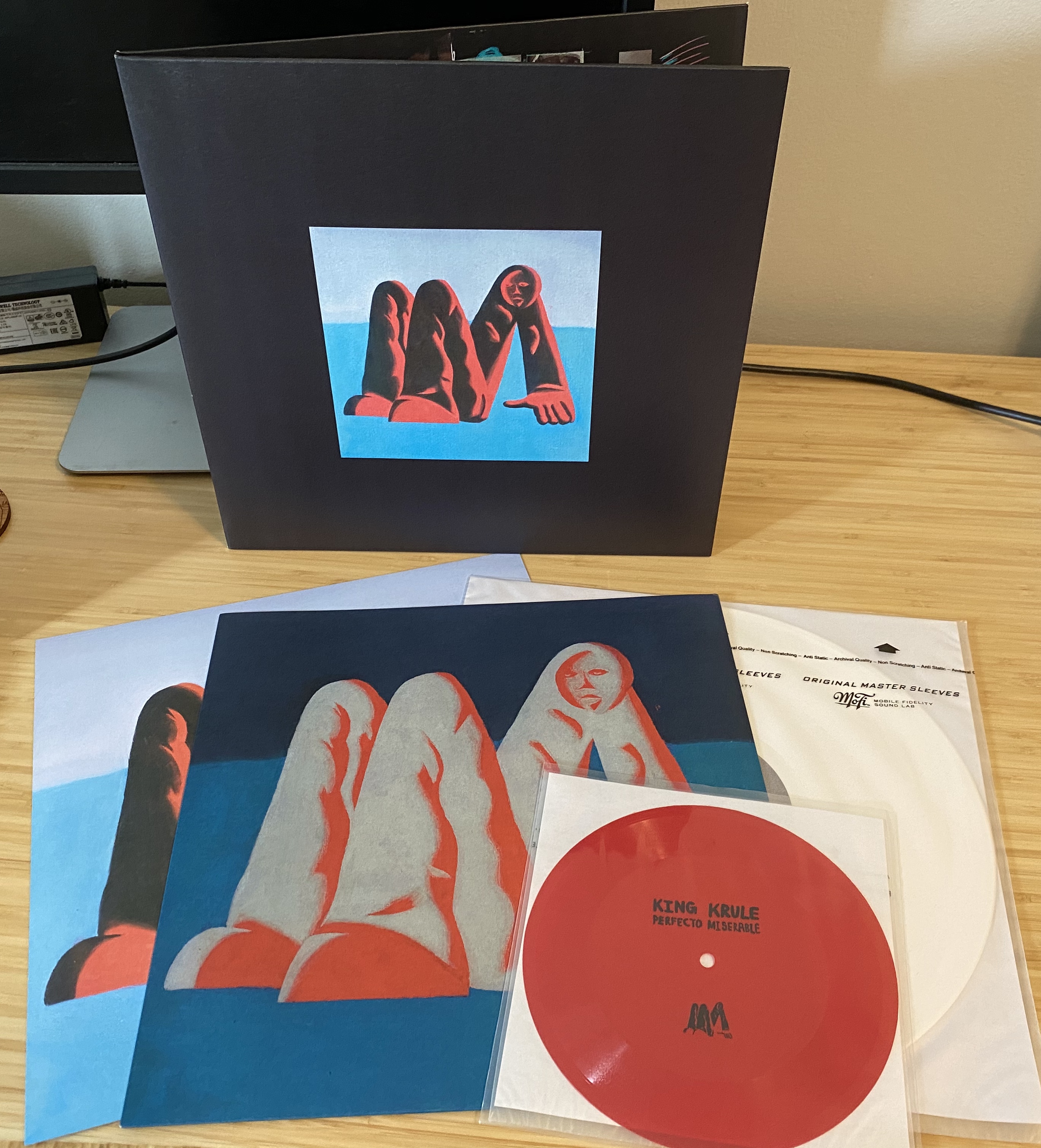 XL Recordings XL1004 EU limited edition white vinyl LP with red flexi (standard US and EU copies without flexi also available)
Produced by: Archy Marshall [King Krule] and Dilip Harris
Engineered by: Unknown
Mixed by: Archy Marshall and Dilip Harris at The Crush
Mastered by: Guy Davie at Electric Mastering
Music: 7
Sound: 8
Following his sprawling 2017 double LP The Ooz, English musician King Krule (real name Archy Marshall) this year released the far more concise Man Alive!, lasting only 42 minutes on a single LP. The lonely, depressed, occasionally paranoid stoner found on the former record is only briefly on Man Alive!; here, King Krule more often sings gentle songs to his girlfriend and their infant daughter. Musically, Marshall's jazzy art punk is softer, and while his chord choices are as always very creative, his melodies sometimes lack memorability. The musicianship and performances on this record still represent King Krule's generally high standards, and songs like "Alone, Omen 3" and "Energy Fleets" are pleasantly lush. Man Alive!, while more consistent, doesn't reach The Ooz' heights, but King Krule's real-time evolution intrigues. Although the album probably won't attract new fans, those familiar with Archy Marshall's previous work will appreciate it.
I imported the limited XL EU white vinyl edition from JPC, as the True Panther/Matador US pressing (cut at Trutone and seemingly pressed at Independent) is likely inferior. Guy Davie at Electric Mastering did the digital mastering and EU vinyl cutting, and while the imaging here isn't spectacular, the top end transparency pleases. Optimal pressed the EU edition (available in several color variants), and GZ (one of the world's only flexidisc manufacturers) handled the 7" red flexi included with most white vinyl copies. Optimal's white vinyl, while physically perfect, is noisier than usual, and the flexidisc, featuring the lofi Hey World! film version of "Perfecto Miserable," is expected flexi fare. The packaging consists of an uncoated, spot varnished gatefold jacket; printed inner sleeve (with "nighttime" cover), and a double-sided insert with the full-size "daytime" cover, making for the year's best vinyl package I've seen. Because of Electric Mastering's precisely built cutting system, the EU pressing probably extracts as much currently accessible detail from the mix, and is worth the extra shipping cost.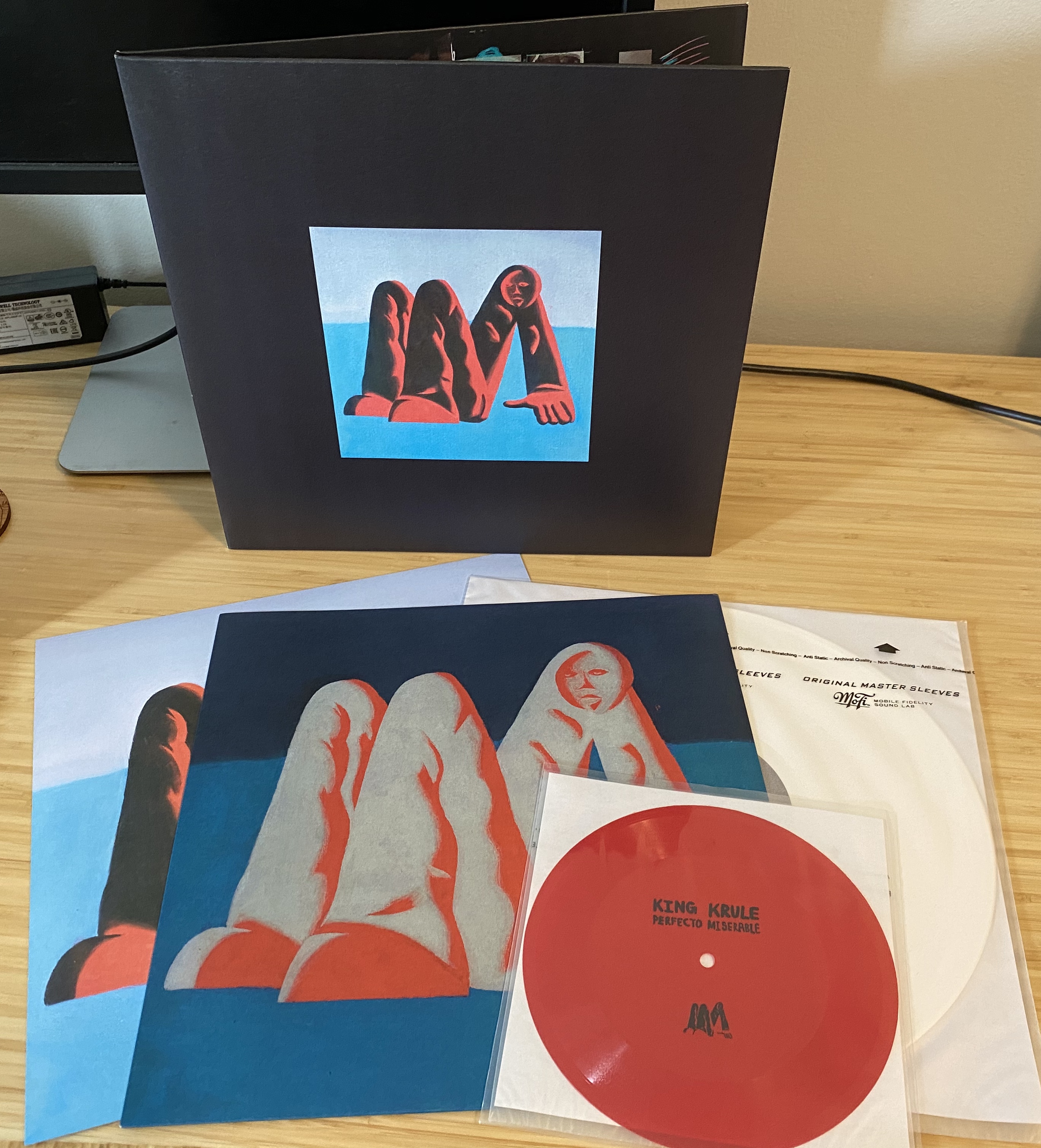 (Malachi Lui is an AnalogPlanet contributing editor, music lover, record collector, and highly opinionated sneaker enthusiast. Right now, he's anxiously awaiting the black YZY FOAM RNNRS to drop. Follow him on Twitter: @MalachiLui.)
<!- ------------------------------------>