Vinyl Sales Are Up 21.7 Percent in the First Half of 2023, According to New Report From Noted Entertainment Data Company Luminate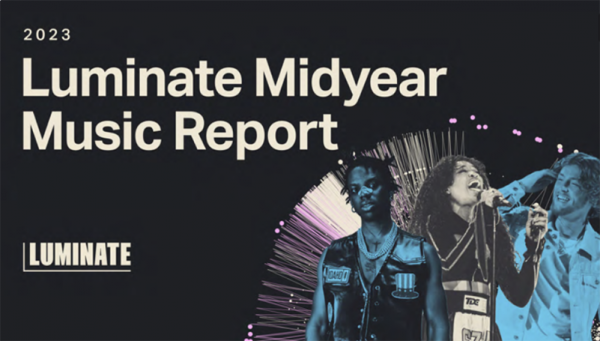 The well-respected entertainment data company Luminate recently released their Midyear Music Report, which confirms vinyl sales are on the rise yet again. Therein, Luminate reports that vinyl sales saw a 21.7 percent increase in the first half of 2023.
This, of course, is continued good news from our POV. As we noted back on March 9 in this story, the Recording Industry Association of America (RIAA) reported that LPs outsold CDs in 2022, the first time the vinyl format had done so since 1987.
Here are the key vinyl-centric "U.S. Metrics" specifics we found within Luminate's Midyear Music Report, which compares data from the most recent six-month period from December 30, 2022 to June 29, 2023 with the comparable timeframe from a year ago from December 31, 2022 to June 30, 2022. (Luminate also points out that the graphic elements in this report have been provided by Billboard, their exclusive chart partner for the past three decades and counting.)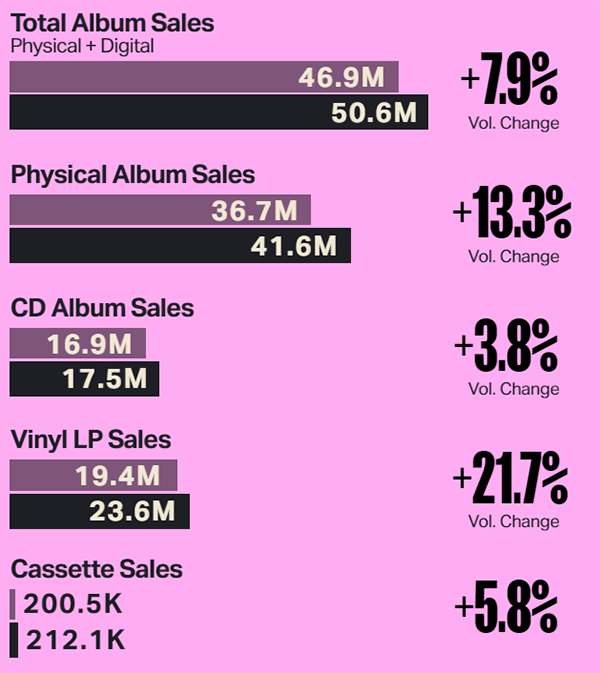 Vinyl LP sales for the first half of 2023 tallied at 23.6 million copies, as opposed to 19.4 million a year ago, a 4.2 million increase that resulted in a 21.7 percent uptick in sales — a figure that has often been rounded up to the cleaner, whole-number 22 percent you may see being used/cited elsewhere. Either way, the actual hard-number figure is on pace for us to see another likely multimillion LP sales increase for the entire 2023 calendar year, which will in turn surpass the 41 million LPs sold in 2022 — the latter figure being what the RIAA cited in their above-referenced report.
While the 2023-to-date vinyl/digital split is not branched out specifically in the broader "U.S. Catalog Vs. Current Consumption" subcategory in the Luminate report, it is worth noting that over 72.8 percent of the Total Album Consumption figure of 538.9 million total albums sold are indeed catalog releases, which would certainly be in line with the percentage split we're used to seeing on the vinyl side of things. (Feel free to chime in within the Comments section below about the percentage split of your own vinyl-buying habits to date here in 2023, as I am curious to see if your album-purchase numbers have increased like mine continue to do.)
If you happen to be a fan and/or collector of cassettes, you'll also observe there's a slight bump in sales for that analog format as well. In the first half of 2023, 212,100 cassettes were sold (noted as 212.1K on the Billboard graphic), as opposed to 200,500 (200.5K) in 2022, a rise of 5.8 percent. (Now, I have admitted elsewhere on AP to having personally purchased newly released cassettes from the likes of Porcupine Tree, R.E.M., and Secret Machines in the past 12 months, but only for the purposes of my own collecting-slash-completist tendencies, and never once have I cued any of them up for playback — nor do I plan to do so.)
The Midyear Report also zeroes in on the increasing buying power of a consumer base categorized as the Super Fan, and the reasonably adjacent D2C (i.e., Direct to Consumer) sales category. One in every nine albums sold in the first half of 2023 timeframe came via D2C sales — as in, the percentage of albums that were sold directly from an artist's official webstore. Relative to the entire vinyl sales figures of the first six months of 2023 as cited a few paragraphs earlier, 11.6 percent of them were noted as being D2C, as opposed to 10.78 percent of them being D2C in 2022. One more percentage split to add here for the record, and for further context — 60.3 percent of all D2C sales in the first half of 2023 came via vinyl.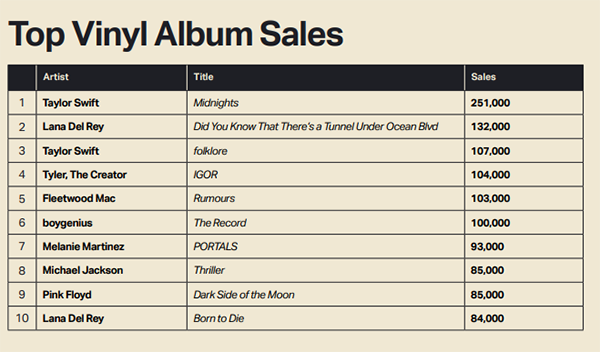 A few more intriguing Luminate/Billboard graphics to share — first, here's a list of the Top 10 LPs sold in the first half of 2023. How many of them did you buy? (I own the three, shall we say, obvious catalog LPs in this list, though I did not purchase any of the multiple copies I have of each of them in this calendar year, as of yet — at least not outside of one particular 50th anniversary box set acquisition, that is.)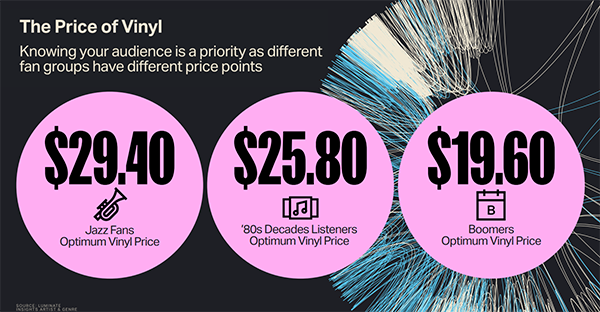 Next, here's a graph showing the prices fans of certain genres are willing to pay for their LPs. (I know for a fact that I tend to pay more per LP than any of these demographic-related averages myself, but I'm one of those "must have" LP consumers — albeit with a certain threshold closer to about $10-to-$15 more than what's shown here as being my own personal PPIBA, a.k.a., Price Point I'll Balk At.)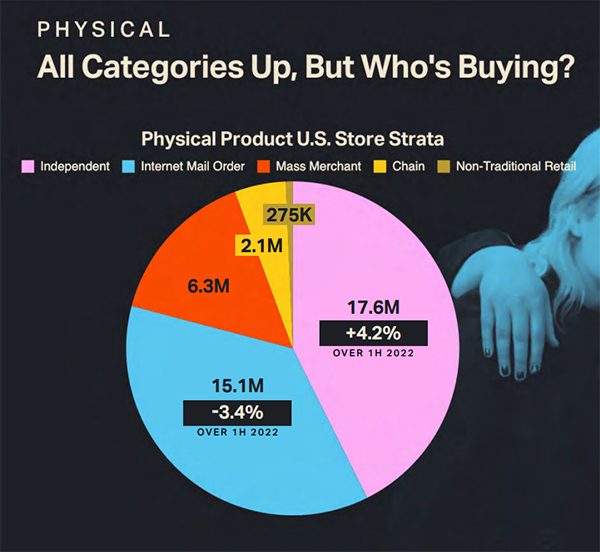 And finally, here's a graph showing where all those LP sales branch out in terms of where they're actually being sold. (I tend to buy the majority of my new and catalog LPs from independent retailers, while the remainder come via a mail-order combo platter mainly consisting of D2C, Discogs, eBay, and Amazon.)
If you want to see all the Luminate Midyear Music Report stats for yourself, go here, where you can sign up to get a full report download — and/or you can endeavor to watch the company's own deep dive into the thick of all that data via the YouTube clip below.
<!- ------------------------------------>