Vinyl World Congress, Brighton Metropole, UK May 15th and 16th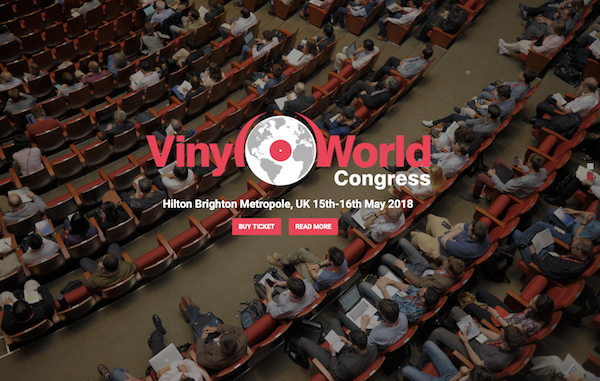 Vinyl World Congress
is an international B2B summit dedicated to vinyl record manufacturing much like the
Making Vinyl
event held last November in Detroit and returning there this coming October.
Note that this, like Making Vinyl, is a "B2B" event and is not aimed at consumers. However, many analogPlanet readers were disappointed to not know about the Making Vinyl event sufficiently in advance to attend and meet the "movers and shakers", though the cost was somewhat stiff, as it is for this event which is why we are publicizing it here.
That said, if you want to meet industry leaders, "Vinyl World Congress is the place to be. On hand will be representatives from record press manufacturers Viryl Industries, Newbilt and Pheenix Alpha. Also attending will be GZ Media, Discogs, and representatives from Universal Music Group, PIAS, Rough Trade and others.
The cost to attend both days is £500+VAT. A one day pass is £300+ VAT. The organizers have set up an ambitious schedule of events including awards, product demonstrations and of course panel discussions. They also plan similar events in Japan and Europe, the dates of which have yet to be announced.
Because the event takes place a few days after the Munich High End Show, AnalogPlanet.com editor Michael Fremer volunteered to lead a few panel discussion and plans were underway to make that happen. Unfortunately scheduling and transportation issues eventually caused him to regrettably withdraw from participating.
If you live in the area or plan on attending, perhaps you can be our paid correspondent? Please comment below if that's possible.
<!- ------------------------------------>