VMP Announces 11 LP The Story of Herbie Hancock Anthology Box Set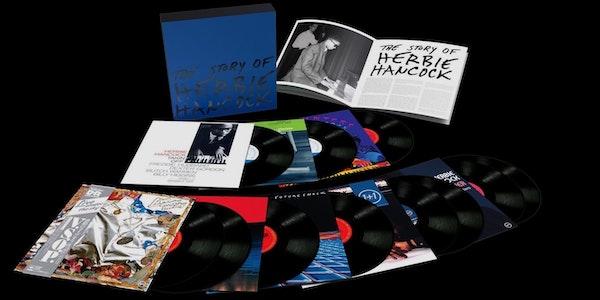 Today (September 21), record club Vinyl Me, Please formally announced the latest in their VMP Anthology box set series,
The Story of Herbie Hancock
. Bernie Grundman cut all-analog from tape where possible, GZ pressed the eight albums over 11 LPs on 180g black vinyl and packaged in tip-on jackets. The set retails for $349 and includes a "deluxe" booklet. Curated by Hancock himself, the chosen titles are:
Takin' Off
(1962, all-analog),
Maiden Voyage
(1965, AAA),
Head Hunters
(1973, AAA),
The V.S.O.P. Quintet: Live Under The Sky
(1979, digitally recorded),
The Piano
(1979, AAA),
Future Shock
(1983, AAA),
1+1
(1997, digitally recorded), and
River: The Joni Letters
(2007, digitally recorded).
Live Under The Sky
, a 1979 Japanese CBS/Sony Master Sound live album recorded digitally, is newly re-sequenced and amended at Herbie Hancock's request. The box set shipping this winter is housed in a two-piece box hand-numbered to 1500 units.
Accompanying the box set is a five-episode podcast series, hosted by Touré and featuring interviews with Herbie Hancock, Wayne Shorter, Ron Carter, Corinne Bailey Rae, Robert Glasper, Grand Mixer DXT, Bernie Grundman, and Larry Klein. Buyers will also gain access to two exclusive "Ask Me Anything" (AMA) video sessions, one featuring a "special guest" (code for "everyone expects Herbie Hancock, but they see the VMP curator instead"). Marcus Moore wrote the booklet, which also includes archival photos. Current VMP members get a $60 discount on the box.
Now for some personal opinion: despite their 47% subscription price hike, some odd reissue choices, and occasional false advertising, VMP's product is typically excellent. From them I've gotten the only complete pressing of Outkast's Southernplayalisticadillacmuzik, a high-quality deluxe edition of Dirty Projectors' Bitte Orca, and a beautifully packaged reissue of El-P's I'll Sleep When You're Dead. With some exceptions, they clearly aim for definitive audiophile quality, and venture into titles that most reissue labels deem "off-limits" (ie, digitally recorded). Considering the no-expenses-spared appearance of The Story of Herbie Hancock, it should be worth the hefty price.
As for the actual album picks, I see the logic behind many but find some questionable. Herbie's debut album Takin' Off is important here, but Blue Note already did an AAA BN80 reissue last year. Maiden Voyage and Head Hunters are his most popular records that up until recently had audiophile reissues in-print, though as an owner of a Music Matters SRX Maiden Voyage I probably shouldn't comment on those (that pressing sold out in minutes and is extremely rare). Those peak era records are good primers, and should still sound great here, but most jazz fans already have them (and newcomers probably won't spend $349 on a massive box set). The set leans heavy on the later years, as those records have rarely been reissued (1+1 with Wayne Shorter gets its first LP pressing here) and probably deserve more attention. What's most unclear is how The Piano turns out; the original (and only previous) pressing is a Japanese CBS/Sony Master Sound Direct Disk (D2D), but VMP says theirs is from tape. Anyway, come winter, those plunking down the cash should receive a lavish, sonically satisfying, and visually pleasing box set.
(Malachi Lui is an AnalogPlanet contributing editor, music lover, record collector, and highly opinionated sneaker enthusiast. He's currently analyzing the March 2013 "New Slaves" leak. Follow Malachi on Twitter @MalachiLui and Instagram @malachi__lui.)
<!- ------------------------------------>