VMP (Vinyl Me, Please) Announces Philadelphia International Records AAA 50th Anniversary Box Set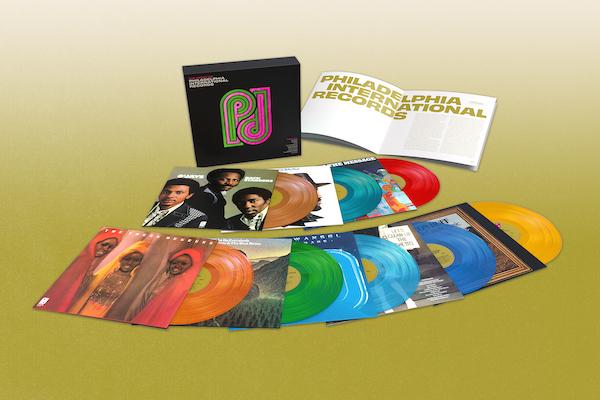 Vinyl Me, Please
in partnership with Sony Music Entertainment's Legacy Recordings just announced
VMP Anthology: The Story of Philadelphia International Records
, celebrating the label's 50th anniversary with an 8 LP box set cut directly from the original master tapes by Bernie Grundman, plated and pressed at RTI on 180g colored vinyl.
The first edition, limited to 1000 copies includes an original 26-page Listening Notes and photo booklet written by Niela Orr to tell the story of the label and its cultural impact. The Anthology also comes with a four-episode podcast series to serve as a definitive guide to each album featuring interviews with PIR's key figures like Kenny Gamble, Leon Huff, Valerie Holiday and more.
Philly International changed '70s era soul music, putting a slick, sophisticated urban sheen on soul, r&b, gospel and doo-wop to create a unique genre-crossing sound that equally attracted rockers and disco fans. The 8 LPs in the box are:
1) The O'Jays Back Stabber (1972)
2) Billy Paul 360 Degrees of Billy Paul (1972)
3) MFSB Love Is the Message (1973)
4)The Three Degrees The Three Degrees (1973)
5)Harold Melvin & The Blue Notes Wake Up Everybody (1975)
6)Dexter Wansel Life On Mars (1976)
7) The Philadelphia International All Stars Let's Clean Up the Ghetto (1977)
8) Leon Huff Here to Create Music (1980)
About Philadelphia International Records:
The groundbreaking label, founded in 1971 by innovative and prolific songwriters/producers Kenneth Gamble and Leon Huff, became the birthplace, incubator and launching pad for the sophisticated Philly Soul sound also known as "The Sound of Philadelphia." The duo amassed an extraordinary array of producers, songwriters, musicians and engineers including Thom Bell, Dexter Wansel, Bobby Martin, MFSB, Joe Tarsia and more to help craft some of the most memorable lyrics and melodies of the past five decades. The legendary roster of music stars who helped bring these chart-topping disco, R&B, soul and funk sounds to life included The O'Jays, Patti LaBelle, Harold Melvin & the Blue Notes, Billy Paul, Teddy Pendergrass, Lou Rawls, McFadden & Whitehead, The Three Degrees, Phyllis Hyman, The Intruders, the ultimate "house band" MFSB, and many others.
<!- ------------------------------------>