VPI Debuts New "3D Printer" One Piece JMW Memorial Tonearm and New Direct Drive Turntable Motor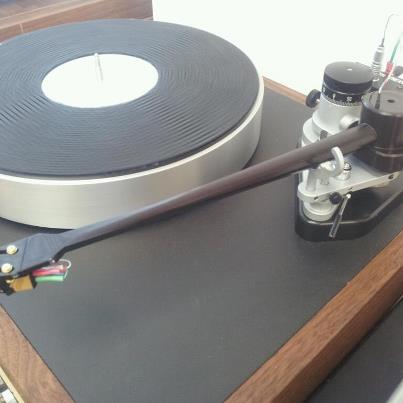 VPI's Harry Weisfeld demonstrated a new one piece "3D printer" version of the long-running JMW Memorial Tonearm last Saturday, March 23rd at an open house attended by member of The New York Audio Society.
The unipivot tonearm is manufactured using a 3D printer that produces a one piece arm from head shell to counterweight stub, with no joints in between. The arm is formed from a plastic epoxy-like material that is said to produce an ultra-rigid, lightweight, self-damped structure. The shape of the tonearm shaft is said to produce further rigidity.
Weisfeld had Grado Gold cartridges mounted in both a standard JMW and a 3D printer version that allowed for quick and easy swaps and A/B listening. Attendees told me the differences were "profound" and all were in favor of the new tone arm. The Grado/3D printer arm combo produced an ideal 11Hz resonant frequency with but a 2dB amplitude.
No price was announced for the arm but the machine that produces it costs hundreds of thousands of dollars and takes a considerable period of time to produce just one, so it certainly won't be inexpensive.
Weisfeld also demonstrated a new direct drive turntable using a motor said to be sourced from the military that's said to have no cogging torque so platter rotation is as smooth as belt drive but with greater torque and lower wow and flutter.
According to Weisfeld, there are so many poles and "V" shaped commutation so there are no dead spots as it rotates so it's like a "linear motor in a circle." While it was dropped into a Classic chassis for the demo, the new motor will have a dedicated chassis currently in the design stages. The new 'table will not be inexpensive, though no price has been announced.
I was unable to attend the event but a friend who did said the sound was impressive. I hope to visit the factory soon for a demonstration.
<!- ------------------------------------>