What I Learned Visiting Elite Audio Systems In San Francisco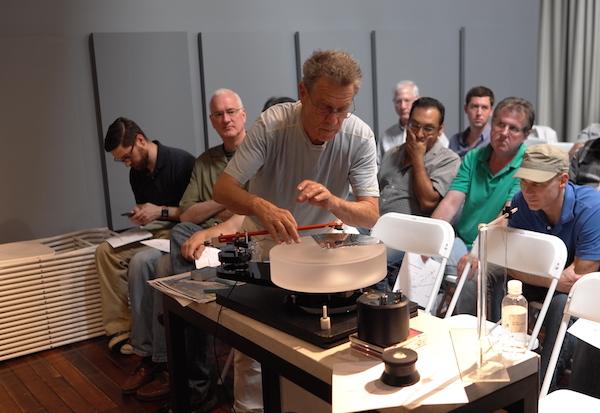 "Why would you fly to San Francisco for
one day?
" friends asked when I told them recently that I was visiting Elite Audio Systems for a one day in-store appearance and flying home the next day.
I flew out early Friday morning, did the in-store Saturday and flew home early Sunday morning. Why do that? One reason is that I like supporting brick and mortar stores. So if the owner of one asks if I'd visit, I try to say "yes." Another is that I am isolated from retail. I don't often see what's going on in stores so when I'm invited I try to go. I go to Definitive in Seattle when they invite me and also Audio Advice in North Carolina, where I'll be heading this November.
Last Spring, Elite's owner Michael Woods invited me to participate in an in-store event and I accepted even though my schedule required a grueling one day there and back.
Woods paid my way and covered expenses. In exchange I agreed to three turntable set-up seminars, which I always enjoy doing. Stereophile editor John Atkinson cannot imagine how I do this in public. It's difficult enough doing it in private, he says, but somehow I find it pleasurable (don't ask!). Actually more pleasurable is getting the feedback from attendees who say seeing it "live" makes it easier for them to attempt it themselves. I think everyone should know how to install a cartridge correctly.
About the store: obviously big city rents are spiking and this creates tremendous challenges for speciality stores like ones dedicated to high fidelity gear. That's especially true in San Francisco where the "dot.com" business has raised rents through the roof.
Woods came up with a unique and useful solution: caffeine. While the signage reads "Elite Audio Systems" Elite's store front is actually a very busy coffee bar hosted by a well-renowned Barista that attracts steady, all day traffic. Some of the coffee drinkers poke their heads inside where they see one of the more attractive and unique settings for a store selling audio in which I've ever been. But even if no one makes the move from high end coffee to high end audio, the coffee bar's steady revenue helps smooth over the inevitable spikes and dips in high end audio sales, which makes Mr. Woods' retail life that much more pleasurable.
The two floor store stocks products from many well-known and seriously high-end manufacturers, though there's enough entry level gear to get the coffee buyers' attention.
First I set up a Thorens TD309 turntable, which comes with a TP92 tone arm that I reviewed in Stereophile some time ago. I installed a Lyra Helikon cartridge that happened to lurking on an upstairs shelf. It was a pretty straight forward set-up.
Next up was a Scheu Premier turntable/Scheu Classic arm combo for which I used a Soundsmith Mimic Zephyr cartridge.
The Scheu arm is an oddball: a basic (you could say primitive) unipivot design featuring a "U" shaped stamped twelve inch metal arm (available in shorter lengths). The cup in the arm's underside sits on a sharp point. Azimuth adjustment is via screw-on weights.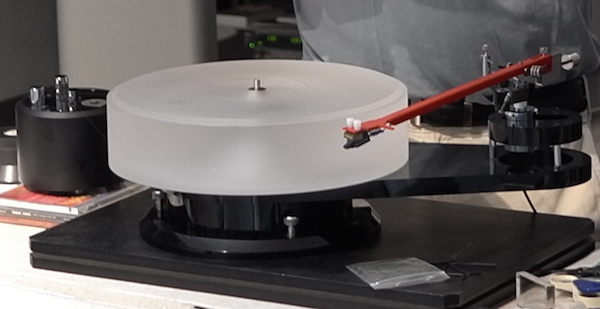 Finally I set up a Spiral Groove SG 1.2/Centroid arm combo, which is a costly but highly accomplished Allen Perkins design. Perkins was there to watch, and though we've been friends for years, having him watch me set up his 'table was somewhat unnerving, especially since I was handed a costly Kiseki Purple Heart cartridge! In this case the 'table was going to be put into use later in the day so the set-up had to be perfect (usually I just go through the motions to save time and not bore the crowd). These sessions were well-attended and the attendees were most appreciative and asked good questions.
(L-R: Allen Perkins, Michael Woods, M.F.)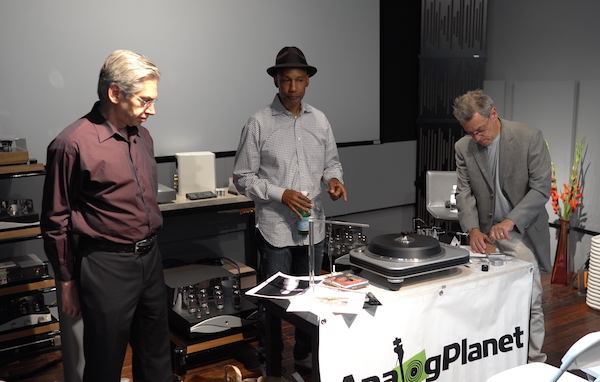 Also in attendance was Magico's Alon Wolf, who, in the upstairs listening room was debuting the new Magico M3 speaker (appx. $82,000). Electronics were CH Precision, C1 DAC/Pre-amp, D1 SACD/CD drive, L1 preamplifier, P1 phono preamplifier, M1 mono-blocks and X1 power-supply, The turntable was the DeBaer with Ortofon MC Anna. Cabling was AudioQuest Wel signature.
As I told Mr. Wolff after sitting through his demo for consumers, I thought it was too loud and the musical choices not sufficiently varied to show off the speakers' capabilities. The people who design and/or own companies are not necessarily the people who should do musical demos!
This is something I learned a long time ago that this experience only confirmed and I wasn't shy in telling him. Members of the San Francisco Audio Society also in attendance agreed. However, obvious from the demo was the superb sonics of the newly developed tweeter and the room's big mid bass hump that was not the speaker's fault, but why play the system sufficiently loud to excite it?
Later after the crowds had mostly left, Mr. Wolf and I listened to 96/24 vinyl rips I'd brought on a USB stick, including the entire second side of an original UK pressing of Abbey Road. Wherever I start that side, it always ends up going for the entire side!
Wolf's reference was the recent stereo re-master and this rip just made him shake his head in disbelief. The sound produced by this system was very, very impressive in every way. These speakers do what Magico does best but for a very "reasonable" cost compared to some of the line's more expensive products: superb linearity and revelation of inner-detail. The room issues prevented any kind of accurate take on the speaker's bottom end.
However, it was the downstairs system located in a big entry room that you really couldn't call a "listening room" and which had no business sounding as it did in that location, that really impressed me. It consisted of a pair of Kharma Exquisite Midi-Grand loudspeakers, CH Precision electronics, the aforementioned Spiral Groove SG 1.2/Kiseki Purple Heart combo that I set up and Audioquest Wel Signature interconnects and Kharma Grand Reference speaker cables.
After dinner on Saturday night I, Michael Woods and Allen Perkins sat late into the evening listening to records on that system. Rarely does a store set-up do justice to audio gear. I know that sounds nuts, but it's bean my experience. I've heard very good store sound, good enough to give a customer a sufficiently accurate idea of how something might sound at home, but rarely the level of sonic performance I heard that night. The tonal and textural balance was "perfect" for my taste, the spatial presentation accurate and generous laterally, vertically and in terms of depth. If I was in the market for a system and had dot.com money, I'd have said "I'll take it!" And I believe so would you!
What I learned about Elite Audio Systems was that a smart business plan that includes a steady income producer that also entices new customers is a great way to help insure financial long-term viability while smoothing out the usual rocky cash flow faced by most high performance audio stores.
I also learned that when you have minimized the month to month income fluctuations, you can run a more relaxed "ship". Elite struck me as a very relaxed store, compared to some I've visited. If Woods was hiding the financial distress some retailers are willing to discuss, he was dong it very effectively—which is not to say he didn't admit that running a luxurious, spacious retail audio operation in San Francisco has its serious pitfalls and problems!
The key to brick and mortar success is outstanding customer service and an inviting store environment and in both areas, according to what I saw and based upon what customers volunteered, Elite Audio Video does both of those things well.
Was it worth a one day cross country visit? Absolutely. I'd do it again..but not too soon!
<!- ------------------------------------>