When In New Orleans, It's Euclid Records!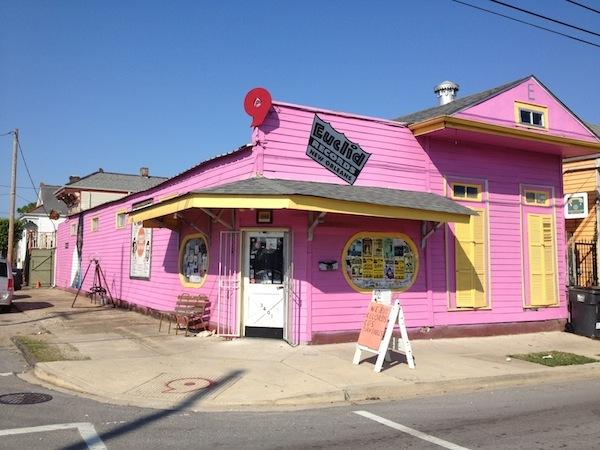 I'm in New Orleans this weekend at the Annual National Cardigan Welsh Corgi Board Meeting. No, I don't show dogs but my wife does and she's on the board so like a good hubby I tagged along.
What to do while she's having meetings? There's only one thing worth doing that I can think of, so I asked Acoustic Sounds' presidente and Louisiana native Chad Kassem where to go. Among other places, he told me to go to Joe Schab's Euclid Records. Schab's original store is still in St. Louis.
So I asked Siri for the location and she said "3401 Chartres Street." The hotel I'm staying at is on the same street, but a few miles away in the French Quarter, so I started walking and walking in the 90 degree high humidity heat.
I walked through the French Quarter, through a funky residential area, and then to a waterfront/semi-industrial area that appear to be in the midst of gentrification. A guy with a guitar on his shoulder rode by on a bicycle. I called out "Is there a record store back there?"
"Yes", he replied, "a few blocks up."
And soon, there it was, Euclid Records in all of its glorious purpleness. I walked inside and there were tens of thousands of well organized records of every musical genre.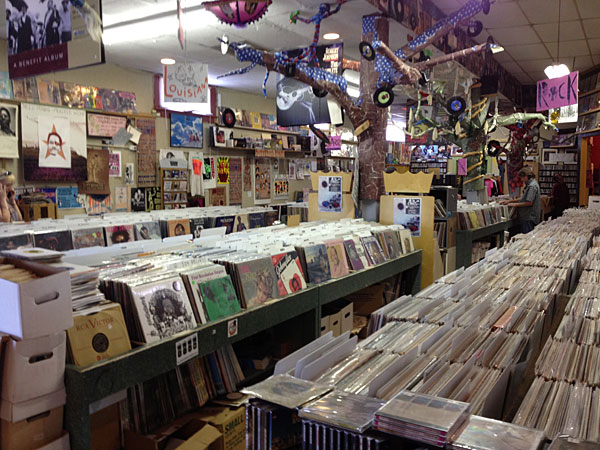 Every local used record store always reflects the area's music and Euclid was heavy on New Orleans musicians and the city's rich musical culture so the bins were loaded with Fats Domino, Dr. John, Smiley Lewis Louis Armstrong and Allen Toussaint, among others but if you were looking for modern jazz, '60s rock or even classical, there was plenty of that too.
UK imports? Not so much, though on the back wall they had a good selection of Beatles Japanese pressings with OBIs. i could have replaced half of my collection with old records worth hearing that I've never heard. The store also was current with new releases. In fact I saw dozens of reissues I wasn't even aware of and even more new releases.
I could have bought dozens or hundreds of records, but I've already got hundreds, maybe thousands I've not yet auditioned. It's crazy but of course I had to buy some anyway, but not too many since I'd be carrying them back and walking miles in the heat.
So what to buy? Well I found the double 180g Pallas pressing of Pat Metheny's recent solo baritone guitar record What's It All About that I tried to buy on Nonesuch's website a few days after I downloaded the promo WAV file edition that sounded gorgeous, but it had already sold out.
Metheny covers everything from "The Sound of Silence" to "Pipeline" to "'Round Midnight' and "And I Love Her." A stellar effort mastered to vinyl at Sterling Sound. I can't wait to get home and listen.
I found a Mel Tormé album, The Touch of Your Lips, recorded live with arrangements by Marty Paich, pressed on transparent yellow vinyl on Venise "Live Color Stereo" Records.
I picked up David Byrne and St. Vincent's new LP Love This Giant that's been well-reviewed and the 180 reissue of Rodriguez's Cold Fact. He was the subject of the documentary "Searching For Sugarman" about the artist who recorded this obscure album in the '60s and then disappeared only to find it become a hugh hit in post-Apartheid South Africa.
It's on Light In the Attic Records, one of those "who knows what they're mastering from" labels that doesn't divulge sources. The packaging is high quality and the pressing appears to be good but who knows what was used for the lacquer cut? There's a "press inquiry" email on the back of the jacket so I plan to find out!
There were at least a dozen other new and reissued records I could have bought not to mention dozens of vintage jazz albums reasonably priced but I called it quits and was checking out when I noticed on the wall a copy of Forever Changes by Love, one of the greatest records of the 1960s.
"Was it a gold label original?" I asked. "Yes." I asked to see it and it appeared VG+ but it's a relatively quiet recording so it was risky. I got the guy down from $100 to $40 and took a chance. Once I got back to the hotel and had a better chance to look at it closely I could see plenty of spindle marks so it could have been a bad purchase, but my original has noise too so it was a worthwhile chance I think.
Next time you are in New Orleans, it's definitely worth trapsing out Chartres street to visit Euclid. Great record selection, interesting mix, reasonable prices, funky interior and a great place to hang out for a few hours!
<!- ------------------------------------>