Wilson Audio Specialties Today Launches TuneTot Desktop Speaker System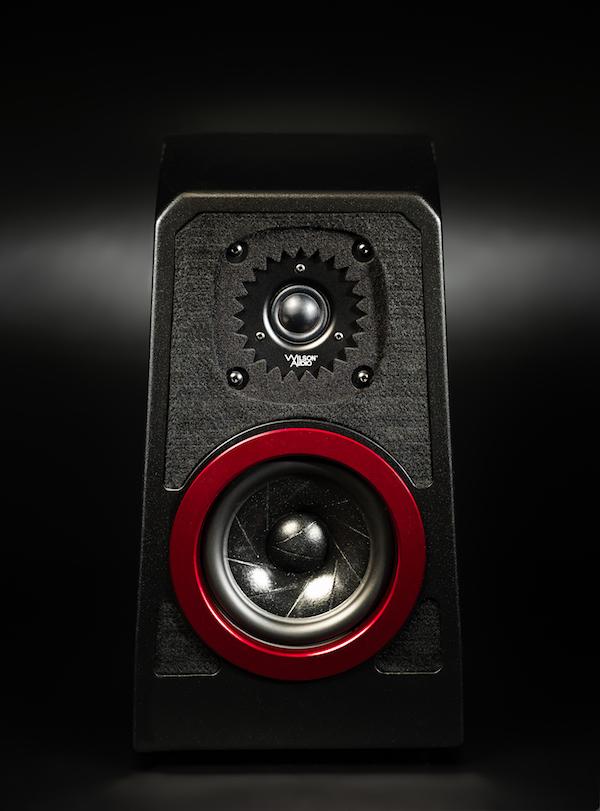 Wilson Audio Specialties today launched TuneTot, a compact desk-top loudspeaker intended primarily for near or mid-field listening in the executive suite, boardroom or wherever space is tight. Ideally, the speaker should be placed close to a wall to get low frequency boundary reinforcement benefits.
TuneTot the company's most compact design since the mid-'80s launch of the original WATT (Wilson Audio Tiny Tot). Wilson's literature says it's designed primarily for use on bookshelves, credenzas, counters and of course desktops—and not simply because of its size.
The compact TuneTot shares the same attributes as the other speakers in Wilson's line-up. The two-way, rear-vented design consists of a 5.75 inch doped paper pulp woofer and a version of the familiar 1 inch doped silk fabric tweeter used in most of the company's current loudspeakers.
The rigid non-rectangular cabinet construction is of the same phenolic resin "X" and "S" composite material used throughout the company's speaker line, optimized specifically for this application. The "WilsonGloss" high gloss automotive paint is available in five new colors created specifically for this new speaker: Quartz, Ivory, Crimson, Carbon and Teak.
Despite its compact 14.83"x8.61"x10.19" (HxWxD) size, each TuneTot weighs an impressive 29 pounds. Frequency response is spec'd at 65Hz—23kHz ± 3dB. Sensitivity is 86dB, which is moderately low, but the 8 ohm/ minimum 6.61 ohm impedance should make TuneTot a relatively easy speaker to drive and Wilson sets the minimum amplifier power requirement at 25 watts per channel.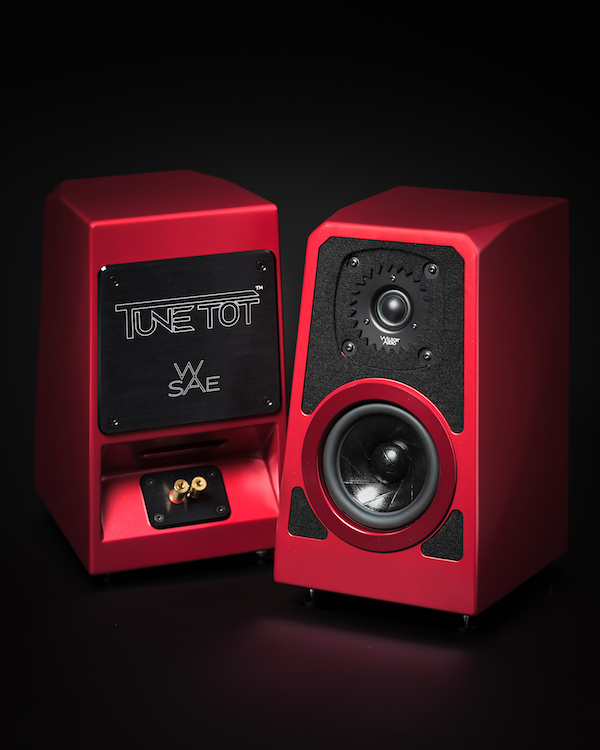 A full Complement of Accessories, Standard and Optional
Despite appearing to be a "simple two-way" speaker designed to be "plopped down" on a desk-top, TuneTot comes with a set of performance optimizing accessories. The tool kit, the contents of which will be familiar to Wilson "regulars", includes sets of height adjustable aluminum spikes with nuts and a set of fixed stainless steel ones used to both level and adjust the speaker's rake angle in order to visually optimize time-domain performance as explained in the well-produced instruction manual.
Also included is a set of aluminum "spike pads" to protect shelf surfaces, a set of Allen wrenches and a crescent wrench and foam vent/port plugs that can be used to reduce port energy in certain locations. One wrench can be used to remove the aluminum back panel, behind which are tweeter resistors used for both speaker protection and level setting. A resistor "fine tuning" kit is available for use in applications where the tonal balance needs adjusting.
A series of optional accessories can be purchased separately. These are described as being part of the TuneTot "Ecosystem", the most critical one being the ISOBase™, which is a heavy isolation platform constructed of aluminum and proprietary "X" composite, designed to be used where the speakers would otherwise sit on resonant surfaces like bookshelves or desktops. Also available as extra cost accessories are low diffraction grilles in a choice of six fabric colors, the frames of which are machined from "X" material. For those who prefer no grille, there's an anodized aluminum woofer ring available in a choice of colors.
Set Up and Use
Shortly before leaving for Munich High-End a pair of TuneTots arrived and after a relatively quick set-up, I was able to listen for a few days. The speakers sat on ISOBases atop a desk shelf that just happened to put the woofer centers at the precise, ideal height as described in the instruction manual. I drove the TuneTots with a Tim deParavicini designed Musical Fidelity A1 "Collectors Edition" Class A integrated amplifier (with an outboard PSU) producing approximately 40 watts per channel and a great deal of heat! It's a sweet, almost tube-like sounding amplifier. I used an older Musical Fidelity outboard DAC.
The combination produced extraordinary near-field tonal and spatial performance. Short for time, I first had to edit a video tour of Music Direct's warehouse that will go "live" on YouTube after the Munich Show coverage. It was recorded with a stereo "shotgun" microphone as have been most recent videos so I'm used to the sound through my usual desktop, Vanatoo Transparent One speakers that are silly-good for $549 a pair considering that they are powered and include a built-in DAC.
Much to my surprise, the TuneTots produced three-dimensional vocal images of MD's Josh Bizar and myself, both hovering well in front of the speakers with both of us sounding convincingly more "live" than I've heard from previous edited videos. And despite being a short distance away, the speakers "disappeared" the way room-optimized big ones do in my main listening space.
Of course I was more interested in hearing CDs and high-resolution music files so the evening before leaving for Munich I sat down and played about an hour's worth of tunes plus some MP3s that are included in the embedded YouTube video.
What's pretty clear based on some short term listening is that Wilson has produced a deceptively "simple" two-way compact speaker that delivers the same high-resolution, feathery delicacy, low tonal coloration and dynamic "slam" (within reason given their size) as do the company's bigger offerings and it also produces 3D imaging and coherent soundstaging—and that's with a 27" iMac in between.
The TuneTot is also capable of delivering high SPLs free of compression and audible distortion and more importantly sounded equally enticing at low SPLs. Bass performance was supple, tuneful and well-controlled down to around 45Hz (I didn't measure) with possibly more and better bass coaxable from the speaker with some moving around in the space limited location.
When the TuneTot first arrived I thought it looked like a Sabrina amputee—probably not a quote Wilson will pull from this short write-up—but following this admittedly limited listening period, that's my conclusion. And that's a good thing.
All of this attention to detail, high build quality, "top shelf" packaging and of course excellent sonic performance comes at a considerable price: a pair of TuneTots will set you (or someone else) back around $10,000.
This is not my office:
<!- ------------------------------------>