Yellow Magic Orchestra: Explorations, Part 1 (1978-1981) Part II
X∞Multiplies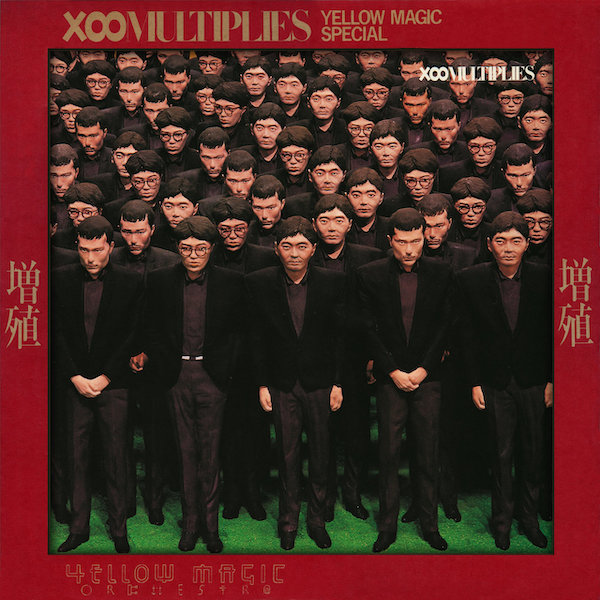 Alfa Records YMO-1 10" mini-LP (2nd edition, 1980)
Produced by: Haruomi Hosono
Engineered by: Norio Yoshizawa, Mitsuo Koike, Atsushi Saito, Yasuhiko Terada, and Michitaka Tanaka
Mixed by: Mitsuo Koike and YMO
Mastered by: Uncredited
Music: 6
Sound: 7
By far the most confusing entry in YMO's catalog, June 1980's X∞Multiplies combines the band's new wave experiments (featuring guitarist Kenji Omura) with comedy troupe Snakeman Show's skits. A Japan-only 10" mini-album (packaged in a 12" red cardboard frame), Multiplies did little more than buy the trio more time for a proper follow-up. "Nice Age," a new wave/art rock track about a manipulative girl, is musically messy; the covers of Archie Bell & The Drells' "Tighten Up" are fun but confusing, "Citizens Of Science" is a half-baked electro-ska-punk track, "Multiplies" is forgettable surf/ska filler, and the re-recording of Sakamoto's "The End Of Asia" seems merely an afterthought. The comedy skits, performed in Japanese and English, importantly address racist ideas of the Japanese ("Japan is number one! Actually, the Japanese people are crazy! Japanese is like pigs! Japanese is like monkey… they have small cocks, short legs, like yellow monkey") but get stale after a couple of listens. An occasionally fun and inexpensive record, yes, but a non-essential one. (Of course, back then Japanese record buyers acquired anything YMO; Multiplies spent 24 weeks on the Oricon LP Chart and sold over 300,000 copies.)
The Japanese edition is a 10" disc in a 10" gatefold sleeve housed in a 12" red cardboard frame. The original pressing manufactured at JVC (but not on SuperVinyl), which I acquired in near mint condition for roughly $12 USD, is extremely compressed but has adequate EQ balance. The low bass is rolled off, though there's still plenty of bass presence. A&M also released an American 12" edition, with some of Multiplies' "real" songs and a few Solid State Survivor tracks (there's also a European pressing with all the actual Multiplies songs and some SSS cuts); Alfa in Japan released the A&M edition with a poster. Being a completist, I'm happy to own a Multiplies 10", but I recommend purchasing other YMO LPs first.
BGM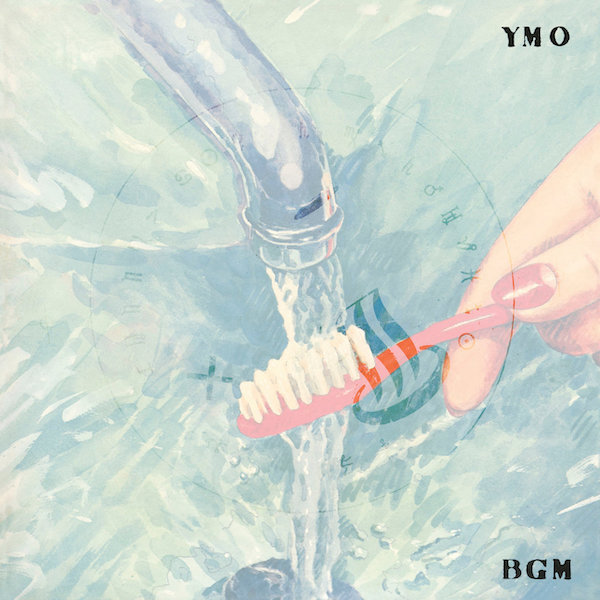 Alfa Records ALR-28015 LP (JVC 1st pressing)
Produced by: Haruomi Hosono
Engineered by: Mitsuo Koike with Yoshifumi Iio at Studio "A"
Mixed by: YMO with Mitsuo Koike
Mastered by: Hiroshi Yuasa at JVC Cutting Center
Music: 9
Sound: 9
By BGM's March 1981 release, YMO were Japan's biggest pop band and most visible contemporary music export. "[Teenage girls] would literally chase us down the street and rip our clothes to shreds," Hosono recalled. Sakamoto "hated it. We were always followed by paparazzi." Takahashi said, "It felt like we'd get mobbed every time we went out." Alfa Records, which marketed the group as pop idols of sorts, willingly bought the latest recording technology, including 32-track and 4-track 3M digital recording systems. Following a 1980 world tour involving nearly $604,000 current USD worth of gear, Yellow Magic Orchestra spent a month in Alfa's Studio "A" completing BGM ("Beautiful Grotesque Music" or "Background Music," depending on your source), a legacy-cementing revolutionary pop experiment.
BGM's advanced technical prowess is immediately clear; the back cover thoroughly lists all of their cutting-edge World Tour 1980 gear (including two Roland MC-8 MicroComposers, a couple ARP Odysseys, Pollard Syn-Drums, several Moog III-C's, three Sequencial [sic] Prophet-5's, and a few Yamaha E-1010 analog delays), and the four-page insert catalogs every recording unit. For outboard gear, there are EMT-140 and -240 plate reverbs, Eventide Digital Delays and Harmonizers, eight Kepex 500 Program Expanders, an array of Universal Audio compressors (including four 1176's), plus various phasers and "frangers." In addition to the 3M digital recorders, they also employed 24-track 3M and MCI analog tape decks, plus a Teac 80-8 with DX-8 noise reduction. There are 65 total microphones, among them six Neumann U-87's, six Neumann M-269's (currently worth around $15-20k each), six AKG C-451E's, four Electro Voice RE-20's, six Sennhiser [sic] MD-421's, and four Sony C-37P's. YMO and engineer Mitsuo Koike mixed BGM on Studio "A"'s custom API 36in-32out automated console. That's a lot of expensive equipment!
Easily the group's most experimental, forward-thinking work, BGM showcases the members of YMO fully assuming their respective roles: Haruomi Hosono "the ideas man," Yukihiro Takahashi "the popularizer, the communicator;" and Ryuichi Sakamoto "the professor" (some YMO-related releases say "Professed by Ryuichi Sakamoto"). Unfortunately, extreme tensions between Hosono and Sakamoto resulted in the latter's frequent absence. "I was always trying to stop Harry and Ryuichi from fighting," Takahashi told The Guardian in 2008. Only two band images appear on BGM's package; one is a Kenji Miura photo used twice (and featured at this article's beginning), and the other advertises YMO's photo book Omiyage. Further, Sakamoto's management recruited Peter Barakan for lyric translations, and Hideki Matsutake's role increased.
Thick electronic drums, persistent hi-hats, and sustained synths introduce BGM's first song, Yukihiro Takahashi's "Ballet." Eleven years before Warp Records' seminal Artificial Intelligence compilation of "electronic listening music" popularized ambient techno and IDM (intelligent dance music), YMO's electronic soundscapes conveyed a similar melancholic emptiness. Takahashi's digitally processed vocals detail a ballet dancer "Acting out a story written in air" and "Dancing with sadness, just for herself," as blatantly artificial synth-strings usher in the song's second half. With similar sonic ideas, Sakamoto's "Music Plans" features near-unintelligible vocodorized singing, while Haruomi Hosono's "Rap Phenomena," although far from profound ("Rap, rap, everybody rap/Rap, rap, do you think you can rap?"), holds up shockingly well. Despite lacking stylistic connection to New York City's early hip-hop scene, it still influenced works including Afrika Bambaataa's "Planet Rock" (the now-disgraced Bambaataa once half-joked that Yellow Magic Orchestra invented hip-hop). Ambient interlude "Happy End" transitions into a techno re-recording of Ryuichi Sakamoto's "Thousand Knives" (here written as "1000 Knives"); the re-recording lacks the 1978 original's subtleties, though at the somewhat disjointed first side's end manages to make sense.
"Cue," the second side's opener, is BGM's sole conventional pop song. Complementing the longing, minimalist lyrics, the Hosono and Takahashi-penned track contrasts bursts of exuberant synth-bass with beautifully cold synth melodies. "UT" and "Camouflage" use arena-sized synths atop their experimental textures; similarly, Hosono's "Mass" sounds simultaneously mysterious and triumphant. "Loom," a rework of Hideki Matsutake's "The Infinite Space Octave," is true "background music" grounded with a metronome click, its slow, sweeping electronics predictive of Aphex Twin's Selected Ambient Works projects. A rare "classic album" deserving of such universal praise, BGM's influence is evident in most current electronic music. Kraftwerk's early technopop, integral as it was, compared to YMO's best works resembles less post-80s synth-based music. Forty years later, BGM, equally cutting edge as it is alluringly imperfect, will always sound like the past, present, and future.
Even though A&M released BGM unaltered in the US, the original Japanese Alfa pressing (ALR-28015), cut by Hiroshi Yuasa and pressed on JVC SuperVinyl, is the one to have. While 3M's early digital systems rendered live instrumentation grainy and artificial, it only helps BGM's electronics. The original LP's EQ balance is pleasingly warm, the mix realistically staged, and the disc quiet. The tip-on jacket holds up well, and the inserts are well-printed. Considering the $20-ish (plus shipping) cost of a near mint original Japanese copy, there's no need for any other pressing.
Technodelic
Alfa Records ALR-28030 LP (JVC 1st pressing)
Produced by: H. Hosono and YMO
Engineered by: Mitsuo Koike (assisted by Yoshifumi Iio) at Studio "A"
Mixed by: YMO with Mitsuo Koike
Mastered by: Hiroshi Yuasa at JVC Cutting Center
Music: 10
Sound: 9
"This must be the ugliest piece of bread I've ever eaten," begins "Pure Jam," the first track on YMO's November 1981 release Technodelic. Whereas BGM's experimentation is sprawling and often desolate, Technodelic is concise, its sound psychedelic and industrial. In addition, Technodelic's recording process was significantly longer than BGM's, and more evenly credited are each member's contributions. It's among the first albums to extensively use samples and loops (created with Toshiba-EMI engineer Kenji Murata's custom-built LMD-649, the first PCM digital sampler), perfecting the blend of electronic, amplified, and acoustic instruments that still persist in Haruomi Hosono and Ryuichi Sakamoto's current solo works. Unlike the band's previous LPs, Technodelic doesn't fill up its background space, starkening contrasts between the natural and artificial.
"Pure Jam," with lyrics about a "shapelessly square" piece of bread "wrapped in a foil-like substance," features bubbling space age synths, stuttering drum machine hi-hats, and hummed background vocals. "God, it's so ugly/I wonder why/Maybe the answer lies in the thickness or the size," a multitracked Yukihiro Takahashi sings. Wordless vocal samples punctuate the dark "Neue Tanz" (German for "New Dance," and the name of a Towa Tei-curated 2018 YMO compilation), and "Stairs"' winding pianos unsettle. "Seoul Music," composed by Sakamoto and Takahashi, best symbolizes Technodelic's rhythmic sophistication, with the latter's offbeat drum hits, Hosono's funky bass, syncopated synths, and eerie background vocals complimenting Sakamoto's descriptive storytelling. "Light In Darkness" is haunting Another Green World-esque art music, its glistening synths hinting at a brighter universe while Hosono's skillful bass grounds it in gloomy reality.
If the first side wasn't odd enough, side two's opener "Taiso" is psychedelic art-boogie, loosely comparable to Bowie's "TVC15" or "Be My Wife." The heavily processed drums, deceptively simple synthesizers, and vocal chants are unlike any other YMO song, with Sakamoto's instructive lyrics ("Raise your arms up above your head/Bring them down to shoulder height/Keep them straight and bend you elbows," etc) and the Talking Heads-directed video only enforcing the joyful weirdness. Featuring relentless programmed drums, ominous synths, and cryptic lyrics, Hosono's five-minute "Gradated Grey" details "A landscape like I've never seen, as far as my eyes can see," an unnamed something "getting closer" "every minute, every second." "Key," Technodelic's most straightforward "pop" song, lyrically disturbs; Takahashi sings about "[something] happening" that "gives me a thrill but it's also very frightening," noting "I see a moth/It looks like my lover" and "I see a long wall/It has no end/Use the key to open it." Musically, it's catchy yet artsy synth not-pop, dominated by flashes of percussive effects. Through samples of industrial noises, Sakamoto's ambient "Prologue" and "Epilogue" suite incorporates musique concrete in a tightly structured format. The former track's wandering synth lines organize the unabashed experimentation of his 1980 solo LP B-2 Unit, whereas the latter's sad yet beautiful melody appropriately concludes the record.
On paper, Technodelic appears quite avant-gardeーfor the time, it wasーthough in execution is relatively accessible, yet dense enough for even the most scrutinizing music critic. By its November 1981 release, YMO could sell anything: on the Oricon LP Chart Technodelic "only" reached #4 (BGM hit #2), but for experienced listeners is Yellow Magic Orchestra's definitive masterpiece, a postmodern work artfully capturing the spectrum of human emotion with brilliant perspective. It pushed music forward yet doesn't actively show off its innovation, remaining relevant decades later. What can a popular record be? What is a true artist's societal role in promoting lasting art? These are the questions raised by pieces on Technodelic's scale, questions that will never be answered. Similarly, the meaning of the album's lyrics will likely remain ambiguous, the sonic ideas of unknown origin, and the booklet's photographs unexplained. Hosono particularly can't remember much behind-the-scenes detail of his work; memories fade with time, but Technodelic's excellence forever remains.
The original Alfa pressing, cut by Hiroshi Yuasa and pressed on JVC SuperVinyl, is compressed but still reasonably dynamic. The vinyl is quiet, and the direct-to-board foldover sleeve (with the Xerox art, not the European "woman" cover) is well-constructed. There's also an 8-page unstapled booklet with lyrics and greyscale photographs of old machinery. For BGM and Technodelic particularly, the 2000s Mitsuo Koike and 2018-19 Bob Ludwig remasters currently streaming (the latter available on Qobuz at 96/24) aren't at all faithful to the original LPs, and for deep listening should be ignored (however, they're adequate for cursory listens).
Stay tuned for next week's "YMO Intermission," a dive into the artists' solo works and side projects from 1980-1982.
(Malachi Lui is an AnalogPlanet contributing editor, music lover, and avid record collector. Follow him on Twitter: @MalachiLui and Instagram: @malachi__lui)
<!- ------------------------------------>