Yellow Magic Orchestra: Explorations, Part 2 (1983-Present)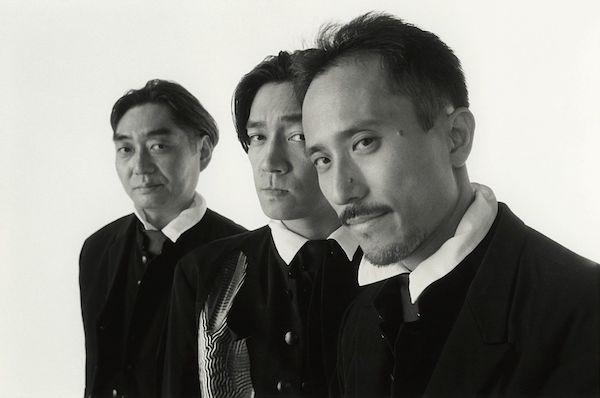 Concluding our multi-part exploration into pioneering Japanese synthpop group Yellow Magic Orchestra (YMO), this week we'll analyze the trio's work from 1983's
Naughty Boys
to the present day. We'll only focus on the core catalog albums; as good as non-album tracks like "Chaos Panic" and "M-16" are, coverage of those would interest only maniacal completists. Those who aren't yet caught up can view the series' previous features below:
Yellow Magic Orchestra: Prologue
Yellow Magic Orchestra: Explorations, Part 1 (1978-1981)
Yellow Magic Orchestra: Intermission, 1980-1982 (Solo LPs & Side Projects)
Now for today's feature…
Naughty Boys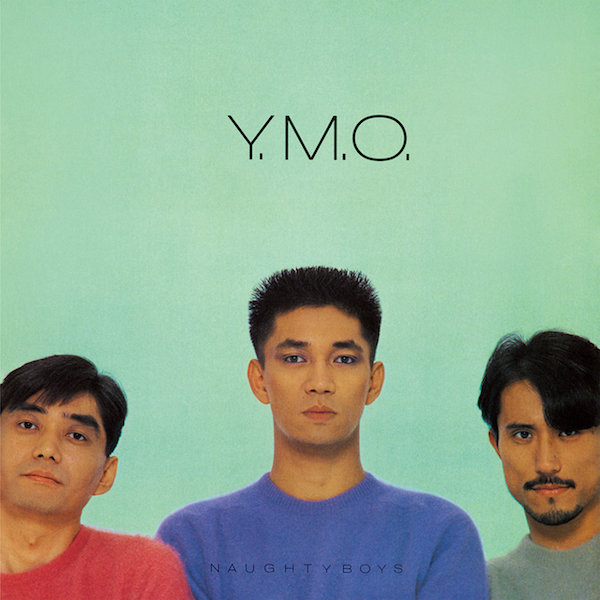 Alfa Records YLR-28008 LP
Produced by: YMO
Engineered by: Mitsuo Koike, assisted by Akitsugu Doi and Takanobu Arai
Mixed by: YMO with Mitsuo Koike
Mastered by: Uncredited
Music: 8
Sound: 7
Following a 1982 group hiatus, Yellow Magic Orchestra's members reconvened in October 1982 to record Naughty Boys, a "comeback" record that on the Oricon LP Chart shot to #1. Instead of continuing BGM and Technodelic's experimentation, Naughty Boys shows YMO (with former Be-Bop Deluxe frontman Bill Nelson on guitar) crafting polished bubblegum J-pop. Most of the lyrics are in Japanese, and unlike the previous records' surreal, sometimes dystopian themes, straightforward love songs comprise most of Naughty Boys.
"Kimi Ni Mune Kyun," with lyrics written by former Apryl Fool and Happy End drummer Takashi Matsumoto, is bright, cheerful synthpop about a romantic fling on summer vacation. (The hilarious music video depicts Yukihiro Takahashi, Haruomi Hosono, and Ryuichi Sakamoto with forced smiles and dances, the latter two evidently very tired and distracted.) "Focus," with its arena-sized drums and wailing guitars, details an ex-girlfriend becoming famous and leaving behind the song's narrator ("You'll be burning with a new love tonight/And I'll be burning old pictures on my mind"), while "Ongaku," written for Sakamoto's daughter, is a cheerful song about music. "Opened My Eyes" and "Lotus Love" are heartfelt love songs, the bombastic guitar-anchored cuts "Expected Way" and "Wild Ambitions" depict a sense of both longing and anticipation, and the 30-second instrumental snippet of "You've Got To Help Yourself" previews the best of YMO's 1983 pop songs (more on that later). Naughty Boys' countless synth layers are bright and artificial, the production overtly commercial and clean; never before or after did Yellow Magic Orchestra sound so joyous and chart-focused.
Recorded on a 3M D.M.S. digital recording system at Studio "A" and Onkio Haus, Naughty Boys' mix is dense, with synths and drums panned everywhere. The original Alfa Japanese vinyl (with a Yen Records catalog number) is bright, compressed, and bass-shy, though subsequent remasters sound similar (the lack of bass is probably part of the album's character). The black vinyl is fairly quiet, the semi-gloss obi nicely lines up with the jacket art, and there's a four-page art and lyrics insert. Since later reissues probably aren't an improvement, a mint Japanese original (about $25 plus shipping) is the way to go.
Naughty Boys Instrumental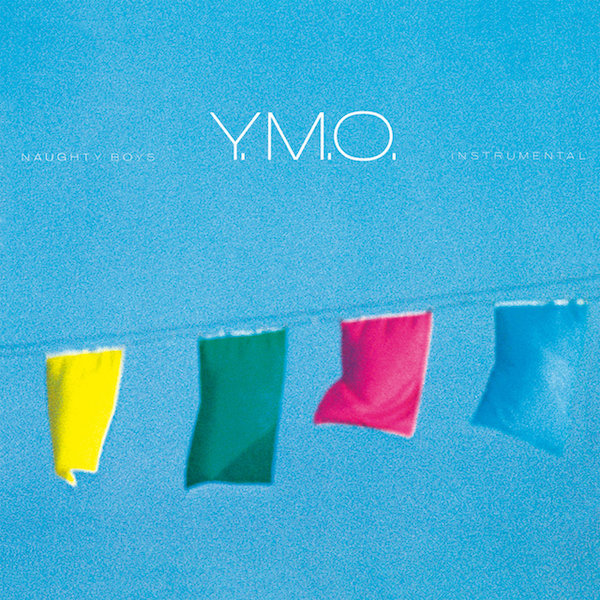 Alfa Records YLR-20002 LP
Produced by: YMO
Engineered by: Mitsuo Koike (assisted by Akitsugu Doi and Takanobu Arai)
Mixed by: YMO with Mitsuo Koike
Mastered by: Uncredited
Music: 8
Sound: 8
In July 1983, Alfa released Naughty Boys Instrumental, an instrumental version of Naughty Boys replacing the lead vocals with more synths and rearranging the tracklist. What might appear as a completists-only release is actually one of YMO's best records; as good as Naughty Boys' bubblegum synthpop is, the instrumental LP's synth melodies bring out a more melancholic, human aspect. The elements all blend together in an otherworldly space, serving as catchy pop background music. In that sense, Naughty Boys Instrumental feels predictive of Hosono's late 1983 recording Hana ni Mizu (released in late 1984), a lush ambient tape commissioned for MUJI department stores. Further, there's a full instrumental version of "You've Got To Help Yourself," and an instrumental of single B-side "Chaos Panic" replaces "Kimi Ni Mune Kyun."
The original Alfa pressing (which retailed for ¥800 less than the Naughty Boys vocal LP) sounds better than the normal album. The record is bright but more dynamic, the black vinyl is quiet, and the foldover jacket is made of decently thick cardboard. My copy also includes what looks like a fan club sign-up/mail order card in mint condition. If you have any interest in Naughty Boys, then Naughty Boys Instrumental is equally essential.
Service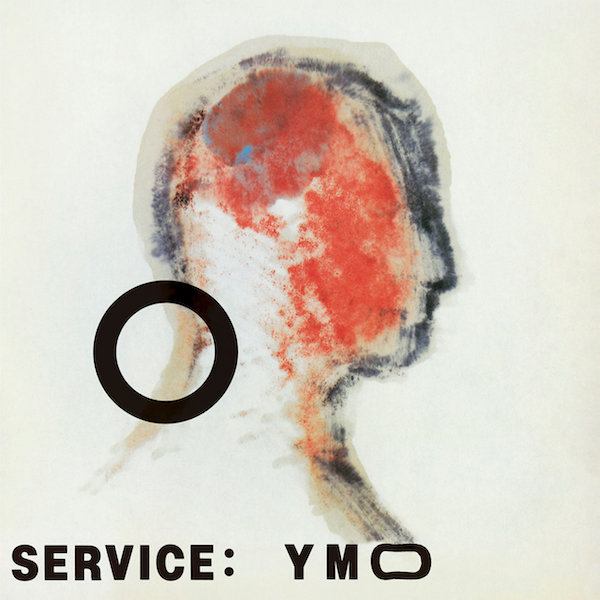 Alfa Records YLR-28013 yellow vinyl LP (Japanese pressing)/Pick Up Records LPU-0001 LP (European pressing)
Produced by: YMO
Engineered by: Mitsuo Koike (assisted by Akitsugu Doi)
Mixed by: YMO with Mitsuo Koike
Mastered by: Teppei Kasai at CBS Sony Shinanomachi Studio
Music: 7
Sound: 6 (Japanese pressing), 7 (European pressing)
After Naughty Boys' success, YMO recorded one final studio album, December 1983's Service. Of the 14 tracks, seven are song-length spoken skits by comedy troupe S.E.T. (Super Eccentric Theater), with only seven proper songs (the S.E.T. skits take up 25 minutes). The songs aren't nearly as bubblegum as Naughty Boys, but still prioritize accessibility over experimentation. The catchy album opener "Limbo," with Hosono's funky bass, tense Takahashi/Hosono/Barakan-penned lyrics, and layered synthscapes summarizes YMO's previous accomplishments; likewise, Hosono's eerie "The Madmen" blends Technodelic's darkness, Philharmony's textures, and Naughty Boys's pop focus. "You've Got To Help Yourself" is lyrically simple yet musically sophisticated synthpop perfection, "See-Through" elegantly describes a relationship falling apart, and Sakamoto's closing track "Perspective" is a beautiful ballad appropriate for a last LP ("In the gleam of a brilliant twilight/I see people torn apart from each other/Maybe that's their way of life"). There are a couple of clunkers, though: "Shadows On The Ground" sounds relatively generic, and "Chinese Whispers" lacks memorability. Service isn't Yellow Magic Orchestra on autopilot, but has a sense of finality; the skits water down the Japanese album, and there aren't enough actual songs for it to rank among YMO's best.
The original Japanese Alfa transparent yellow vinyl pressing mastered by Teppei Kasai sounds, from an audiophile standpoint, barely acceptable. Cramming 55 minutes onto a single LP is never a good idea (unless it's DMM-cut, which I'm not sure this is), and the original Service is dynamically compressed with severe bass roll-off. The songs' intricate detail is lost, and Hosono's bass particularly suffers (the less-demanding skits sound fine). Inner groove distortion plagues "You've Got To Help Yourself," the (loud) last song on side one. However, the Japanese vinyl includes a four-page insert with lyrics and artwork (including a photo of the three members in glass boxes) and a high-quality jacket, making the purchase worthy.
In addition to the yellow vinyl Alfa pressing, I have the 1984 Pick Up Records Dutch/European pressing, which edits the skits (completely omitting "S.E.T.-3" and "S.E.T. + YMO" but leaving complete "S.E.T.-6"). Likely cut from a mastered tape copy, the Pick Up edition (pressed at the Record Service Alsdorf plant) doesn't fix the bass roll-off issue, but with a relaxed top end sounds more dynamic. The edited skits when translated probably make no sense, though the European LP experience is easier for those who don't speak Japanese. The pressing quality is decent, though the slightly redesigned foldover jacket (consolidating the lyrics onto the back cover and forgoing the insert) is quite flimsy. I got my VG+ copy for $33 shipped from a German seller; I'd recommend getting the Pick Up pressing to listen to, and the Japanese Alfa edition to look at. (I can't comment on the Music On Vinyl and Great Tracks single disc pressings, which use the Japanese album configuration. There's also a 2LP 45rpm Great Tracks box set with the skits fully intact, digitally remastered by Bob Ludwig and cut by Bernie Grundman. I haven't heard that one either, but based on the 96/24 files I'd recommend it to those willing to shell out $90+ for a full-length, decently-EQ'd Service.)
After Service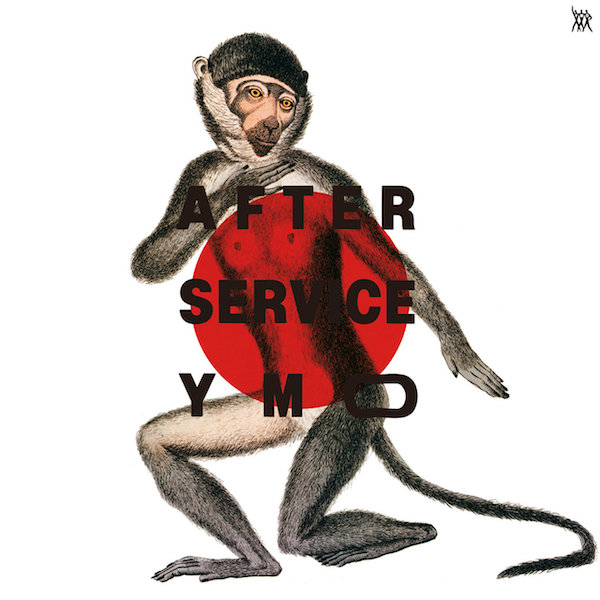 Alfa Records YLR-40001-2 red vinyl 2LP
Produced by: YMO
Engineered by: Mitsuo Koike, et al
Mixed by: YMO with Mitsuo Koike at Alfa Studio "A"
Mastered by: Teppei Kasai at CBS Sony Shinanomachi Studio
Music: 7
Sound: 7
In November and December 1983, YMO embarked on their last Japanese tour before their 1984 "spreading out." Recorded on December 12 and 13th (right before Service's December 14th release), February 1984's live double LP After Service captures an exhausted YMO at the Nippon Budokan. Joined by ABC's David Palmer on drums (Takahashi does synths and drum programming), After Service is YMO going through the motions, performing early hits plus Naughty Boys and Service tracks with little inflection. The renditions here of Solid State Survivor songs are better than the 1979-80 versions, though it's sad to hear Takahashi, Hosono, and Sakamoto audibly sick of each other; there's no musical chemistry here, just by-numbers replications of the studio recordings. (Complete Service, an extended version remixed by Brian Eno, dropped in 1992 but is out of print.)
Also worth noting is YMO's farewell film, March 1984's Propaganda. Weaving artful (and very 80s) cinema with Budokan concert footage, Propaganda was to YMO the fitting send-off that Abbey Road was to the Beatles. The storyline isn't the most well-defined, but Propaganda ties up some loose ends left by After Service. There's only one glitchy VHS rip online; finding an official physical edition in a non-obsolete format is difficult.
Recorded using a 48-track TEAC tape recorder on a TAMCO mobile studio, After Service's sound is on par for an arena recording. The original Alfa Records translucent red vinyl (black vinyl also pressed, including promos with Yen labels), cut by Teppei Kasai at CBS Sony Shinanomachi Studio, is bright but reasonably dynamic. The tip-on gatefold jacket is nice, though I can't comment on the insert as it's missing from my copy.
Technodon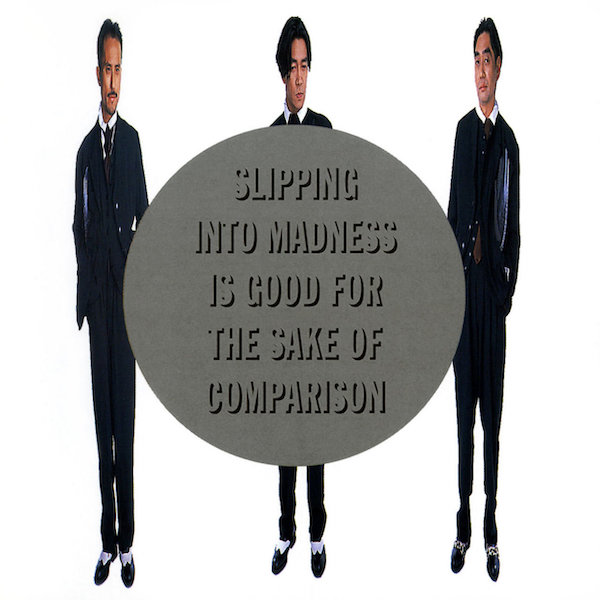 Universal Music LLC UPJY-9089/90 red vinyl 180g 2LP
Produced by: YMO
Engineered by: Various
Mixed by: Goh Hotoda
Mastered by: Yoshinori Sunahara (2020 digital remaster), lacquer cutting credits unknown
Music: 7
Sound: 8
By the early 1990s, countless electronic music producers cited Yellow Magic Orchestra as an influence on that era's techno (1992's Hi-Tech No Crime features YMO remixes by The Orb and 808 State, among others). With previous conflicts resolved, Haruomi Hosono, Yukihiro Takahashi, and Ryuichi Sakamoto reunited in 1992 (as NOT YMO or a slashed-out "YMO" supposedly due to name rights issues) to record Technodon, a kaleidoscopic hour-long ambient techno journey. While they used some of their old gear, the album drew heavily from that era's electronic dance music in sonics, song lengths, and lyrical redundancy (no English lyrics translator is credited, though there are spoken word contributions from William S. Burroughs, William Gibson, and notorious NASA-funded dolphin researcher John C. Lilly). "Be A Superman," with its Kraftwerk "Home Computer"-esque synth runs, is lyrically about laziness/exhaustion ("I don't wanna sleep now/I don't wanna wake up/I don't wanna work now/I don't wanna make love," repeated several times), "Nanga Def?" has interesting vocal manipulations and squelching acid house synths, "I Tre Merli" gracefully builds up, and the Japanese and English renditions of "Pocketful Of Rainbows" (made famous by Elvis Presley) are enjoyable. However, Technodon also features some of YMO's worst and most dated moments: "Hi-Tech Hippies"' lyrics ("Itty-bitty hippie tech/Teeny weeny floppy deck/Tacky tech, architect/Listen to our therapeutic/Steady state, spaced-out/Dig the psycho schematic") and grating synths are straight-up embarrassing, "Dolphinicity" stalls, and "Chance" is perhaps the most cliched 90s dance track on an album full of them. Technodon's biggest issue is that while it's a fine 90s dance record, it's the only YMO album that's firmly trapped in its time. Unlike Kraftwerk's similarly styled 1991 effort The Mix, Technodon isn't desperate for relevancy, yet still shows a pioneering electronic group catching up to those they influenced.
Originally only released on CD, in 2020 Universal Music Japan reissued Technodon on SACD and vinyl for the first time, supervised by mixing engineer Goh Hotoda. The 180g red vinyl double LP, digitally remastered by Yoshinori Sunahara (one of Takahashi's METAFIVE bandmates) and seemingly pressed at Toyokasei (lacquer credits unknown), sounds better than it has any right to. YMO recorded Technodon on DAT, though the quiet and flat vinyl sounds immaculately detailed, with image solidity, full bass presence, and a smooth top end. (Side note: I wish Sunahara remastered the 1978-1984 albums instead of Bob Ludwig, as 2018's Sunahara-mastered Neue Tanz compilation, unlike Ludwig's remasters, sounds faithful to the original LPs.) Further, the 2LP set (retailing for ¥5,500, or $50 USD) comes in a tip-on gatefold jacket with two booklets (an unstapled 20-page booklet replicates the original CD insert, while a new 12-page booklet features rare photos and Japanese liner notes from Eiichi Yoshimura and Goh Hotoda). The set is only available as a Japanese import (I got mine through CDJapan), though the quality makes it worth every penny even for Technodon skeptics. (Completists will also appreciate the 2020 remixed CD/Blu-ray reissue of Technodon In Tokyo Dome, the accompanying live release unavailable on vinyl.)
Epilogue
After Technodon, Hosono, Takahashi, and Sakamoto again parted ways, though presumably on better terms than the 1984 dispersal. Hosono and Takahashi in the early 2000s formed Sketch Show, a glitch pop band that released two full-length albums (which recently received their first vinyl releases). Sakamoto's involvement in Sketch Show increased beyond the occasional guest appearance, so in 2004 they performed as Human Audio Sponge, and in 2007 released the "Rescue"/"Rydeen 79/07" single as HASYMO. (These singles aren't on vinyl, though "Rescue" features on the 3LP HOSONO HARUOMI Compiled By OYAMADA KEIGO compilation.) A couple more HASYMO singles followed as the trio (again known as Yellow Magic Orchestra) performed in Japan, Europe, and the US. Many of these shows got CD releases via Sakamoto's label Commmons, though the videotaped YMO NHK show with Cornelius, Christian Fennesz, and Tomohiko Gondo is especially good. The members have most recently focused on their own work, though at Hosono's 2018 London concert, Takahashi and Sakamoto appeared for "Absolute Ego Dance." There aren't any publicly announced future YMO plans (Hosono says there won't be any more recordings), though thanks to the internet, Western knowledge of their groundbreaking innovations has spread (they were never obscure, just not recognized enough). Hosono's solo work is particularly well-known in online music communities, mainly due to the YouTube recommentations algorithm plus Light In The Attic's 2018 US reissues. Sakamoto continues to work on film scores, ambient and classical albums, and most recently a theater piece, while Takahashi still records with the Beatniks and his recent supergroup METAFIVE. Hopefully there are a few more live shows and reissues of archival material, but regardless, YMO's existing classics still immeasurably influenced decades of electronic music.
(Malachi Lui is an AnalogPlanet contributing editor, music lover, avid record collector, and fashion snob. Follow him on Twitter: @MalachiLui and Instagram: @malachi__lui)
<!- ------------------------------------>