Rhino Issues "EAGLES: THE STUDIO ALBUMS 1972-1979" Box Set On Six 180gram Vinyl LPs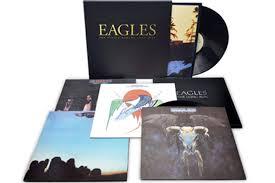 Rhino has released its long awaited Eagles box set containing
Eagles
,
Desperado
,
On the Border
,
One of These Nights
,
Hotel California
and
The Long Run
.
How big were these guys? The've sold more than 120 million albums worldwide, earning five No. 1 U.S. singles and six GRAMMY® Awards. The band's EAGLES - THEIR GREATEST HITS 1971-1975 album is the best-selling record of all time, with more than 29 million copies sold.
No matter what you might read elsewhere, the reissued vinyl was mastered by Bernie Grundman from 192k/24 bit files. No compression and minimal EQ was applied for this reissue box set. Probably the tapes were too fragile to jockey for an AAA reissue, but then again that's what they said about The Doors tapes and we all know what happened when Analogue Productions offered big bucks to use the tapes at 45rpm. Or as Cyndi Lauper sang "Money Changes Everything".
It's still possible of course that the tapes are not in great shape. On the other hand, Rhino's Hotel California reissue of a few years ago was AAA so why not just use the metal parts already produced?
<!- ------------------------------------>