Mats Unmasked!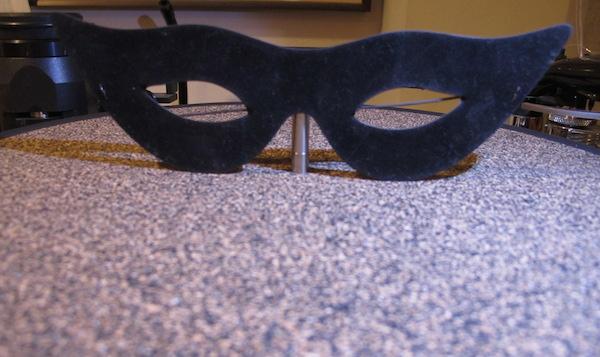 Thanks to all who downloaded and listened to the same track played using
8
different mats. That's a great deal of heavy lifting, hopefully made somewhat lighter by Mike Valentine's excellent Decca tree recording of a nimble performance of Vivaldi's "Concerto For 2 Mandolins". I hope you downloaded and enjoyed the "gift" track too.
The results are in and though this was not a scientific experiment, it was nonetheless interesting and useful. 199 readers participated. 37% or 73 votes were for "I Heard No Difference Whatsoever!"
Files "3" and "7" tied for the most votes (20 or 10%).
File "3" was Music Hall's cork mat ($49.95) with the raised discs. This news will cause Roy Hall to become more obnoxious than he is already and so is bad news for me.
Ironically "File "7" is a hand made, 1/16th inch thick cork mat that once was sold only in a Brooklyn, NY record store, put there as an "experiment". It sold "well" the maker told me, but his company sells other cork products in the range of 10,000 to 100,000 units annually and in this case "well" was a tiny number, plus, he said, his sales team was "tired of dealing with record and audio stores." Sounds familiar! So he's chosen to discontinue its manufacture.
Files "2" "5" and "6" tied for second place with 16 votes or 8% of the total. File "2" was Boston Audio's Mat 1 graphite mat ( $199). File "5" was one of two entries from "Hide in the Sound"—the one of suede (which is leather-$34), and file "6" was the MOOO mat ($75), which incorporates a vibration absorbing composition cork bottom and a cowhide top.
File "1" also with 8% but one fewer vote (15), was Zorin Audio's carbon fiber mat.
File "4" came in fourth (or third if you go by percentages, in which case File "1" tied with "2" "5" and "6" for second place) with 13 votes or 7% of the total. That one was "Hide in the Sound"'s split mat with one side suede and the other "leathery".
File "8" came in last with 5% or 10 votes. That one is "The Simple Mat" ($26.95), which is a synthetic cork blend designed for military use (the cork material not the mat, unless a guy in the military has a turntable).
I'm thinking perhaps being mat "8" was a handicap, no matter how good the mat (it's a mat loved by the folks at NeedleDoctor.com, which is its exclusive dealers).
A few readers asked about VTA adjustment given the various mat thicknesses. In fact, "The Simple Mat"'s maker says his 1/32 of an inch thick mat can be stacked for "quick VTA (SRA) adjustment." He says 1/32 of an inch on a 9" tone arm equals "1/5th of one degree".
Can you actually hear that? I say "no". I say most of the time when people claim to hear such slivers of a degree SRA/VTA changes they are hearing azimuth shifts that are easily audible. Azimuth shifts can be caused by the head shell offset angle on a pure unipivot arm or by a less than perfectly perpendicular VTA tower. But I don't think if you've set your SRA to 92 degrees that you are going to hear a difference re-set to 92.2 or 91.8 (etc.) but free free to dispute that!
For more information about the various mats visit these URLs:
Obvious there are dozens of other mats. Perhaps this test has changed your perspective on the subject or maybe not!
<!- ------------------------------------>