Hendrix's The Cry of Love and Rainbow Bridge Issued From Analog Masters by Experience Hendrix and Legacy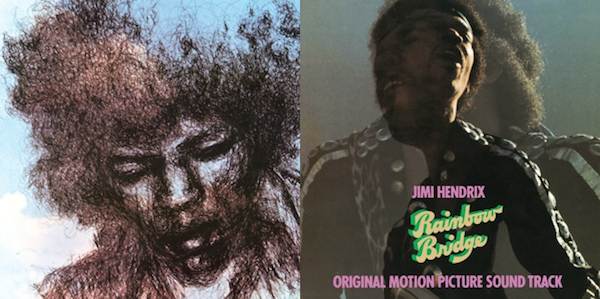 Experience Hendrix, LLC in conjunction with Sony/Legacy will release on September 16th these two Jimi Hendrix albums on CD, digital and 180g vinyl mastered by Bernie Grundman from the original master tapes.
The Cry of Love first released in 1971 was compiled by Eddie Kramer and drummer Mitch Mitchell from tracks recorded between December 1969 and the summer of 1970 at Electric Lady Studios. They were slated to be part of the double LP set First Rays of the New Rising Sun that Jimi never got to finish. It was eventually released as part of the first Experience Hendrix reissue series in the late 1990s once the Hendrix family gained control of the catalog. It was more an imagining of what Hendrix would have included because beyond the album title he left no specific direction though he did leave a great deal of recorded material.
All of the songs on that album had been previously released on three of the first four posthumously issued albums, one of which, the extremely popular The Cry of Love, at the time seemed like anything but a posthumous collection. It reached #3 on the U.S. charts and contained Hendrix classics "Angel", "Freedom" and "Ezy Ryder". This release returns to print after a very long time, one of Hendrix's most popular albums.
Not entirely a live album, Rainbow Bridge is also a posthumous set compiled by Kramer and Mitch Mitchell in 1971. The film was not a Hendrix project but rather one produced by his manager Michael Jeffery. It contains some of Hendrix's live oft-bootlegged Maui performance, but none of that is on the "soundtrack" album. In fact the only live performance on the record is Hendrix playing "Hear My Train A Comin'" recorded May, 1970 at Berkeley Community Theater. All of the songs were from the same studio sessions that produced The Cry of Love and originally intended for First Rays......
When the Hendrix family gained control of the catalog it created a variety of compilations using tracks from The Cry of Love and Rainbow Bridge to create First Rays..., South Saturn Delta and The Jimi Hendrix Experience box set.
Here for the first time in 43 years are the two albums as originally heard by Hendrix fans. Rainbow Bridge has never been issued on CD so digital people will be able to get it for the first time, though in my opinion digital people just don't "get it", if you know what I mean.
<!- ------------------------------------>