Roasting Chad Kassem This Weekend At L.A. and Orange County Audiophile Society Gala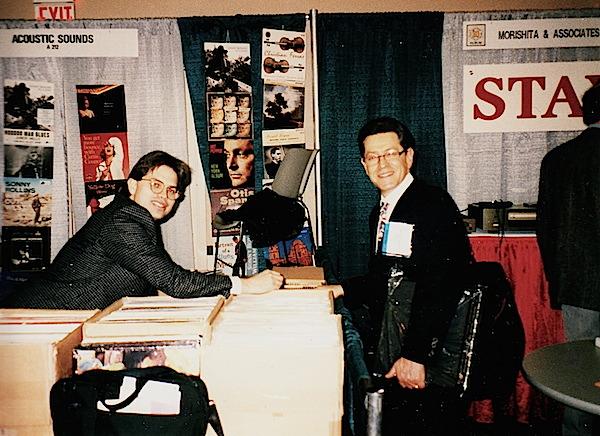 That's a photo of Chad Kassem and me from 1997. We go back a long way—to the 1980's actually. He's getting a "lifetime achievement" award on Sunday December 7th from the Los Angeles and Orange County Audiophile Society.
Society President Bob Levi asked me to "roast" Chad before the award is handed out and I said "yes" so that's where I'll be this weekend. But I wanted to give analogplanet.com readers a heads up about what's coming here:
The Bruce Springsteen box set review is half way completed. It will be in depth but unlike the Beatles box, the entire set will be reviewed in a single story. Many record reviews are coming as well, that are partially finished, including reissues from Mobile Fidelity (Miles, Dylan) and Analogue Productions (Beach Boys, Duke Ellington) and there are equipment reviews coming as well that are partially finished.
Also, we'll have some holiday gift giving suggestions including books and accessories..
<!- ------------------------------------>
| | | | | | | | | | | |
| --- | --- | --- | --- | --- | --- | --- | --- | --- | --- | --- |
| | Equipment Reviews | | The Gruvy Awards | | Blogs | Columns | | Show Reports | | News |