Neil Young "Ditch Trilogy +" LP Box Set Coming For Black Friday RSD. This image is of a Counterfeit!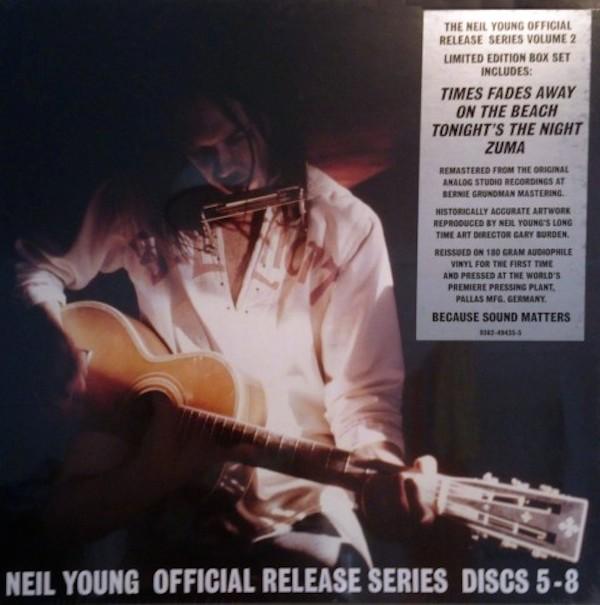 Note: the sticker on the genuine box set does not have "Times Fades Away". The Neil Young master tapes for this second box set were sitting in Chris Bellman's mastering suite last winter when I visited and interviewed Bernie Grundman about the Blue Note reissues, some of which were originally digitized at BGM Mastering and some of which were cut to lacquer by Chris.
I asked if I could take pictures and at first Chris said 'sure' but then he thought better of it and called John Nowland at Redwood Digital who thought about it a nanosecond and then nixed it, saying something like it's probably no big deal but you never know..
The set was due for last April's Record Store Day but then the mercurial Mr. Young at the last minute pulled it. Now it's supposedly set for Black Friday release on November 28th. The limited edition set features On The Beach (1974), Time Fades Away (1973), Tonight's The Night (1975) and Zuma (1975). The first two have never before been reissued on vinyl. Chris Bellman cut lacquers from the original analog master tapes. I forgot how Time Fades Away was sourced because there originally was no mix down tape for that. The original LP was mixed 'live" from the multitrack and cut "direct to disk"
Time Fades Away, recorded live during an uncomfortable tour is Neil's least favorite album. The playing is rough, the mood bitter, the all new songs not well-received by the audience and being released following the mellow and masterful Harvest, fans didn't know what to make of it. Today, heard in retrospect Time Fades Away is a low but important link in the Young chronicles. It plus On The Beach and Tonight's The Night are often referred to as "The Ditch Trilogy" because of what Young hand-wrote in the liner notes to the 3 LP Decade set: " 'Heart of Gold' put me in the middle of the road. Traveling there soon became a bore so I headed for the ditch."
What's odd is that this set was not on Rhino's "Black Friday" release schedule, and I received nothing from Warner Brothers either. Odder yet, read the sticker: "Times Fades Away"? You can pre-order this set on Amazon, Italy, Germany, France and Germany but not Amazon United States. Go figure.
<!- ------------------------------------>