Show Time! Saturday, Day Three Bangkok Hi-End Show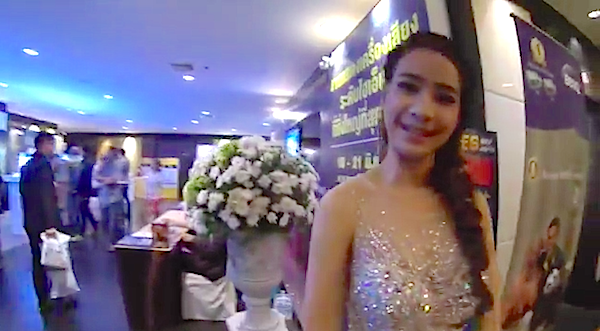 Day one was reasonably well-attended with mostly what appeared to be "high rollers"—either retired or taking a day off to visit the show.
Day two, Friday and especially today, were both crowded. The show appears to be similar in size to last year's Brooklyn, NY show. It occupies the entire 3rd floor of the large, luxurious Landmark Hotel, with all but one of the ballroom/meeting rooms occupied.
Additional exhibits were on one a regular hotel floor in the guest rooms with the beds and furniture removed, plus four large rooms on another floor adjacent to the outstanding pool and spa area.
Most striking about this show is the young demographic, with a clear majority of attendees pre-gray hair and that includes at the seminars I've given so far.
I'm doing one turntable set-up seminar and one called "Records to Die For", where I talk about ten records I've brought from home and why I think they are special. I also make sure to tell everyone that I would not die for any of these records, though I might kill for a few!
I picked records that represent certain categories: a direct to disc record ( Pavane Pour Une Infante, Defunte by the LA 4 on East Wind), an original pressing of Ellington Masterpieces and then I go into the story of how I found it and then into Analogue Productions' great reissue, a record for which there's no longer a master tape (Mel Tormé and Friends, Fritz Reiner and the CSO's Also Sprach Zarathustra, which has an interesting back store that makes it rare and desirable, the Music Matters reissue of Herbie Hancock's Maiden Voyage, which was a good and lucky choice because Blue Notes are very popular here, though I didn't know it, an original Capitol of Nat "King" Cole's Love is the Thing, just because and I talk about the various reissues, an original UK Decca pressing of España,which has a fun back story, an original "6 eye" mono pressing of Kind of Blue, which everyone loved looking at, a second pressing of the UK version of Abbey Road where I tell the audience how to read the matrix codes of EMI and UK Deccas, the Electric Record Company's reissue of Leonid Kogan's performance of Beethoven's Violin Concerto with the Orchestre de la Société des Concerts du Conservatoire conducted by Constantin Silvestri. I explain the ERC story and their reissue policy and prices. I went on line to Popsike using my phone and found that an original copy had sold earlier this month for more than $6000! And I brought my "RL" pressing of Led Zeppelin II, which was the record everyone wanted to hear.
It was played on a Transrotor turntable fitted with an OEM SME arm into an Octave phono preamp. Electronics were from Constellation, including the latest Hercules mono blocks driving a pair of Gauder akustik speakers. It sounded very good, as you might imagine, but the CD-R I made of it using the SAT arm, Atlas cartridge and Ypsilon phono preamp blew it away.
The Thai women are among the most beautiful women in the world, and the percentage of knock-outs is quite high—and that's based on both the "show girls" and being out and around town. I am loving this visit!
<!- ------------------------------------>