UMe Abbey Road 1/2 Speed Mastered Series Update: We Ask the Tough Questions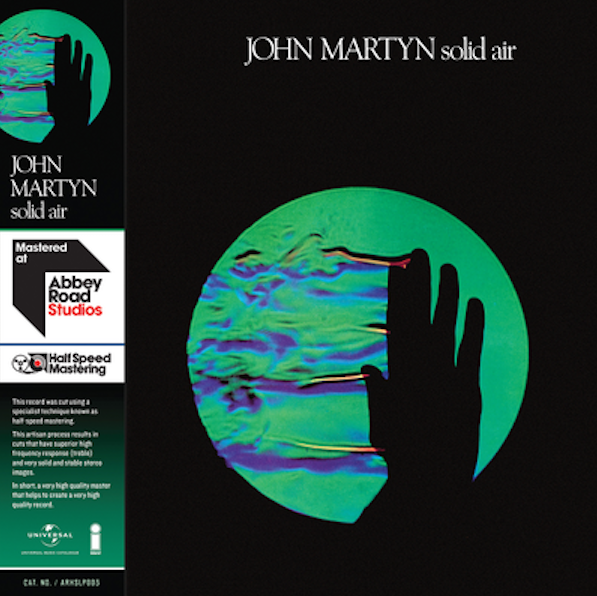 Miles Showell, who oversees Abbey Road's 1/2 speed mastering responded recently to a series of questions I posed to him. I want to thank him for taking the time to do so. Please read. And please, keep your comments civil and respectful. I think Mr. Showell's comments make clear the seriousness with which he approached this work
One thing he did clarify is that the 96/24 source used for the upcoming Exile on Main Street is the same one Stephen Marcussen produced for the anniversary box set. What's less clear is whether or not the unacceptable dynamic compression was added during the initial A/D transfer or if it was added when the box set lacquers were cut.
The first six titles in the series are available for pre-order here with the releases scheduled towards the end of March, 2016. The titles in addition to Exile.... are The Police Ghost in the Machine, John Martyn Solid Air, Free Fire and Water Cream Disraeli Gears and Simple Minds New Gold Dream.
Price is $38 with the exception of the double LP Exile, which sells for $49.99 and the Cream title, which, for some reason, sells for $32.
I have originals of all of these and so won't be buying them all again, but I'll buy the John Martyn title and compare to the original "pink rim" UK original. That should provide a good "base line" for the series.
By the way, right now there are some heavily discounted LPs and box sets on the UMe site including the Roxy Music box.
Here's what Mr. Showell had to say in response to my questions (which are italicized):
With regard to "Exile on Main Street", the previous vinyl editions cut from a digital source supplied by The Rolling Stones were dreadful. They were dynamically "squashed" and sonically a distant 10th place (at best) compared to the original, mastered at Artisan Sound. In my opinion a waste of PVC. So before again buying, what my readers want to know is: was the "squashing" done in the original digital transfer or were the full dynamics preserved in the transfer that will hopefully lead to a better result.
MS: This is one that is not easy for me to answer reliably as I have heard neither the master tapes nor the original Artisan Sound cut. Probably best to ask Steven Marcussen Mastering about how exactly the transfers were done. Ultimately The Rolling Stones own the masters on this album, have been involved and have approved Steven's work on this release. In reality it is their album and whatever anyone else might feel about the sound, it is the artist's decision on exactly how it should be presented. I would personally say that it is not for me or anyone else to over-rule them on this point.
Also, key to all of this is what A/D converters were used in the original transfers and what D/A converters were used for the lacquer mastering, as every digital converter has a signature sound (despite claims to the contrary), some better than others and some worse.
MS: This is easy to answer. At Abbey Road Mastering we use Benchmark converters. These are connected to the workstation using custom designed and built Abbey Road proprietary digital routing and all locked down with very stable external work clock generators.
I also wonder why, given the success of The Beatles mono box cut directly from the master tapes instead of from digital, why you feel this methodology will result in a superior record. MS:The Beatles in mono were not cut at half-speed. I have already explained why I feel this method is superior. Elimination of the low-frequency roll off on a Studer tape machine (a problem made doubly bad at half speed), better tape handling which will give better HF stability etc. There is a real risk that any advantage gained by half speed cutting is lost in equal measure by losses and other unpredictable problems in the low end and potential inaccuracies with the high end.
Finally, while you indicate the problems with cutting directly from tape and the advantages of using a digital source, there's nothing there about the disadvantages of cutting from a digital file. Do you think digitization at 96/24 is transparent to the source?
MS:No method is transparent to the source, even an all analogue signal path will add its own character to the audio. However, by working with carefully transferred high-resolution digital, any alterations are quantifiable and consistent. Tape will sound different with every pass, different with every head-block, different on every machine (even identical models of replay machine will not exhibit an identical sound). My method captures it from an Ampex machine fitted with custom extended bass response heads (which are not available for a Studer). In my opinion, a properly maintained Ampex machine fitted with the right heads will give a nicer and more musical sound than a Studer. Working this way also bypasses the disk transfer console as I use two separate play-back feeds from the workstation routed to two separate digital to analogue converters which in turn directly feed the Neumann lathe (the logic here being: Why pass the audio through any more kit than is absolutely required?). Finally, this method brings the advantage of micro-management of the programme. De-essing (always the Achilles' heel of half-speed) can with time and effort only be applied exactly where needed solely to the vocal and nowhere else in the recording. This is impossible at real time from tape where the whole mix runs the risk of being "smoothed out" by the de-esser. Also, there is the advantage that any damage to the tape can be repaired to a greater or lesser extent. One track on one of the tapes in this series has at some point in its history been played on a machine that had not been de-magnetised. This has caused damage to the master in the form of random clicks throughout the music. Targeting and removing just these clicks while leaving the surrounding audio utterly intact is time consuming but with patience is easily achievable digitally. This would be completely impossible via analogue methods. Also, other damage due to wear and tear (usually in the form of dropouts) can to some extent be repaired or at least greatly improved upon digitally.
For this series we are dealing solely with half-speed mastering. The greatest variable in all of this is the replay of the master on the tape machine. Just about all of the limitations of analogue cutting from tape are made twice as bad at half-speed. For this reason I firmly believe careful and sympathetic high-resolution digital capture from a well-cared for and customised (i.e. improved) American tape machine will ultimately yield better sounding records which is the sole reason for this series of releases. There is no perfect solution, but I feel by some distance this is the best way to proceed. Neither I nor Universal have decided upon this working practise because it is easier and cheaper. If anything it is probably more time consuming and expensive. I have chosen to work this way for these releases as I firmly believe it will make for the best records capable from the sources available. Even if the three sets of analogue tapes I had for this batch were not Dolby A encoded (in the case of The Police and John Martyn) or (for Simple Minds) be able to fit on a Studer A80 (the only machine that can be used for all analogue cutting) I would have worked in precisely the same way. It is worth noting here that the Simple Minds' album has always been cut via digital. The original cut made at The Townhouse in 1982 would have been made on an Ampex machine (ATR-102, the same model as mine but with less good heads). This machine is incapable of all analogue cutting and there were no Studers at The Townhouse. Instead, the audio would have been passed through a 1979 vintage Ampex digital delay. I hope no-one will question the improvements made to digital converters in the intervening 37 years.
All of this work for the Abbey Road / Universal half-speed cuts is the result of over 30 years' experience of handling tape and cutting vinyl masters. Stan Ricker the legend of half-speed who was my hero and who sadly died last year had come to a similar way of thinking. In later years he would regularly worked digitally albeit with slightly less esoteric equipment. How do I know this? He and I had several email chats, he was delighted that I was so inspired by his work and was extremely helpful to me with tips and advice when I was attempting to get the half-speed ball rolling again around 15 years ago.
<!- ------------------------------------>