What I Learned at the First Ever McIntosh Group Convention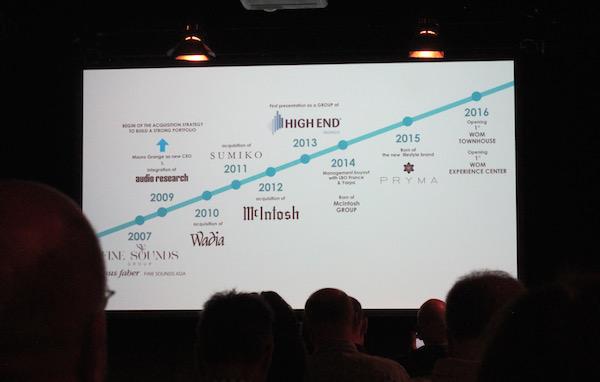 Last week, McIntosh Group Inc. CEO and chief visionary Mauro Grange invited a few hundred guests to Forte Village a luxury resort on the Italian Island of Sardinia for five days of work and fun.
Among the attendees were distributors and dealers of the group's brands McIntosh, Audio Research, Sonus Faber, Pryma, Wadia and Sumiko, as well as those brands' executives, product designers and sales managers.
This was the first time all of the pieces of the puzzle that is the McIntosh group were assembled in one place. It was an opportunity for Mr. Grange's to find out if all of the pieces fit together.
Also invited were audio journalists representing both print magazines and websites. There were enough people to fill the resort's large auditorium.
The inclusion of journalists was interesting because really, there were but a few new products introduced, some of which have already been reported on, on this website. So why go to the considerable expense and trouble to invite us?
I figured we were invited to see how the new entity, which I think is known as McIntosh Group operated. I had thought the group was called WOM (World of McIntosh) but at this event it was called "McIntosh Group". That would mean that WOM refers to the name of the "experience centers" being set up at dealers around the world and is also the name of the multi-story, multi-use New York City townhouse.
Most guests arrived Monday early and so had the day to decompress at the luxurious Forte Village resort on the Sardinian coast. Dinner that first evening was an opportunity for veterans like me to catch up with old friends in both the industry and the press (it was also an opportunity to avoid a few odious members of the press I proudly consider not friends.)
Tuesday was product launch day, which was handled much as you'd see it at Apple, or at a major automobile product launch, but rarely in the audio industry.
There were videos, glitzy lighting, loud music cues and a level of excitement and carefully constructed anticipation not previously seen in this business.
However, beneath the carefully constructed camaraderie, was the fascinating dynamic and somewhat uneasy relationship to be seen and felt between the McIntosh Group's two iconic vacuum tube-based companies McIntosh and Audio Research. The group's name alone plus McIntosh President Charlie Randall being the McIntosh Group's COO, puts Audio Research in somewhat of a defensive crouch.
However, as this event made clear, the group understands both the similarities and differences between the two companies. I was asked for permission to use in the presentation part of The Audio Research video posted both on the Analogplanet website and on its YouTube channel.
Of course I gave permission. Interestingly, the only clip used was of the group's Chief of Industrial Design, Livio Cucuzza, in ARC's "museum". Mr. Cucuzza's re-imaging of the Audio Research "look" has been well received by long-term Audio Research fans.
No footage was used showing manufacturing at Audio Research. However, Audio Research's Director of engineering Ward Fiebiger—a thirty five year plus veteran of the company— had a chance to speak to the crowd.
More importantly for Audio Research is that after a few years of having no new products, the company has recently launched the well-received upper-mid line Ref 6 and Phono Ref 3 and at this event showed an attractive new line of $7500-ish products. There were rumors of yet another new even less expensive line next year. So clearly McIntosh Group continues to invest in, and believes in a great future for Audio Research.
"Lifestyle" products are clearly important to the group. In addition to the introduction of the Sf16 (already covered by analogplanet), a great deal of presentation time was devoted to the new Pryma headphones—not for their sonic performance, but for their looks and for how the group is promoting and selling them.
This was the most fascinating part of the presentation because it laid bare the shallowness and lameness of 21st Century identification-based marketing at its best/worst. These gorgeous looking headphones are being marketed based on group identification, much as Beats headphones have been. Given their huge success based on nothing other than the celebrity behind the name, who can blame the McIntosh Group for going there?
From getting Beyoncé to wear a set in a video seen a million times to selling the Pryma headphones at Barney's and other non-traditional (for audio) retailers, McIntosh Group is going with gusto for the mainstream/luxury marketplace with an intense focus not even B&O has mustered over the past few decades. Smart marketing minds have been brought in to produce sales results not usually seen in the high performance audio sector.
Though both the Sumiko and Wadia logos were on the group's promotional material and on the presentation screen, neither were mentioned so how those pieces fit into the McIntosh Group puzzle remains to be seen.
For those who worry that the McIntosh Group's fixation will be style versus substance, considering that Sonus Faber will introduce a new, ambitious top-of-the line "Homage" series of speakers and that at Axpona this past Spring, I and other reviewers thought the best sound at the show was produced by Sonus Faber's $46,000 Il Cremonese speakers driven by new Audio Research electronics (Ref 6 preamp, Ref 3 Phono, and GS150 stereo amplifier), those worries seem unfounded.
So I think what we're seeing from McIntosh Group is a push for performance excellence where appropriate (McIntosh, Sonus Faber, Audio Research), and "lifestyle" excellence where appropriate (Sonus Faber Sf16 and Pryma headphones). Is there any reason to complain about this?
As I speculated in one of my original posts, this expensive event and the previous one at Sonus Faber's Vicenza, Italy headquarters where it launched (and ended) the $30,000 Extrema loudspeaker, were smartly financed by the products themselves.
At the Vicenza event, to celebrate Sonus Faber's 30th anniversary, after it was announced that the speaker was a limited to thirty pairs edition, dealers and distributors in attendance promptly snapped up the entire run. Do the math: 30 times say $12,000 (wholesale price) equals $360,000. So most likely all of most of the event was paid for before attendees got on the plane to return home!
Likewise, this even more expensive event introduced the snazzy Sf16, limited to two hundred units a year. After the carefully and expertly handled roll-out came a frenzied response from dealers and distributors. I have no doubt most if not all of the first run of two hundred were sold if not then and there, then before the end of the four day event. Again do the math: two hundred units times an approximate wholesale price of $4500. That's $900,000. Probably enough to throw and pay for a gala, luxurious event that also included a day four sales meeting with distributors and dealers to which journalists were not invited.
My sources told me it was a hard-nosed, though often celebratory affair where those who exceeded goals were handed bonus cash and those who didn't were "squeezed" to make up the difference in the next quarter between goals and results. There's nothing unusual in this—at least in the big corporate world. Very unusual in the high performance audio world!
Finally, in a moment of extreme candor at lunch on the event's final day, Mr. Grange related to the people at the table at which I sat, one of his previous job experiences where, in order to meet a very large, sales obligation, he hired at great expense a large ship and invited onboard a large contingent of individuals he needed to produce seemingly impossible results.
Grange concluded by saying his gambit succeeded and he met and surpassed his quota. Clearly, so far he's brought his "A game" to McIntosh Group and in the future expects to achieve similar results.
<!- ------------------------------------>