Can Putting a Jico V15xMR Stylus Replacement Turn a Shure M97xE Into a V15xMR?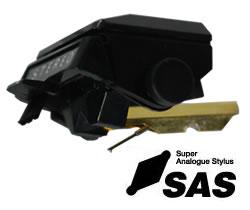 What happens when you install in a $70 M97xE a $179 Jico V15xMR stylus replacement? Rumor has it that it turns the warm, soft and wonderful sounding M97xE into a
killer
cartridge that's just about as good as the original V15xMR. Is the rumor true?
I have an M97xE installed on a turntable under review right now along with a few moderately priced MM phono preamps. The Shure is a fine tracker and for around $70 it's a steal especially given its high quality build and ability to track at around a gram. Plus it includes Shure's damper and brush system.
Readers have asked what happens if you install in it Jico's V15xMR stylus replacement so I tried it. It's a direct replacement that takes but a few seconds.
I had been listening to Analogue Productions excellent double 45 reissue of John Lee Hooker's It Serve You Right to Suffer. The presentation was smooth and deep, with an overall warm tonal balance. Bass was somewhat rubbery and soft and the cymbal transients were indistinct and lacked grit and shimmer but believe me it was sufficiently pleasant and involving considering the price.
Swapping out styli was like injecting the M97xE with a strong shot of adrenalin! The cymbals got properly sizzle, the bass line tightened up, there was better definition to John Lee's vocals and the entire picture took on far greater immediacy and dynamic punch.
As a $250 cartridge it would certainly be competitive with what's out there at that price point but if you've got an M97xE were you to spend $179 for the stylus replacement, you will be instantly dropping in a major sonic improvement without having to hassle with a new cartridge installation.
Does the combo compare to a V15xMR? Well, that's "out of print" so does it matter? The point is, this is a quick and easy drop in replacement that produces a huge sonic improvement. Jico makes one for the same price that's listed as the exact replacement for the M97xE but it's probably just cosmetically more compatible. Either one will do.
<!- ------------------------------------>