The Record Revirginizer Record Cleaning System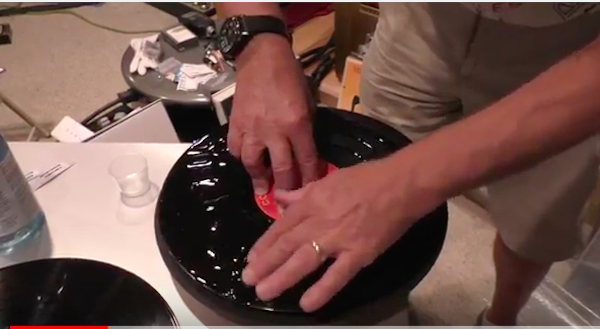 Surely you've seen the YouTube guy who uses wood glue to clean records. He brushes it on and when it's dry, he peels off the glue and the record gets a "facial peel."
I've not tried that. I don't know if wood glue is good for vinyl but fellow named Cary Stoddard in Australia has invented a safe-for-vinyl liquid formulation he calls Record Revirginizer that works in a similar manner as does wood glue, and he sells it by the16.9 fluid ounce bottle, which is enough to clean many records.
Another individual, under the name "Vinyl Record Cleaning System" sells a "system" consisting of a hand-spun platter that makes easier applying to a record a thin coating of the viscous blue fluid, as well as a tall spindle and foam spacers that allows you to coat and stack many records, so you can do a dozen or so at a time.
Using two fingers you spread the liquid across the record surface adding a paper tab at the end that makes easy peeling off the dried film. You do both sides and then stack the record on the spindle using supplied foam spacers.
Best to let the records dry overnight before attempting to peel off the dried blue film. As you'll see in the video, if you don't pay close attention to what you are doing and use the precise recommended amount of fluid, you can run into problems.
I show the problems caused by my assumption that I was to fill liquid to the top of the supplied cup and the later successes.
I'd definitely recommend "rehearsing" on a disposable record before moving on to your dirty gems. You must exercise extreme caution when you apply the fluid to keep it away from the label. If it gets on the label you do risk tearing off some of the paper. And if a small section of film separates from the main "peel" getting it off can be difficult—particularly around the label.
That said, if you are careful, you will find the peeled record very "appealing". However, after cleaning and playing a 1A Columbia pressing of Here They Come! Paul Revere and the Raiders I cleaned it again on the Audio Desk cavitation-type cleaning machine and found it to be even quieter.
I'd use "Record Reverginizer" on really fouled records you perhaps thought were unsalvageable, rather than as an everyday record cleaner. But as always, your choice! If you don't laugh along the way as you watch the video, I'd be surprised!
<!- ------------------------------------>