Eight Phono Preamps Identified and Votes Tallied!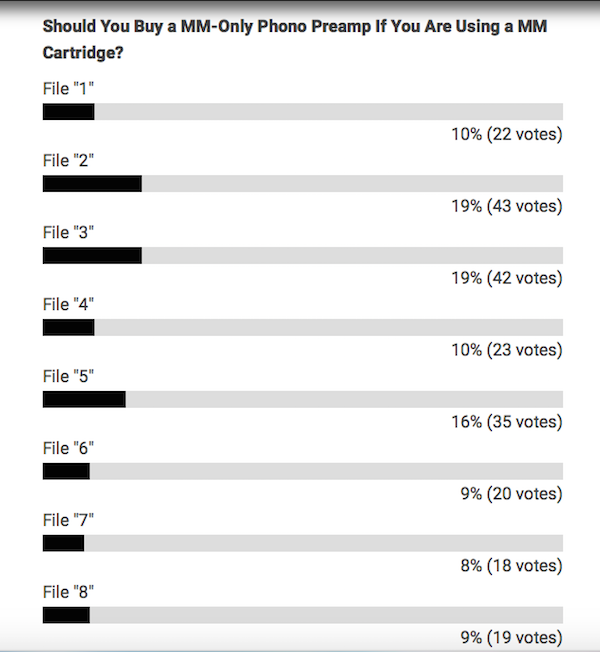 AnalogPlanet asked the question
Should You Buy a MM Only Phono Preamp If you are using a MM cartridge?
and then provided readers with capsules of 8 phono preamps followed by 8 unidentified 96k/24 bit files, asking readers to listen and vote "blind".
The 8 phono preamplifiers are compared for features but not sonics here.
The image at the top shows the results. Files "2" and "3" tied for top vote getters at 19% with "2" edging out "3" by one vote. File "5" came in second with 16%, while Files "1" and "4" came in 3rd with 10% ("4" edged out "3" by 1 vote) and the rest lagged behind with between 8% and 9%.
So, which was which?:
File "1"is the $999 AVM Inspiration p 1.2 (MM/MC)
File "2" is the $999 Graham Slee Era Gold V (MM only)
File "3" is the $4500 Lehmann Silver Cube (MM/MC)
File "4" is the $399 Music Hall pa 2.2 (MM/MC)
File "5" is the $675 Jasmine Audio LP 2.5DU (MM/MC)
File "6" is the $895 Lejonklou Gaio (MM only)
File "7" is the $999 Musical Fidelity MX-VYNL (MM/MC)
File "8" is the $499 Micro iphono2 (MM/MC)
So the winners according to AnalogPlanet reader/listeners were the $999 Graham Slee and the $4500 Lehmann Silver Cube!
So if you have a MM cartridge, clearly a MM only phono preamp makes sense (at least to those who voted for the Slee!. You can always add a step up transformer or a "head amp" later.
My "blind" listening put the Lehmann Silver Cube at the top, the Graham Slee 2nd, the Lejonklou 3rd, and the AVM, iPhono2 and Musical Fidelity MX-VYNL pretty much tied for 4th.
The Jasmine did much better among AnalogPlanet listeners than I was expecting. I thought it was rhythmically weak, with soft bass attack. And the Music Hall was at the bottom especially in terms of both bass performance and dynamics,
However, the Music Hall pa 2.2 comes with an enormous asterisk in that for $399 you get a MM/MC phono preamplifier, an A/D converter, a headphone amp and a volume control, which means it can also be used as a preamplifier, especially since it has an "aux" input as well! Yet it scored as well as some of the far more expensive phono preamps with far fewer features.
So draw your own conclusions. I hope you enjoyed this feature! As for the MC performance of the units with MC inputs, that will be coming up soon.
<!- ------------------------------------>