"Tour" the QRP Pressing Plant, Acoustic Sounds, and Take A Second Row Seat at Stiefel Theater Saturday Night Blues at the Crossroads Concert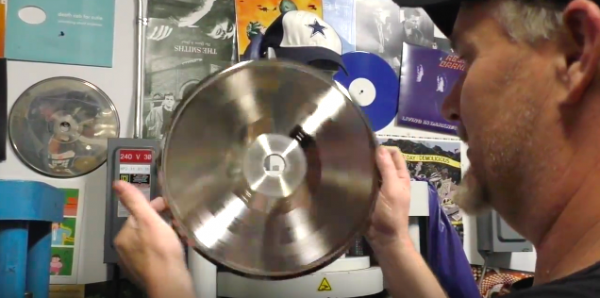 Saturdays during the Blues at the Crossroads concert weekend, Acoustic Sounds and Quality Vinyl Pressing (QRP) open their doors to blues fans from around the world, who are invited to tour the QRP pressing plant and buy new and used records and SACDs at Acoustic Sounds.
In this video you visit the offices, tour the pressing plant and walk through the Acoustic Sounds record archives as well as step into Chad Kassem's office and listening facilities.
In the afternoon The Mastering Lab cutting system was for the first time used to record a direct-to-disk performance by Zydeco artist CJ Chenier and his group. You'll see the first use since the passing of legendary mastering engineer Doug Sax of the TML-M stamp on the freshly cut lacquer.
Then it's time for a few performances from Saturday Night's Stiefel Theater Blues at the Crossroads concert. The theater's management tried to keep the cameras out but Chad Kassem got us in, though were were asked to not shoot video or stills.
Me and another photographer refrained through Dug MacLeod's memorable set but when Marquise Knox, his group and Charlie Musselwhite took the stage, both of us were compelled to sneak some footage. After the "Take Me To the River" ensemble finished a spirited and well performed homage (in the form of a regional theater-type review) to Memphis music featuring a group of youngsters plus Charlie Musselwhite, veteran bluesman Bobby Rush (84) and soul singer William Bell, CJ Chenier and his group took the stage and blew the place down—as you'll see.
<!- ------------------------------------>