Arcam's Surprising rPhono Offers Up to 82dB Gain, Rumble Filter and Variable MC Loading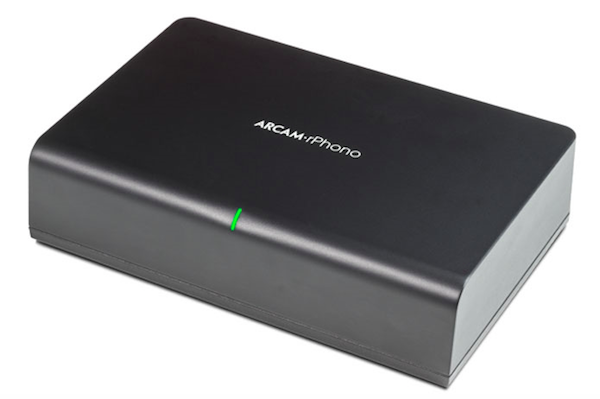 Phono preamps arrive here by the stack. It's difficult keeping up. To be honest, Arcam's rPhono arrived before the JC3 Jr. but here, anything with John Curl's name attached automatically goes to the head of the queue, especially considering the Jr.'s remarkable $1495 price.
This one from Arcam was up next and I'm sorry I didn't get to it sooner. When I went to check the online price after a short listen I was shocked to find it for sale on Amazon for $499. A few days later it was no longer available, sorry to say.
The Sound Organization, which also imports Rega Research, ProAc and other U.K. manufactured brands, brings Arcam here and according to its website the rPhono retails for $599.
The rPhono is a compact brick of a unit with a pleasingly curved front fascia. All of the "action" is on the recessed back panel, where you can select via dipswitches MM/MC, resistive and capacitive loading, gain and even a rumble filter.
Gain in MM mode is 30dB, 40dB, 50dB and 52dB. In MC mode your choices are 60,70,80 or 82dB (that's not a typo!). In MC mode loading is variable between 50 and 550 ohms via slotted pots, one for each channel. Arcam supplies a tool for setting this that conveniently slides into a slot at the chassis bottom. You don't need to manual to set the dipswitches. The positions are identified on the back panel.

Power is via a switch mode 12V, 2V "wall wart". Plug in the rPhono and a single slit-like LED glows green.
Sensational Sonics
While some companies have jumped on the vinyl revival bandwagon with poorly thought out or farmed out phono preamps upon which they've slapped their names, it's quickly clear that Arcam has designed this piece from the ground up. It's super-quiet and sonically nothing priced this low has any right to sound this pleasing—no excuses needed for full enjoyment.
Yes, in MM mode compared to the JC3 Jr. the rPhono's performances was slightly softer on bottom, with less well-defined transients on top and a bit less in the way of dynamic "slam", but ironically, because the rPhono doesn't try as hard, its somewhat more relaxed presentation made for easier long term listening. One record I listened to but didn't mention in the JC3 Jr. review is Out in the Open (Ramseur 212588) the new Joe Henry produced release by the Bluegrass group Steep Canyon Rangers.
Yes, the JC3 Jr.'s transient response was more cleanly and sharply delineated and the bass somewhat tauter, but in terms of relaxed, "listen in" presentation, I could make an argument in favor of the rPhono.
Switching to the Ortofon Anna, the presentation was equally relaxed, though with greater detail resolution, soundstage spaciousness and dynamic punch. However, here the overall homogenization and especially the bass softness made obvious the pointlessness of running a $9000 cartridge into a $600 phono preamplifier. Here the more than twice the price JC3 Jr. held the edge literally and figuratively. Still, if you like sweet and warm at the expense of transient sharpness you'll enjoy sinking into the pleasingly soft and serene folds of Arcam's rPhono.
For complete specs click: here.
<!- ------------------------------------>