Unreleased Art Blakey & The Jazz Messengers' Blue Note Just Coolin' Coming AAA on April 24th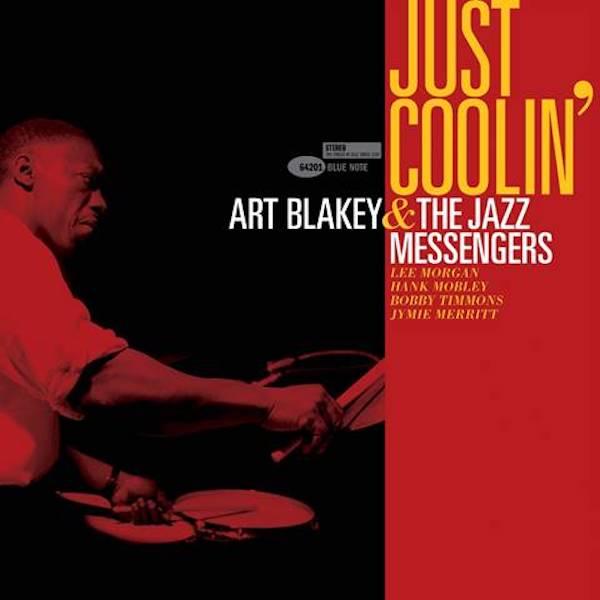 Not sure what's more amazing: how many recordings Alfred Lion produced for Blue Note, or how many great ones have remained in the vaults. Over the past few years, numerous unreleased Blue Notes have finally been released and none are sub-par "leftovers".
What accounts for unreleased albums like Just Coolin' sitting for decades on the shelf? Remember: BN was basically a few man operation. They had more in the can then they could comfortably release—it's not all that different from the rows of unlistened to records sitting on your shelves! What you promise to get to next week turns into next year and then not at all! Then you forget they are even there.
This Blakey date from 1959, recorded in RVG's Hackensack living room features Lee Morgan, Hank Mobley, Bobby Timmons, and Jymie Merritt. In this case the backstory according to Blue Note is that The Jazz Messengers' "sax chair" was in transition, between Benny Golson on the epic Moanin' recorded October of 1958 and Wayne Shorter, who joined in July of 1959 and would remain there until 1964. The group's original saxophonist Hank Mobley returned (and composed 3 or the album's 6 tracks) for this session and remained long enough for the group to record at Birdland on April 15th 1959. Lion preferred that set, releasing it later that year as a two volume ...at the Corner of the World set. According to Bob Blumenthal's liner notes, in the interim the "...music had clearly settled in...but the fire of these six tracks has a appeal of its own."
Kevin Gray cut from the original tape and it will be available on AAA 180g LP, CD and digital download on April 24th. (A "fire-swirl" colored vinyl will also be simultaneously released by Vinyl Me, Please, also cut by Kevin Gray).
<!- ------------------------------------>