RSD Review Explosion, Part 1: John Lennon, Charli XCX, Billie Eilish, and Denzel Curry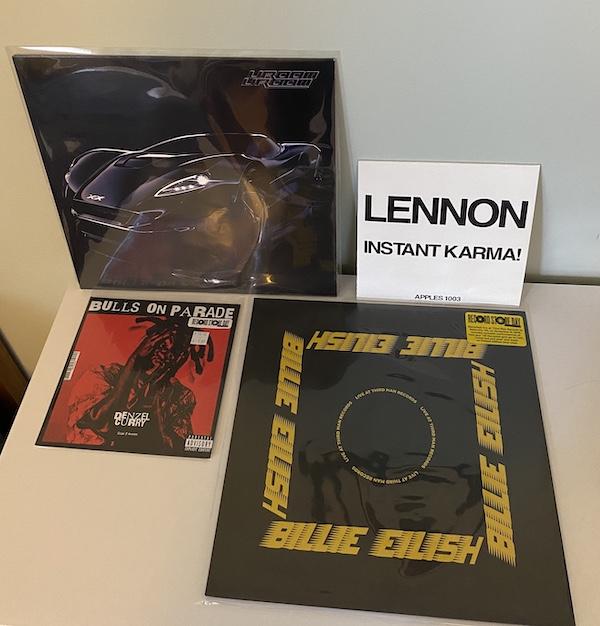 This year for Record Store Day, I joined the Music Millennium line at 5:40 AM. Because of COVID-19 restrictions, they let 10 customers inside the store at once, and enforced social distancing in line. When the sun rose around 6:00, owner Terry Currier handed out tickets corresponding to our spots in line, with specific time slots to arrive back later and shop. I left and arrived back at 8:15, ultimately going over my expected budget and buying 10 records. I'm still processing the Bowie, Tyler, Clipping, and Ron Carter releases (another RSD-themed Review Explosion of those coming soon), but below are reviews of my other pickups (I also bought a copy of Angel Olsen's latest album
Whole New Mess
for a general Vinyl Review Explosion).
Lennon/Ono with the Plastic Ono Band - "Instant Karma!" (Ultimate Mixes)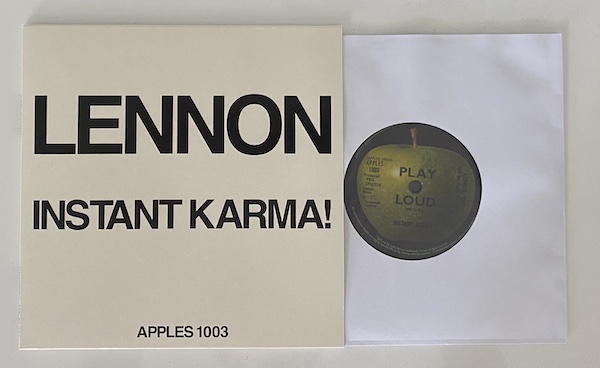 Apple/UMe 0602508778711 limited edition 7" remix single
Produced by: Phil Spector ("Instant Karma!") and John Lennon ("Who Has Seen The Wind?"), Yoko Ono Lennon (reissue)
Engineered by: Phil McDonald and Andy Stephens
Mixed by: Paul Hicks (remix; guided by Phil Spector's original work)
Mastered by: Alex Wharton
Music: 8
Sound: 7
John Lennon's 1970 single "Instant Karma!" (credited to "Lennon/Ono with the Plastic Ono Band") nowadays needs no introduction, so I'll cut to the chase. For Record Store Day this year, Apple/UMe dropped an "Instant Karma!" "ultimate mixes" 7" single teasing the upcoming Gimme Some Truth compilation (the single announced long before the compilation). Much like the 2018 Imagine: The Ultimate Collection box set, mimicking Phil Spector's original work Paul Hicks digitally remixed the single with current technology. The "ultimate mixes" for Imagine were more a refinement than an improvement; sure, Hicks' work sounds more "modern," but save for minor changes there's nothing particularly noteworthy. This "Instant Karma!" single follows suit, with less vocal distortion on the chorus, more present bass (Spector and Lennon disagreed about the former's original bass sound), and greater drum clarity. Still, Phil Spector mixes are distinctly Phil Spector mixes, a specific artistic intention not to be "fixed." The original mix wasn't perfect, but it has a specific character imbedded in our minds. I compared the vinyl remix single to the 96/24 MQA remix and the 44.1/16 original mix 2010 remaster. The vinyl is for some reason brighter than the remix stream (played on an Astell&Kern A&norma SR15), and while the original mix in comparison seems veiled, I prefer it (the recording was likely compressed to begin with). The 7" "limited" to 7000 copies cut by Alex Wharton and pressed at Optimal is of average, expected quality. At $16 retail, though, it's massively overpriced (it should've been $12 at most). The jacket, advertised as "a faithful reproduction of the original UK sleeve," nicely reproduces the minimalist cover in an eggshell white tone, but isn't a top-loading sleeve like the original. Those still looking to buy the new "Instant Karma!" can expect the same quality as last year's Beatles Singles Collection, but don't pay more than $10 for it. (Addendum: The B-side, Yoko Ono's "Who Has Seen The Wind?" is a nice gentle tune deserving recognition. The sound quality on that is also just decent.)
Charli XCX - Vroom Vroom EP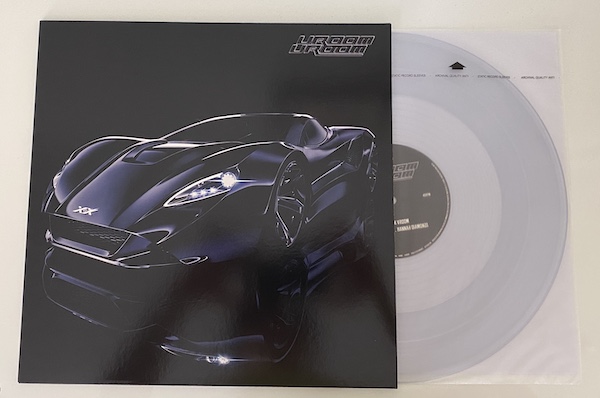 Vroom Vroom Recordings/Atlantic UK 0190295971700 limited edition clear vinyl 12" EP
Produced by: SOPHIE, et al
Engineered by: Various
Mixed by: SOPHIE, Rob Orton, and Jodie Harsh
Mastered by: Stuart Hawkes
Music: 8
Sound: 7
Finally a repress of the EP that changed pop music! Charli XCX's 2016 Vroom Vroom EP is now an indisputable musical milestone. After writing two of the early 2010s' most ubiquitous pop hooks (for Icona Pop's "I Love It" and Iggy Azalea's "Fancy"), British singer Charli XCX refused superstardom, instead releasing a bubblegum bass EP produced by PC Music affiliate SOPHIE. Most critics panned it, and the record label was utterly confused (now that you've realized the project's profitability, how's that working for you, Atlantic?). Vroom Vroom EP drastically differs from Charli's 2014 pop-punk album, Sucker; intact is her signature focus on catchy hooks and vocal charisma, but the club-oriented minimalist sound marked a sharp left turn. The opener and title track is futuristic pop perfection. SOPHIE's punchy electronic production, stripped to only a heavily processed snare, intro claps, chorus 808s, a subtle kick drum, and some synths (including one that harmonizes Charli's "vroom vrooooom"), is spread across the soundstage with Charli's multitracked vocals. XCX sing-rap flexes about partying and luxury, mentioning lavender Lamborghinis, icy diamonds, and pink Ferraris amidst several repeated double entendres. The song is among her very best (in a generally excellent discography), with so many sonic details for it to never tire.
While the rest of the EP is also good, it's hard to compete with a song as monumental as "Vroom Vroom." "Paradise," featuring Hannah Diamond, is the most overtly PC Music track here. Released a year after the London label's Vol. 1 compilation, Diamond's assistance brings the cartoony (in a good way) feel, accompanied by bright synths. "Trophy" and "Secret (Shh)" follow "Vroom Vroom"'s lead, lyrically centering on luxury and female empowerment; they also have similarly minimalist production, but weaker songwriting. This EP is the epitome of "one amazing song plus some good albeit not noteworthy tracks," but that one amazing song is one of the greatest pop songs ever, and the whole project lasts only 12 minutes. Vroom Vroom EP is Charli XCX completely not giving a fuck about the charts, still sounding years ahead of her time. She changed her image on 2017's magnum opus Pop 2 to more accurately reflect the music, and though that mixtape's predictable impact will be more direct, Vroom Vroom EP for starting the shift is therefore as important.
Previously pressed in an edition of 1000 (now extremely valuable) signed black vinyl copies, this new clear vinyl repress of 2000 copies is seemingly otherwise identical (not signed, of course). While the 12-minute EP could've fit well on a single 45rpm side (B-side XCX car etching for next time?), this double-sided 45rpm record well-pressed at Optimal and mastered by Stuart Hawkes sounds acceptable. It's not as bright as the tonally preferable digital file, but the smoothed-over vinyl sound reveals deeper mix details. This is a record you can and should play LOUD without fatigue. With only a surprisingly flimsy glossy foldover jacket featuring credits, the packaging is barebones. No matter the specs, I'm still happy to affordably (this cost $19 on RSD) own on vinyl one of my favorite EPs. Can we please get a Number 1 Angel/Pop 2 repress next?
Billie Eilish - Live At Third Man Records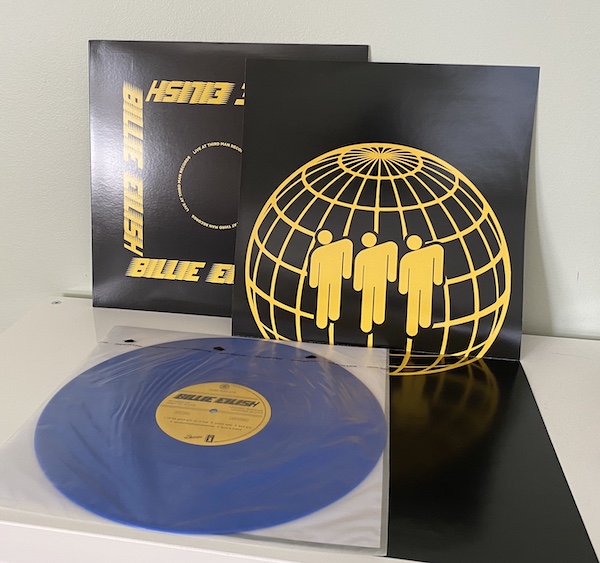 Darkroom/Interscope/Third Man TMR-660RSD direct-to-disc blue vinyl LP
Produced by: N/A
Engineered by: Uncredited
Mixed by: Uncredited
Mastered by: Wes Garland and George Ingram (cut direct-to-acetate)
Music: 7
Sound: 8
First released in-store only by Third Man a mere month after the performance, Interscope repressed Billie Eilish's Live At Third Man Records album for this first RSD drop. A small acoustic show recorded direct-to-disc in TMR Nashville's Blue Room with Eilish's brother Finneas O'Connell, it's an enjoyably unique listen. The Blue Room is extremely small (2-300 capacity), and as Eilish performs some of her biggest songs, she directly interacts with the (quite audible) audience. While this release won't draw any new listeners, from her studio recordings and YouTube clips of her arena shows it's an interesting contrast. This repress of the original D2D recording, pressed on blue vinyl at TMP, sounds excellent. Sure, there's a constant background hum and some minor microphone issues, but it sounds as if you're in the venue. While there aren't the handmade aspects of the original Third Man store release (which is quite rare and expensive), the Interscope pressing comes with a Billie Eilish/Third Man logo poster, and even right after RSD is still readily and affordably available. Highly recommended for Eilish fans and analog audiophiles wanting more currently relevant AAA recordings.
Denzel Curry - "Bulls On Parade"/"I Against I"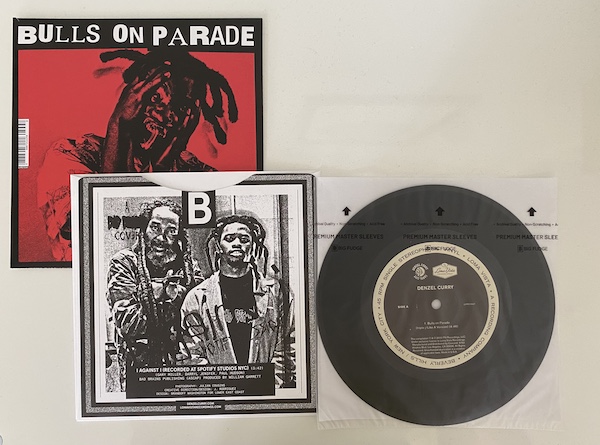 Loma Vista LVR01041 limited edition 7" single
Produced by: Greg Wales ("Bulls On Parade") and William Garrett ("I Against I")
Engineered by: Uncredited
Mixed by: Uncredited
Mastered by: Bill Skibbe at Third Man Mastering (vinyl)
Music: 6 Sound: 7
One of this year's most highly desirable items, now on 7" is rapper Denzel Curry's highly praised cover of Rage Against The Machine's "Bulls On Parade." Recorded for Australian radio station Triple J's "Like A Version" cover series, Curry and a live backing band faithfully and energetically perform the song, with a new original third verse added. I think the performance fares better with the video footage, but the single limited to 2500 copies worldwide is nice for completists (full disclosure: I appreciate their respective works, but I'm not a massive fan of Denzel Curry nor Rage Against The Machine and Bad Brains). The B-side is a similarly vibrant Spotify Sessions cover of Bad Brains' "I Against I," backed by members of Bad Brains. Unlike the original recordings of these songs, the mixes here are mostly congested in the center, – however, it adds to the aesthetic. The vinyl, cut by Bill Skibbe and pressed at Third Man, isn't meant to be audiophile but sounds decent. The pressing has a bit of mostly obscured noise, though the thoughtful, colorful packaging contains a nice die-cut inner sleeve. In my humble opinion it's worth the $8 retail cost, but not the current resale prices.
(Malachi Lui is an AnalogPlanet contributing editor, music lover, record collector, and highly opinionated sneaker enthusiast. Nowadays, he does nothing but complain about virtual concerts. Follow Malachi on Twitter and Instagram: @MalachiLui.)
<!- ------------------------------------>