Vinyl Review Explosion: Spiritualized, Bob Dylan, and Carly Rae Jepsen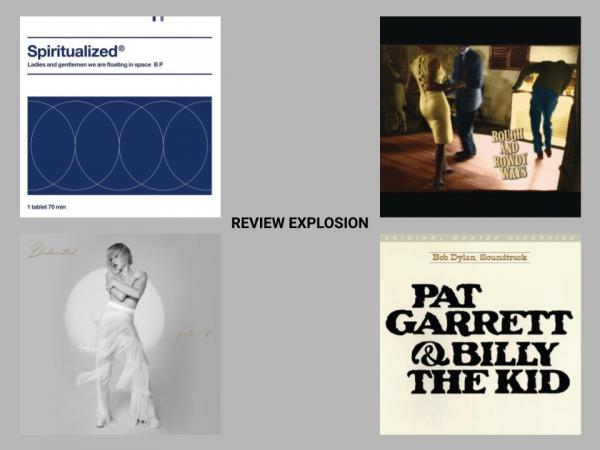 (Review Explosion is a recurring AnalogPlanet feature covering recent releases for which we either don't have sufficient time to fully explore, or that are not worthy of it. Curated by AnalogPlanet contributing editor Malachi Lui, Review Explosion focuses on the previous few months' new releases.)
Spiritualized - Ladies and Gentlemen We Are Floating In Space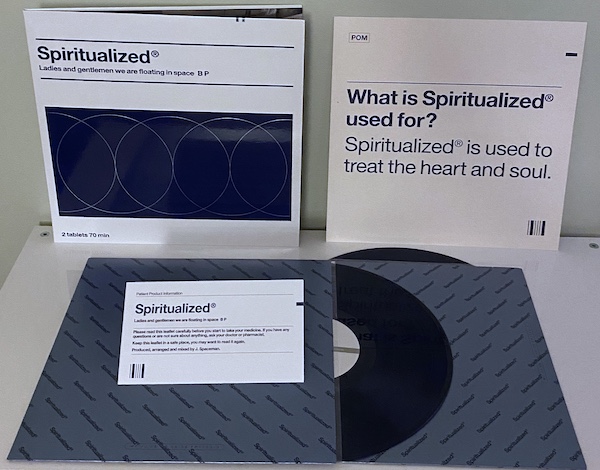 Fat Possum/VMP Essentials FP1753-3 "deep space blue" 2x180g LP
Produced by: J Spaceman
Engineered by: Darren Allison, Mads Bjerke, Trevor Curwen, Darren Nash, and Carl Nappa
Mixed by: J Spaceman, Darren Allison, Mads Bjerke, Trevor Curwen, Chad Bamford, John Leckie, Pat McCarthy
Mastered by: Ray Staff at Whitfield Street (original mastering), Barry Grint at Alchemy (vinyl reissue)
Music: 9
Sound: 8
The 90s CD era had two types of albums: long but interestingly so (Be Here Now, Time Out Of Mind, 13, The Score, etc), or simply too long (such as Dr. Octagon, Urban Hymns, and The Infamous). Firmly in the former category is Spiritualized's third album, 1997's 70-minute opus Ladies and Gentlemen We Are Floating In Space. After 15 years of activity between Spiritualized and 80s minimalist psychedelic band Spacemen 3 (who famously "[took] drugs to make music to take drugs to"), musical mastermind Jason Pierce (J Spaceman) on Ladies and Gentlemen refined his gospel- and blues-tinged space rock. It's one of the most ambitious records ever, and one only possible in the 90s: two years of recording, multiple studios, perfectionist editing, and tons of recording engineers, session musicians, and arrangers. Labels today balk at such elaborate projects, and Pierce no longer has such resources; with some exceptions, one could say that grandiosity faded with rock n' roll.
Recorded after a breakup with Spiritualized keyboardist Kate Radley (who then married Richard Ashcroft [Verve]) and in the midst of heroin addiction, Ladies and Gentlemen remains J Spaceman's unrivaled height. He vehemently denies the album's connection to the breakup, but the work contradicts that (however, I respect his privacy on this). At times, Spaceman's jaw-dropping layered production distracts from the lyrics, which unfold around you rather in front of you. The music forces your focus on the present, yet Pierce still captures listeners into his stark images about lost love and the desperation to [chemically] fill that hole.
Right from the start, the opening title track with the soaring London Community Gospel Choir and Spaceman's majestic sonic textures pulls you in. Interpolating "Can't Help Falling In Love" (from the original pressing removed for legal reasons but now intact) Jason Pierce in a hushed voice sings, "I will love you 'til I die/And I will love you all the time/So please put your sweet hand in mine/And float in space and drift in time." For a record about both human and substance love, "Ladies and Gentlemen We Are Floating In Space"'s ambiguity is brilliant; you aren't sure if he's talking about a woman, heroin, or both. "Come Together" starts as a character study of a junkie referred to as "Little Johnny," who, likely in J Spaceman's third person self-examination, is later called "Little J." The smack injection images of "I Think I'm In Love" segue into the dreamy "All of My Thoughts" and the lonely "Stay with Me," both focusing on uselessness and thoughts of "you," the specifics still unclear. All the while, the musical arrangements remain captivating, moving from reinterpretations of classic space rock to Funhouse-esque free jazz and rock n'roll chaos. "Broken Heart" most directly addresses a breakup – the line, "And I'm crying all the time/I have to keep it covered up with a smile" clearly alludes to Kate Radley (who still played keyboards on this record). Closer "Cop Shoot Cop," recorded with Dr. John, is a 17-minute epic encapsulating the entire record's musical and lyrical themes. Slowly building into a frenzied freeform scatter, Pierce interpolates John Prine's "Sam Stone," singing about the "hole in my arm where all the money goes." Towards the end, it cools down, and Spaceman sounds defeated; he's still an isolated addict with no end in sight. No other record is as dynamic, as sonically elaborate, as emotionally impactful as Ladies and Gentlemen We Are Floating In Space. Given the subject matter, its odd narrative construction makes sense, and the ability to zoom in or be carried away is wholly unique. It's truly a perfect album, combining the past, present, and future but never slipping into nostalgia or pastiche.
The last widely available vinyl reissue was a US Plain Recordings pressing, which Pierce didn't approve. I haven't heard that pressing (nor any others, for that matter), but widespread speculation/generalization (sparked by MBV's Kevin Shields) is that Plain cuts their reissues from CDs. This new reissue, done by Fat Possum through VMP, is the first Spaceman-approved reissue cut from the original tapes by Barry Grint ("BAZZA") at Alchemy. While recorded at excellent studios, it's not an AAA production – Pierce recorded some of it to 24-track tape, but built other parts through an Atari sequencer (I don't know if the mixing was digital or analog). Still, it ended up on some kind of tape, and here sounds as good as likely possible (original pressings with widely reported issues cost $2-400). The sides are 14-20 minutes long, and due to the album's extreme dynamics suffer from inner groove distortion (sides A and C are cut especially hot). The distortion adds a certain character to the record, though, and amidst musical peaks the recording retains audiophile-grade depth and detail. The "deep space blue" 180g pressing at GZ is flat with some distracting (albeit light) noise in quiet passages. The packaging is A+; the foil-stamped glossy tip-on gatefold jacket has photos of the original mini-CD blister pack, and the LP inner sleeves feature that same blister foil design. There's also a new VMP-exclusive art print and the "Patient Product Information" leaflet. "What is Spiritualized® used for? Spiritualized® is used to treat the heart and soul."
Bob Dylan - Rough and Rowdy Ways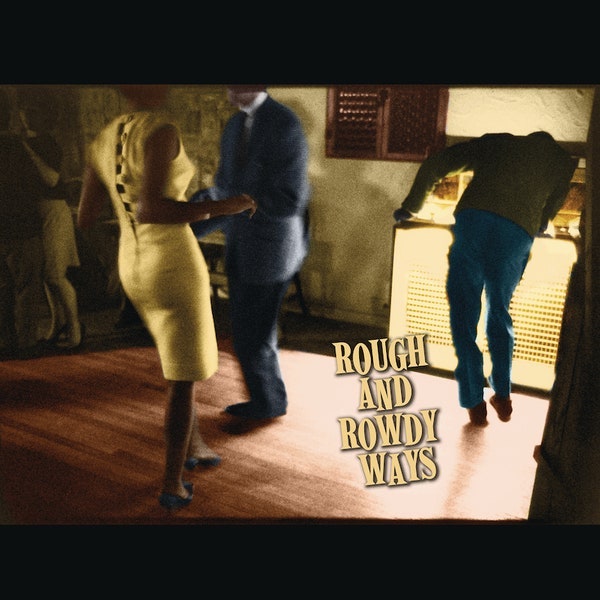 Columbia 19439780991 standard US 2x180g LP (EU and US colored vinyl variants also available)
Produced by: Jack Frost [Bob Dylan]
Engineered by: Chris Shaw and Joseph Lorge
Mixed by: Chris Shaw
Mastered by: Greg Calbi (digital) and Joe Nino-Hernes (vinyl) at Sterling Sound
Music: 7
Sound: 7
Nowadays, Bob Dylan's brand is to simultaneously fuel and surpass the public's low expectations of him. Recordings of his recent live shows can be off-putting, yet those who've witnessed him in the flesh rave about his shockingly great performances (disclaimer: I haven't yet personally seen a Never Ending Tour show). When fans wanted him to musically comment on these tumultuous times, he instead released Great American Songbook records. And when we finally lost hope for another LP of Dylan originals, he returned in June with Rough and Rowdy Ways, his first set of new compositions since 2012's Tempest.
For someone who regarding his own life story is notoriously inconsistent, Rough and Rowdy Ways feels autobiographical; still, Bob Dylan can't give everything away. Since 1997's Time Out Of Mind, Dylan mostly faces his own mortality, which here he continues to do. More than before, however, Rough and Rowdy Ways shows him reflecting on his life and significance, often through characters and old cultural references. Setting the record's tone is the opening track "I Contain Multitudes"' line, "I'm a man of contradictions, I'm a man of many moods/I contain multitudes." With his low croon (at the clearest it's been in three decades), over sparse, laid-back instrumentation, he speaks directly to listeners. "What more can I tell you? I sleep with life and death in the same bed," he says. On "False Prophet," in a dark, ghostly persona Dylan aggressively growls "I'm first among equals, second to none/The last of the best, you can bury the rest/Bury 'em naked with their silver and gold/Put them six feet under and pray for their souls," ending the song with, "Can't remember when I was born and I forgot when I died." Rough and Rowdy Ways also memorably has the 17-minute JFK assassination epic "Murder Most Foul," the gentle ballad "I've Made Up My Mind to Give Myself to You," and the haunting "Key West (Philosopher Pirate)." Musically, the American roots styles of the album at times meander, but Dylan's so lyrically revealing that it's not too problematic. As an overall listening experience, Rough and Rowdy Ways isn't among Bob Dylan's absolute best work, though in his discography stands as one of his most significant and telling.
Unfortunately, the US 180g 2LP vinyl pressing is absolute garbage. Pressed at United (no identifiers, as they discontinued the etched "Ⓤ"), I went through two defective copies, and recommend others to order MPO's European pressing (through any UK/EU vinyl retailer). My first US copy was too warped to play (LP1 was dished, and LP2 had a large edge warp – I suspect the warpage mostly a result of a poor cooling process), and the second had two LP2's and no LP1 (but with correct inner sleeves). For an album costing $30-38, this is unacceptable; buyers deserve far better. This is one of only two constantly defective pressings I've experienced (the other being the US pressing of Kanye West's ye, a 1-month rush job). The playable LP2 I heard, riddled with noise, insults the carefully-engineered, spacious recording. United's plating, these days their process' weakest part, produces a veiled tonality that lacks the digital stream's sparkle. (Joe Nino-Hernes at Sterling Sound cut the vinyl, and his work is usually faithful to the source. From the MPO pressing's reviews, his cutting isn't to blame for the US pressing's sonic issues.) It appears that the majority of the United batch is defective; Sony should recall it and instead distribute the MPO copies worldwide. For now, though, avoid the US Rough and Rowdy Ways vinyl at all costs.
Buy [US pressing]: Music Direct
Carly Rae Jepsen - Dedicated Side B
Schoolboy/Interscope B0032280-01 LP
Produced by: Various
Engineered by: Various
Mixed by: Mitch McCarthy, Jake Birch, and Chris Kasych
Mastered by: Gene Grimaldi (digital), unknown GZ cutting engineer (vinyl)
Music: 7
Sound: 7
Despite her inescapable 2011 hit "Call Me Maybe"'s success, Canadian singer Carly Rae Jepsen's sugary dance pop now reaches a different audience than originally intended. The marketing failure of her 2015 LP E•MO•TION led to her work attracting a smaller set of online music nerds (who usually listen to artsier, more experimental records), rather than sold-out arenas' worth of 12-year-old girls and their parents. Science proves CRJ's work irresistibly catchy, and even those who typically despise modern pop can't help but like it. Combining Taylor Swift's lyrical redundancy with a Cyndi Lauper-esque musical sensibility, Carly Rae Jepsen has a uniquely repetitive formula that somehow hasn't worn out.
For each album, Jepsen writes about 200 songs, all of them extremely similar but different enough to stay interesting. Exactly a year after she released Dedicated, she dropped Dedicated Side B, a full-length outtakes collection from those same sessions (she also did this with E•MO•TION). Dedicated drew from 70s disco, and while with some good moments, it's one of Carly Rae Jepsen's weaker works. This outtakes album, however, is far superior. The songs are in every way better and stylistically broader. It all sounds very modern, but "This Is What They Say" refines the main album's retro dance attempts, "Summer Love" dreamily evokes 60s-70s California rock, and the instantly memorable "Solo" has among the most 80s-style synths Jepsen has sung over.
Lyrically, Dedicated Side B reveals her go-to motifs starting to tire, especially the themes of not being able to stay away from a lover and desiring to keep open metaphorical windows. Her lyrics always rely on the idea of falling in or out of love; this uncertainty is supposedly part of the scientific appeal. Still, "Felt This Way"'s closing chorus line, "How come I can't stay away?" playing right before "Stay Away"'s opening lyric, "How can I stay away?" is a very questionable creative decision. Dedicated Side B overall doesn't reach E•MO•TION's heights, but is definitely Carly Rae Jepsen's most consistently good project thus far.
The vinyl edition, which impressively during a pandemic [this review is a couple months old–cont. ed] dropped a month after the surprise digital release (compared to Frank Ocean's 9-month wait for pre-COVID 7" singles), is a Precision-pressed GZ in-house cut. Gene Grimaldi did the digital mastering, which sounds average; the many studios and engineers result in varied vocal recording quality. The vinyl, while with minor surface noise and slight scuffs, is well pressed and sounds adequate for $23. The jacket is a thick direct-to-board foldover, and a printed inner sleeve displays lyrics and credits. It could sound a bit better but considering the most likely fairly limited press run (Jepsen's albums no longer commercially succeed), it's quite reasonable.
Buy: Music Direct
Bob Dylan - Pat Garrett & Billy The Kid [Original Soundtrack Recording]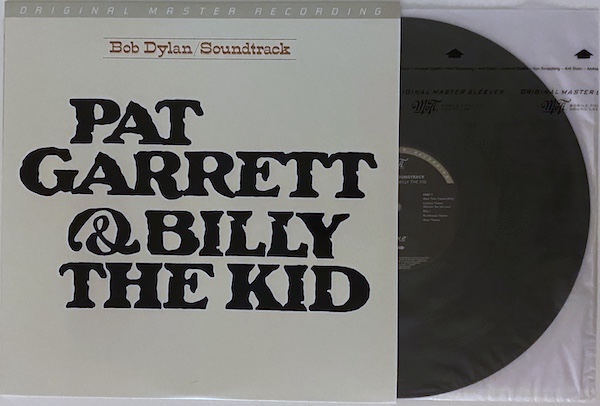 Mobile Fidelity/Columbia MFSL 1-487 180g LP
Produced by: Gordon Carroll
Engineered by: Dan Wallin
Mixed by: Unknown
Mastered by: Krieg Wunderlich and Shawn R. Britton
Music: 6
Sound: 8
In 1973, Bob Dylan had a small acting roll in and composed the soundtrack for the movie Pat Garrett and Billy the Kid. While I can't speak on the movie, the soundtrack album is simple but enjoyable. Instrumental acoustic material meant to evoke the film's scenery comprises at least half of the LP, with the rest having some of Dylan's more easily accessible lyrics. Critics at the time disparaged the record (and understandably so – as a whole, it's not terribly special), but "Knockin' On Heaven's Door" obviously became one of Dylan's signature songs and is for many to the Pat Garrett soundtrack the main draw.
I have an original 1AB/1AB Columbia pressing (no embossed jacket) to compare to this new Mobile Fidelity pressing, strictly limited to 3000 copies with the Original Master Recording banner. The original pressing is already good to begin with – while side 2 is quite distorted, side 1 has a natural presentation with excellent clarity and imaging. The MoFi pressing is cut quieter, although with deeper bass and cleaner highs it's sonically more relaxed. The MFSL's side 1 is more a noticeable refinement rather than a steep improvement, although their mastering resolves most of side 2's distortion issues. If you're satisfied with the original, don't bother upgrading (VG+ originals cost less than $10, vs MoFi's $35), although for the album's avid fans and those with seemingly unlimited record buying money, I recommend it. The 180g RTI pressing of my (opened) promo copy is quiet with velvet black backgrounds, and the Stoughton tip-on jacket construction is nice. The artwork scan resolution isn't amazing (cover reproductions are among Mobile Fidelity's consistent weaknesses), but all things considered, the MFSL pressing of Pat Garrett is well-done. (Side note: as generally good as their production quality is, I wish audiophile labels like MoFi would reissue more interesting material. There's always room for reissues of the normal titles, but there are a ton of analog 90s rock recordings that haven't been touched. Reissues of some of those would sell out in days; it's mind-boggling that they haven't yet been done.)
Buy: Music Direct
(Malachi Lui is an AnalogPlanet contributing editor, music lover, record collector, and highly opinionated sneaker enthusiast. He unfortunately fell into Travis Scott's "FRANCHISE" trap, buying CD, vinyl, and cassette variants just for the George Condo artwork. Follow Malachi on Twitter @MalachiLui and Instagram @malachi__lui.)
<!- ------------------------------------>