Wendy Carlos's TRON Soundtrack Coming As Double 180g Vinyl LP From Audio Fidelity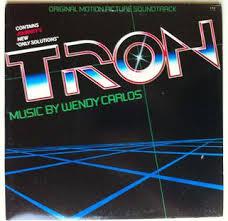 Marshall Blonstein's Audio Fidelity Records today inked the deal with The Walt Disney Corporation to release Wendy Carlos's groundbreaking original soundtrack to the 1982 Disney feature "TRON".
The original release crammed fifty plus minutes onto a single LP and didn't do justice to the soundtrack, which analogplanet.com editor Michael Fremer (that's me) supervised.
I am now in Los Angeles for the mastering session that will begin tomorrow at Kevin Gray's Cohearent mastering.
With all eyes were on the visuals—the first use in a major motion picture of computer animation—the equally innovative soundtrack never got it's due. It was originally envisioned to be mostly synthesizer with some "sweetening" via small string section overdubs but because of production delays involving the groundbreaking computer animation and backlit film processing, in addition to some other issues that will discussed in the liner notes I will contribute, we were forced to reverse the original plan and produce a soundtrack that was mostly orchestral, with synthesizer overdubs.
The final soundtrack includes the 108 piece London Philharmonic Orchestra, conducted by Douglas Gamley, recorded at The Royal Albert Hall using a BBC remote crew overseen by the late John Mosley, who devised "Quintaphonic Sound" for the "Tommy" movie soundtrack.
Small string ensembles were recorded during the same UK trip at famed Walthamstow Town Hall, the venue where many famous DECCA classical recordings were produced.
Back in America, the UCLA chorus was recorded at Royce Hall, another famous venue and then Wendy Carlos worked her synthesizer magic during a time before polyphonic synthesizers were available. All of these elements had to be synched together and blended and then synched to the final reels of film. It was a monumental effort that Carlos and her producer Annemarie Franklin managed brilliantly.
The score deserves another listen in the analog domain by another generation and that will happen when this soundtrack is reissued.
It will also include the songs Journey contributed that strangely sound more like The Police than Journey, for good reasons. But you'll have to wait for the liner notes to read all about it!
<!- ------------------------------------>