Craft Recordings Launches "Small Batch" Series With One-Step AAA John Coltrane Lush Life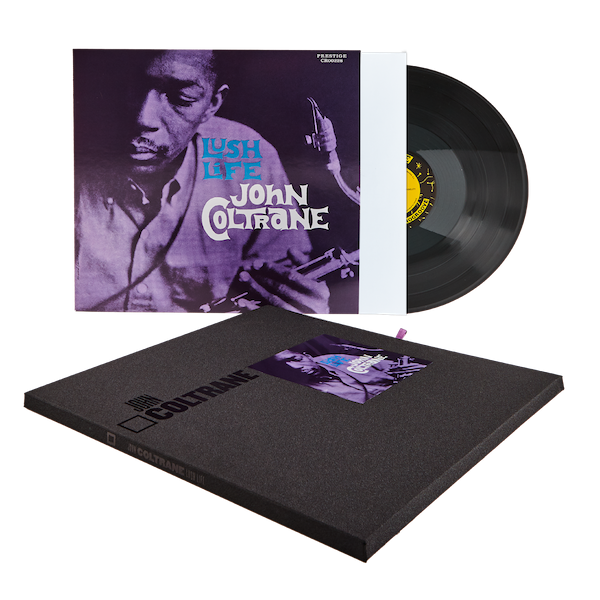 Los Angeles, CA ( January 14,2021)—
Craft Recordings
today announced its first lavishly packaged and produced "Small Batch" series release: John Coltrane's
Lush Life
, an original 1961 Prestige monophonic release recorded by Rudy Van Gelder in his Hackensack, NJ living room studio. The record consists of unissued tracks recorded in three sessions, two in 1957 and one in 1958.
While the release of previously unused material was occasioned by Coltrane's increasing visibility and success recording for other labels, the record is without question a significant milepost in the Coltrane catalog (five stars from Downbeat), especially the title track—an extended version of Billy Strayhorn's magnificent ballad, which Coltrane later recorded with vocals by Johnny Hartman. Coltrane is backed on the track recorded in 1958 by Red Garland, Donald Byrd, Paul Chambers and Louis Hayes.
The earlier sessions featuring just Earl May on bass and Art Taylor on drums (Al Heath guests on the closer, "I Hear a Symphony") provide Coltrane room to fill out and expand his musical balladry on "Like Someone in Love", and the original "Trane's Slo Blues" (a re-working of "Slowtrane").
The production will make even the most cynical take note: Bernie Grundman cut all-analog lacquers using the original master tapes, the lacquers were plated and pressed at RTI using the "one-step" method (one plating, with the resulting "father" used as the stamper). The 180 gram records, limited to 1000 copies, were pressed on Neotech's semi-transparent VR900 compound.
Each pressing will be individual numbered and packaged in a foil-stamped, linen-wrapped slipcase featuring an acrylic inset of the original artwork. Access to the record, packaged in a "tip-on" jacket is via a unique frictionless ribbon pull tab. Also included are new liner notes for each title written by music educators, historians and journalists.
Said Bernie Grundman about mastering these records: . "When it comes to jazz, all you want to do is present the music in a good way. No gimmicks. No extra compression. Just the pure instruments," explains Grundman. "We're taking these old tapes and playing them off of equipment that's similar to what they were recorded on. We want to preserve the sound as much as we can. My goal is to do all of this by hand as it's playing. It takes a lot of preparation. It takes choreographing." In the end, Grundman says, "It's all about trying to optimize the experience for the listener."
Release date is February 19th but pre-orders for the $99.99, limited to 1000 copies, numbered edition are now being taken exclusively on the Craft Records website.
AnalogPlanet will post a full review next week. However, here's a preview: when Donald Byrd enters on the title track, be prepared to lose your @#&%*.
Here's the unboxing video:
<!- ------------------------------------>