Hart Audio Special Source Vinyl Super Cleaner Mk3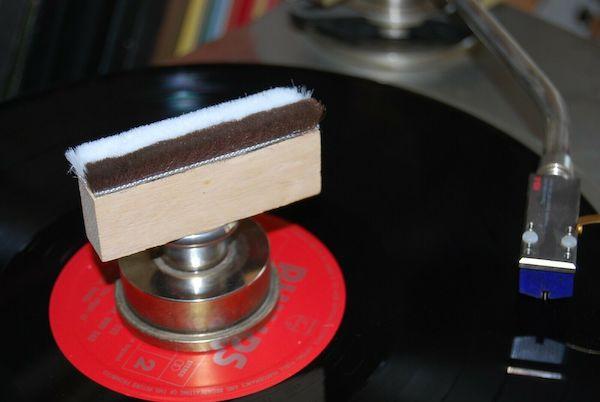 The Hart Audio Special Source Vinyl Super Cleaner Mk3 is a wooden block to which is attached microfiber brush, which is a synthetic fiber finer than one denier or decitex/thread, having a diameter of less than ten micrometers. It's a mix of polyester, polyamide, and polypropylene. The Mk3 has a stiffer, shorter bristle than the older Mk2.
According to the designer: "It is easy to use by simply applying the brush against the groove either manually or against the force of the platter. This collects all the matter in the groove and and leaves it in a little pile on top of the record under the brush"...in the usual dry brush method.
Mr Hart claims "The velvet type has pile that is too short and bends back when cleaning, so pushes debris down into the groove. Not good! The carbon brush type does the same as the velvet but the fibres are too thick to get into the groove and so less than efficient." His brush's small fibers, he claims, are long enough to angle against the groove to dig dirt out and leave it on the top to wipe off easily. He also says the brush is a good stylus cleaner.
There's been a recent semi-explosion in record cleaning brushes, both dry like this one and wet and also a very interesting hand operated "record spinner". Both this dry and the wet and the record spinner are better for a YouTube video than for a written review, so you can see these things in action. That video will be forthcoming.
Meanwhile the Hart Audio brush is available on Ebay UK but if you email directly to davidgowler-hart@hotmail.co.uk and use "Keep Flippin" as the discount code you can get free UK postage and £4 off overseas orders. If you are having trouble with that email address try this one: dgh.hartaudio@gmail.com and remember to add "Keep Flippin". The Ebay UK price is £24.
Stay tuned for the YouTube video, which will be produced and posted ASAP.
<!- ------------------------------------>