The Big Dust Off!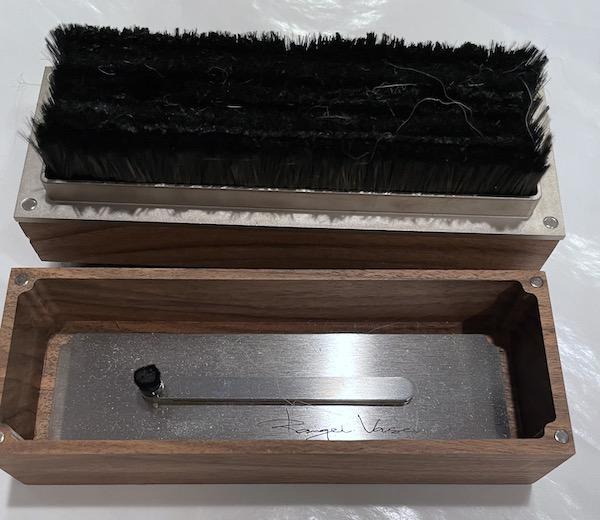 NOTE
:
The AudioQuest carbon fiber brush has written on it in tiny embossed letters "hold gold contacts"—something that was pointed out to me following the test. My apologies. Also: the BLACKAUDIO brush is strictly for wet cleaning and I shouldn't have included it in this "shoot out".
Dry dusting records before play is critical for both stylus and record longevity. New records come out of the jacket dusty because they are pressed in relatively dusty environments and in some cases spend a great deal of time stacked on spindles before being packed.
The embedded video shows you 9 different brushes plus one manual wet cleaning device that takes up very little space and protects the record label while making easy both wiping and drying.
After showing and describing each brush a dusty record produced by dropping it on the carpet gets a double "brush off" and you get to see the results. The brushes were:
1) Audioquest carbon fiber brush $29.95
2) Furutech A SKII (replaced with the SK-111) $159.99
3) Ursa Major $52.00
4) Stasis Corp $29.95
5) Acoustic Sounds "The Big Brush" $36.95 ($52.99 with ground wire)
6) Levin Design $335
7)Hart Audio Special Source Super Cleaner Mk3 $57
8)Black Audio MicroBrush (a wet cleaning device) $39.99
9)Ramar Record Brush By Rangel Vasev $350
10)Spindle Spinner (a wet cleaning aid not a brush) $180

While as you'll see the tests were hardly scientific, it appeared that the Hart Audio and Ramar Record Brush were the two most effective dust removers followed by the Ursa Major and the Furutech, but watch for yourself.
<!- ------------------------------------>