Jim Croce's Benchmark You Don't Mess Around With Jim Album Sees a 50th Anniversary Limited-Edition 180g LP Release on November 25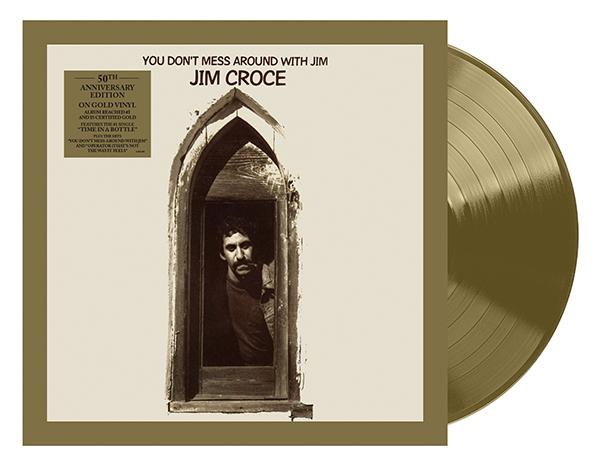 BMG isn't messing around with this one — and neither are we. To wit: The late, great singer/songwriter Jim Croce's benchmark April 1972 album You Don't Mess Around With Jim is getting properly feted with a 50th anniversary 180g 1LP release on November 25.
You Don't Mess Around With Jim, Croce's third studio album, was initially released on ABC Records in the U.S. (and Vertigo in the UK), and this 50th anniversary edition from BMG will also appear on CD and, yes, even cassette, complete with matching alternate gold-bordered cover artwork. The You Don't Mess Around With Jim LP retails for $28.99. (Purchase link below, above the tracklisting.)
You can see the full LP cover above, as well as get a peek at the gold LP inside — and for those tapeheads amongst us, I'm also sharing the cassette artwork below. (Me, I'd never play that tape, though I might consider getting it, if only for the collectability factor.)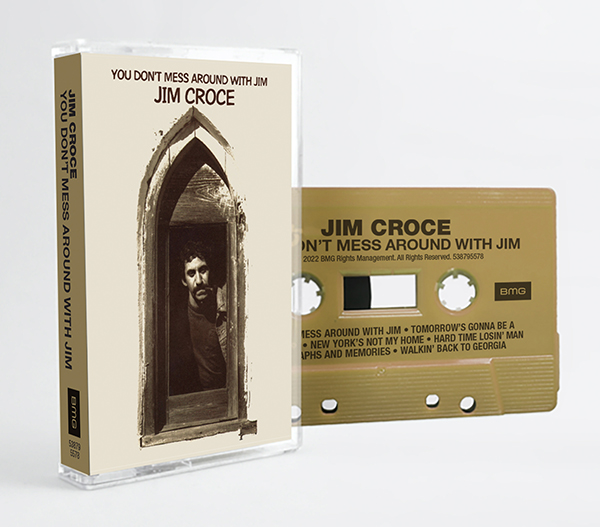 The Jim stats are these — produced by Terry Cashman and Tommy West and featuring intuitive guitar interplay between Croce and Maury Muehleisen, You Don't Mess Around With Jim catapulted Croce into the public consciousness, and spent 93 weeks on the charts. Indelible tracks like "You Don't Mess Around With Jim," "Operator (That's Not The Way It Feels)," "Time In A Bottle," and "Photographs And Memories" have all since become staples of the contemporary folk canon. The album posthumously went to No. 1 on the Billboard 200 album chart, following Croce's untimely passing in an airplane crash in September 1973. The album has since been certified Gold, which signifies 500.000 copies sold — though I bet it's certainly closer to Platinum status (i.e., 1 million copies sold) by now.
I've been told this release will lead into further Croce-related celebrations and releases in 2023, as both BMG and the Croce estate will continue to commemorate 50 years since the artist's untimely passing, along with what would have been his 80th birthday year.
I have also asked the label to confirm the pressing plant, what sources were used, and who cut the lacquers for Jim, and I will update this story as soon as any/all of that information is confirmed. [Update No. 1, 10.12.2022: The Jim LPs are being pressed at Vinyl Tech in Ontario.]
Rather than waiting on those confirmations, however, I wanted to post the release news for Jim tonight, because I think many of us could certainly do with a fresh copy of this historic LP, no? I do happen to have an early 1972 ABC Records pressing that is virtually unplayable at this point — hence, it is actually being maintained in an offsite storage locale rather than residing in my home collection at present. I've heard conflicting reports about the value (or lack thereof) of subsequent ABC pressings as well as the Vertigo, Dunhill, and Lifesong offerings — not to mention the 1976 ABC Command Quad version and the 1982 Mobile Fidelity OMR edition, the latter of which has garnered more praise than not.
Which pressing — or pressings — of Jim do you happen to have, and how good is it / are they? Will you buy this 2022 LP release either way? Chime in with your thoughts and learned opinions in the Comments section below, following the tracklisting data.

JIM CROCE
YOU DON'T MESS AROUND WITH JIM
180g 1LP (BMG)
Side A
1.You Don't Mess Around With Jim
2. Tomorrow's Gonna Be A Brighter Day
3. New York's Not My Home
4. Hard Time Losin' Man
5. Photographs And Memories
6. Walkin' Back To Georgia
Side B
1. Operator (That's Not The Way It Feels)
2. Time In A Bottle
3. Rapid Roy (The Stock Car Boy)
4. Box #10
5. A Long Time Ago
6. Hey Tomorrow
<!- ------------------------------------>