RIAA Confirms LPs Outsold CDs in 2022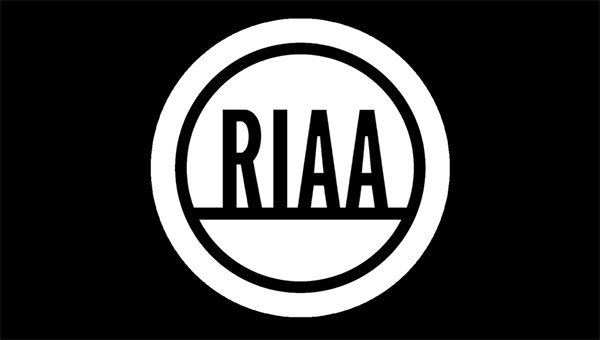 In an official report released today, March 9, the Recording Industry Association of America (RIAA) confirmed what many of us already knew — namely, that LPs outsold CDs in 2022. The RIAA further clarified this is the first time that milestone has occurred since 1987 — as in, it's the first time in 35 years that LPs have returned to the top of the sales charts in the physical format realm.
For those of you into the numerical side of things, here's how it all breaks down. In the report, which is titled "Year-End 2022 RIAA Revenue Statistics," the RIAA notes that revenues from physical music formats continued to grow in 2022 after their "remarkable resurgence in 2021" (in the RIAA's own parlance). Total physical revenues of $1.7 billion were up 4% versus the prior year. Revenues from vinyl records grew 17% to $1.2 billion — the 16th consecutive year of sales growth — and vinyl accounted for 71% of physical format revenues.
For the first time since 1987, vinyl albums outsold CDs in terms of physical units — as in, 41 million LPs sold versus 33 million CDs. (For the record, after a 2021 rebound versus the pandemic-impacted 2020, revenues from CDs fell 18% to $483 million in 2022.)
Of course, 41 million LPs doesn't totally stack up (pun intended) one-to-one with the sheer volume of vinyl that was being sold during our favorite format's heyday — but, hey, we'll take it. Growth is growth, I say.
Looking at the bigger revenue picture overall, recorded music revenues in the U.S. in 2022 continued to grow for the seventh consecutive year. Total revenues grew 6% to a record high $15.9 billion at estimated retail value. In what comes as little-to-no surprise, streaming continued to be the biggest driver of growth, with record levels of engagement in paid subscriptions, continued growth in ad-supported format revenues, and growing contributions from new platforms and services. At wholesale value, those revenues grew 5% and exceeded $10 billion for the first time ever.
So, how many LPs did you personally buy in 2022 to help contribute to last year's vinyl-sales growth margin? Share your own obtainment stats (and I'll share mine) in the Comments section below.
If you want to see more about and/or from the RIAA, go here.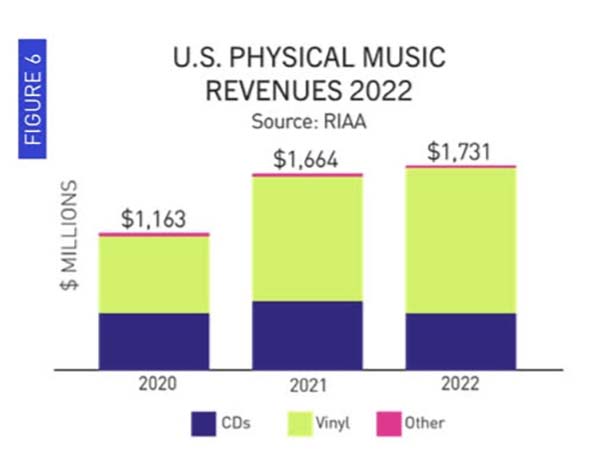 <!- ------------------------------------>