Acoustic Signature's Maximus NEO Turntable Is Max Quiet With a Clean Soundstage and Excellent Dynamics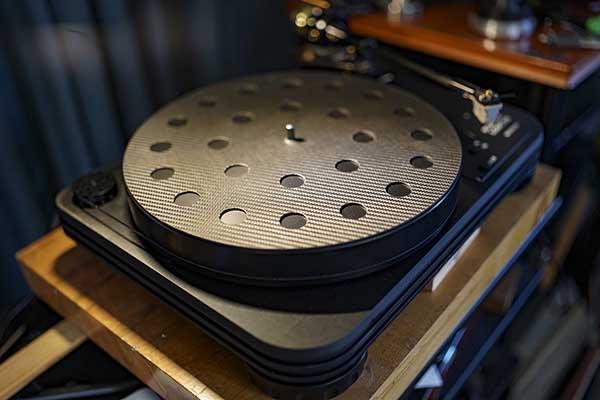 Some turntables can be true objects of art. Indeed, some 'tables can even look downright exotic or even somewhat otherworldly in the photos we see of them — but in person and in practice, they actually look quite beautiful, and work really well. Fact is, regardless of any turntable's looks, bells, and whistles, at the end of the day, it all comes down to solid and experienced engineering, whether it be by adding mass to deaden resonances or adapting the light-as-a-feather frame approach for ultimate PRaT (a.k.a. Pace, Rhythm, and Timing).
Such were my initial impressions of all the NEO series turntables I had seen from the German manufacturer Acoustic Signature. When looking at the photos of their top-of-the-line 'tables here on AnalogPlanet and elsewhere, they can appear as if they'd been designed for emperors with Versailles or intergalactic travel on their mind.
All that said, I wanted to get one of these turntables in hand to see (and hear) for myself, and when I unboxed the subject of this particular review — the Acoustic Signature Maximus NEO turntable — from its form-fitting, custom foam-rubber packaging inside its very solid cardboard box, I was floored by its looks, its performance capability, and its extremely smart and well-considered design. Granted, the name "Maximus NEO" sounds like an unholy alliance of Roman gladiator bloodletting and '80s-era New Wave fashion, but make no mistake — the Maximus NEO is an exceptional turntable.
And well it should be, you might say, for the asking price of the version I reviewed here comes in as follows: the Maximus NEO turntable itself has an SRP of $4,995; the TA-1000 NEO tonearm is $2,495; and the Maximus MCX3 moving coil cartridge is $1,695. (Yes, you can order the Max NEO with less-expensive options, but still.) At close to $9,200 all-in, the Maximus NEO packages punches well above its class.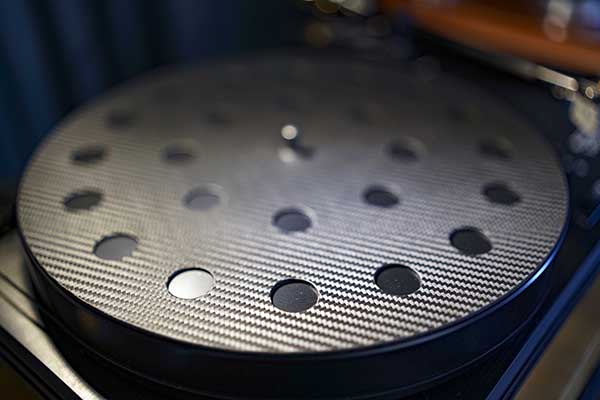 Specs & Features
Handmade in Germany, the Maximus NEO — successor to the manufacturer's still popular Maximus turntable — features an AC motor with external "super-stable multi-voltage power supply" and integrated digital motor controller; Acoustic Signature's AVC (Automatic Vibration Control) technology; an "Ultraprecise, extremely rigid and robust DTD [Dura Turn Diamond] Bearing with diamond-coated spindle"; a resonance-reducing, aluminum alloy chassis; an aluminum platter; gel-damped adjustable feet; and a five-year warranty (with registration).
In short, Acoustic Signature 'tables, from the top-of-the-line $200K Invictus NEO to the lower-tier Maximus NEO, are overbuilt, beautifully designed, feature innovative technology, and are destined for heirloom status. As with most serious hi-fi manufacturers, lower-tier products often benefit from trickle-down technology, and the Maximus NEO gives you a taste of the company's top-tier goods via the mostly aforementioned Dura Turn Diamond Bearing, Automatic Vibration Control, and Constraint Layer Damping feature set.
According to the company's site, "The Dura Turn Diamond Bearing is a super-rigid and virtually 'indestructible' bearing that creates the best possible conditions for absolute high-end sound and sets a new benchmark in terms of maintenance, low noise and service life — backed by a 15-year warranty. The DTD Bearing is manufactured for each turntable in the Acoustic Signature NEO series in an individual version adapted to the respective turntable."
[Update, 01.18.2023 — Acoustic Signature would like to further clarify the above as follows: "In case a customer registers his product with Acoustic Signature on its website, the manufacturer's warranty on turntables will be 15 years on everything, and, on tonearms, 5 years on everything (no misuse, etc.)." Go here for more on the warranty options.]
Additionally, the site describes the AVC Automatic Vibration Control as thus: "Every rotating motor generates vibrations [that are] transmitted to the chassis and platter and have a negative effect on the sonic performance of a turntable. Accordingly, it is important to effectively reduce undesired vibrations or even better prevent them from occurring in the first place — so much for the theory. All AC synchronous motors show production-related tolerances that prevent its internal poles and coils from being positioned one hundred percent correctly. Our AVC technology measures the resulting distortions in real time. Based on those measurements, AVC adjusts the phase shifts to the motor signals — also in real time and fully automatic! These digitally monitored corrective measures ensure a drastic reduction of the vibrations — an extra effective benefit for turntables driven by a multi-motor concept."
Finally, the AS site tells us, "Constraint Layer Damping (CLD) is a mechanical engineering method for the absorption or minimization of vibrations. Our tests led to an optimized material combination consisting of two layers of a special aluminum alloy and an intermediate brass layer. A rigid, yet energy-absorbing chassis based on finite element design principles, and our new CLD approach creates unbeatable units in terms of resonance behavior."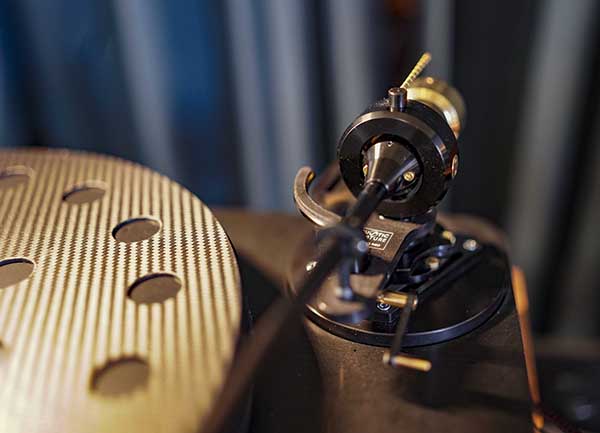 The gimbal-style TA-1000 NEO tonearm comes with high-quality Mogami cabling, features a dual-layer carbon armtube and a low-resonance, rigid tube design using precision miniature ball bearings and a stainless-steel tonearm bearing housing. The tonearm is supplied with an AudioQuest 5-pin copper phono cable (RCA), a brass counterweight, adjustable VTA and azimuth, an anti-skating weight, both Rega- and SME-type mounts, and it comes with a five-year warranty.
Built by Ortofon to Acoustic Signature's specs, the Acoustic Signature MCX3 moving-coil cartridge features a nude fine-line stylus for exceptional detail retrieval, high-purity copper coils, and a CNC-milled and resonance-optimized chassis.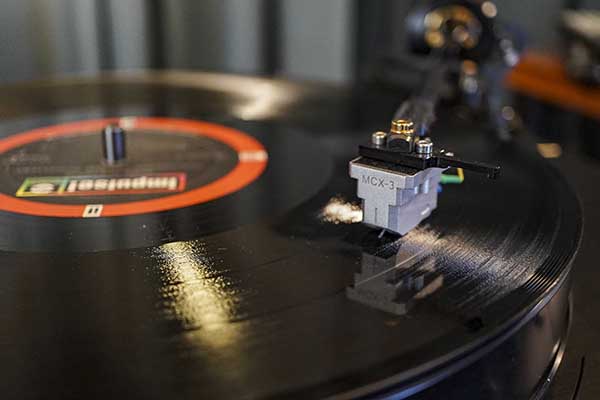 All of this results in one of quietest turntables I've ever heard, making my Thorens TD-124 sound like a truck rumbling over cobblestone streets, in terms of noise. The Max NEO produces exceptionally black backgrounds, a large soundstage, excellent dynamics and detail retrieval, fine tonal shading and instrumental layering, and an overall level of quality that befits its admittedly hefty price tag.
The two-speed, belt-driven Maximus NEO uses an aluminum alloy in its plinth and footers. Aluminum is also used in the turntable's large, 12.8lb platter. The spindle is made of plasma-coated stainless steel to achieve a super-hard surface. The NEO's belt is made of precision-grinded rubber, attached to a drive pulley made of POM-C (copolymer acetal) plastic. The included mat, with evenly spaced holes, is made of carbon fiber and seems partially designed to dampen resonances. It has a textured, linen-type feel.
According to AS sales manager Robert Hagemann, the Maximus NEO turntable was voiced using "different setups in the demo room, electronics from Accuphase, McIntosh, Burmester, Mark Levinson, and VAC, [and the] speakers are from JBL, Dynaudio, B&W, and Wilson Audio."
Not only was this turntable nicely/tightly packaged in form-fitting, PE (polyethylene closed-cell) foam rubber, Acoustic Signature provides helpful YouTube videos on unboxing and setting up the turntable and tonearm (see below). Acoustic Signature makes the process of assembling one of their turntables a satisfying, assuring experience. Needless to say, the manuals were also state of the art, with numbered parts, clear language, and — hold on — illustrations!
Setup
AS includes their own metal alignment tool, but, as always, I used my Feickert Universal protractor. Tracking force of 2.3g was dialed in with a Riverstone Audio gauge. (I've found cheap digital gauges are available, as online ones are prone to error.) The supplied counterweight had to be pushed so far back on the tonearm to achieve the correct tracking force that I inverted the weight, so the internal screws would have something to affix to.
For this review, I connected the Maximus NEO to my Tavish Design Adagio phono stage attached to a Mastersound Compact 845 or PrimaLuna EVO 400 integrated amplifier, with a pair of Shindo interconnects affixing phono stage to amp. The amp powered a pair of either DeVore Fidelity O/96, Volti Audio Razz, or MoFi SourcePoint 10 speakers. Analysis Plus speaker cables completed the sonic loop, as it were. I compared the Maximus NEO with the aforementioned Tavish Design Adagio phono stage ($1,895) combo to my Kuzma Stabi R turntable ($8,879), Kuzma 4Point tonearm ($5,696), and Clearaudio Jubilee Panzerholz cartridge ($6,600) setup through a Pathos In The Groove phono stage ($1,895).
A small button turns on the Max NEO, with choice of 33 or 45rpm playback. Once the button is depressed, it takes a solid 6 seconds to attain the correct speed.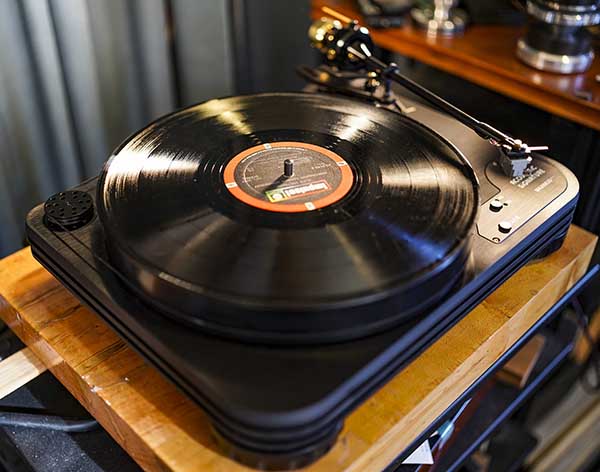 Listening Sessions
What first amazed me about the Max NEO was its dead silence. I currently own two turntables — 1) a Thorens TD 124 with Jelco 350 S tonearm and EMT TSD 15 N MC cart, and 2) the previously mentioned Kuzma Stabi R combo. Both of those 'tables weigh more than the Max NEO. There was an absolute improvement in clarity, soundstaging, and noise reduction playing the Max NEO vs. the Thorens (even though the Thorens has been upgraded with new springs and lowered motor). The difference wasn't subtle. The Kuzma is an entirely different beast requiring two sumo wrestlers to move, and it's as silent as a deep space telescope. Its soundstage is like diving into the Grand Canyon. While the Max NEO is closer in performance to the Thorens, it wiped the floor with the Swiss legacy product regarding noise-free — or, should I say, rumble-free playback, and black-silent soundstage depth. When the noise floor drops, well, it's a whole new ballgame.
While the Max NEO didn't match the Thorens for bolting-out-of-the-gate drive, energy, and power, it did produce a larger, cleaner soundstage with a more balanced frequency range, cleaner bass and highs, and a sweeter overall sound. The EMT, like the Denon DL 103, is a dynamics and texture king, while the AS MCX3 cart is sweeter overall, a mite more laid-back, perhaps more conservative. But it rendered detail, in all styles of music, in more holistic fashion, and was more relaxed.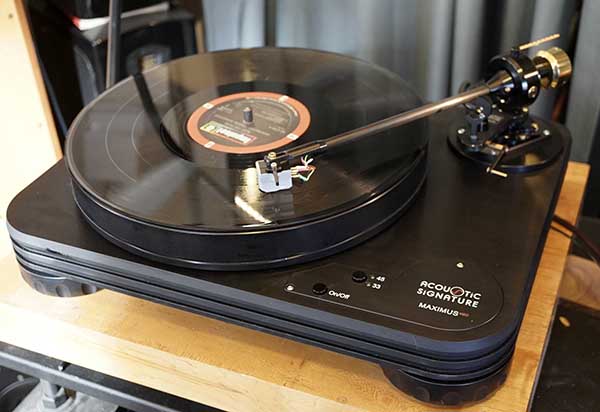 I played three LPs for comparisons and evaluation here: 1) Ben Sidran's The Cat and the Hat (1979; Horizon (3) – SP-741); 2) Charlie Haden's The Golden Number (1977; Horizon (3) – SP-727); and 3) Björk's Utopia (2017; One Little Indian – tplp1381).
Most cognoscenti agree drummer Steve Gadd's greatest solo is on Steely Dan's "Aja." [Myself included!—MM] I would add to that his speedball-driven, mania-inducing, super-slamming and equally dance-like drum solo from Ben Sidran's The Cat and the Hat version of Miles Davis and Victor Feldman's "Seven Steps to Heaven." Featuring a crack studio lineup, the song burns through Afro-Cuban and straight-ahead sections culminating in Gadd's ferocious solo. The Kuzma/Clearaudio/Pathos rig put Gadd in my room, with his Yamaha Custom Recording series drums before me. His snare and bass drum had Iron Mike-like slam and attack, in huge images. Gadd is menacing here, and this rig dropped a bomb on me, the music being immediate, visceral, and powerful.
The Max NEO/Tavish rig couldn't match that slam and attack per se, but it actually bettered the way more expensive rig in terms of 1) tone, which was sweeter; 2) naturalism, which let me relax into the music; and 3) a less dynamic top-end, which was lighter but perhaps more natural, if recessed.
Moving on to Charlie Haden's "Out of Focus," which features double-tracked acoustic bass and trumpet, Haden plays strummed chords over long arco notes and individual string plucking on his bass, which is soon joined by Don Cherry's pocket trumpet. The Kuzma rig made a meaty meal of Charlie with huge, deep-toned rhythms and large images. The Kuzma plays everything with titanic force, Charlie's basswork filling my room with stentorian gravitas.
The Max NEO pulled the same trick as with the Sidran LP, playing the music with less weight but perhaps more natural flow in smaller images that were perhaps clearer, especially in the long arco notes. Trumpet was less scalding and powerful, but a little creamier and lighter on the ear. The Pathos phono stage works well with the Max NEO, adding tube bloom, tone, and flow. (The Tavish is my choice in general over the Pathos, which is why I paired the weaker stage with the more expensive 'table.)
Finally, Björk's "Utopia," from the album of the same name, is a unique combination of Björk's always stirring vocals, orchestral sounds that replicate Amazon rainforest creatures, and an ominous flash of rushing, rustling low notes that intimate a goliath sea creature flying through the netherworld. It's like Stravinsky writing for The Jungle Book, with the Glinda the Good Witch of the North as our guide.
The Kuzma played Björk in my room, turning it into Lincoln Center — or perhaps The Metropolitan Opera — so humungous and convincing. But with its added tube sound, the Max NEO had arguably sweeter tone and inarguably clearer low bass.
The Acoustic Signature Maximus NEO bettered my Thorens TD-124 in terms of dead-silent sound and black backgrounds, but couldn't match its kick-ass dynamo-hum party power. And while it couldn't raise its game to match my Kuzma's awesome power, Atlas-worthy weight, and giant images, the Max NEO acted like David to its Goliath, playing with sweeter tone, more natural flow, and a cleaner, if lighter low-end.
Conclusions
Coming in at the $9,200 turntable ballpark complete with tonearm and cartridge included, the Acoustic Signature Maximus NEO combo as reviewed here goes up against the following: 1) J.Sikora Initial ($9,495 without tonearm or cart); 2) Kuzma Stabi R with one arm wing ($8,845, and no tonearm or cart); 3) Rega Planar 10 ($6,375, sans cartridge); 4) Thorens TD 124 DD ($11,999 w/TP 124 tonearm but no cart); and 5) SME Model 6 ($8,995 with SME M2-9 tonearm).
That's some tall cotton to be measured against, to be sure. But the Acoustic Signature Maximus NEO turntable juts out its chin and demands an audition. It's a well-built machine that's dead-quiet, fast off the mark, super-resolving, and uber-lively. In short, it's a maximally great turntable well worth checking out. Gut gemacht!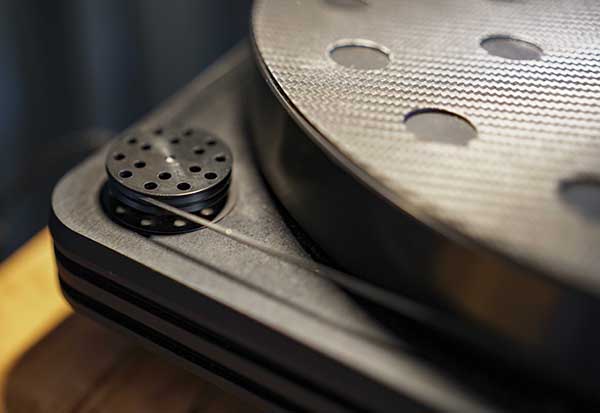 For more information about all the Acoustic Signature NEO series offerings, go here.
If you want to find distributor info, go here — and follow the menu prompts to locate one in your region of the world at large.
Author bio: Former musician, former artist, and former legal wastrel Ken Micallef has written numerous hi-fi equipment reviews for Stereophile and AnalogPlanet, and his byline has also appeared within Mojo, Electronic Musician, and The Grammys. You can also find him at YouTube (Ken Micallef Jazz Vinyl Audiophile).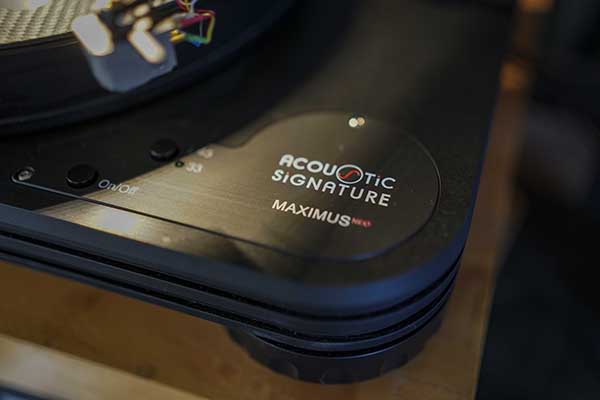 <!- ------------------------------------>