"Rewind The Tape"!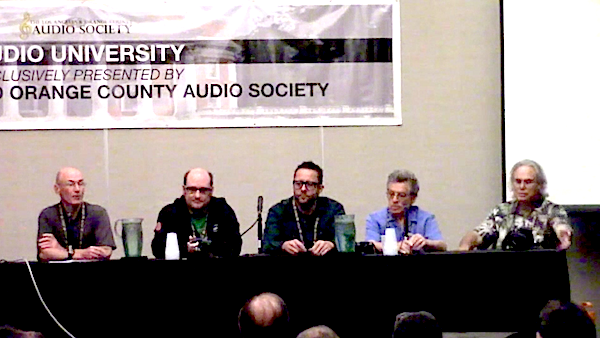 T.H.E. Show Newport kindly sent me the "Meet The Editors" "tape" that was the subject of some contention a few weeks ago.
I invite you to watch the relevant sections of the panel discussion with TAS editor-in-chief, Robert Harley, Positive Feedback's David Robinson, DigitalAudioReview.net's John Darko and Computer Audiophile founder Chris Connaker.
As you'll recall I got into a serious "dust-up" with Mr. Connaker who insisted, as you'll see in the discussion, that I stated on that panel that the vinyl resurgence was "huge".
When I responded that it was he, not I who used the "H" word, he said smugly (the only emotion he displayed throughout) "rewind the tape".
He also proclaimed "I go to the LP and think it sounds terrible". Fine, that's his opinion. It's an uninformed one, of course, because good LP playback does not sound "terrible" by any definition of what sounds good, but that's his opinion.
Less acceptable was where he all but accused me of being a liar. Not pleasant.
After quoting someone at Urban Outfitters who ridiculously claimed the company was the "largest vinyl seller" (Amoeba Records stocks and curates Urban Outfitters' vinyl sections, which I assume is from where the claim comes, but even then I don't believe it to be factual), Connaker proclaims that "…vinyl is just a fad."
He's entitled to that opinion. Time will tell, but when you watch the video, you will see the camaraderie among the participants, regardless of magazine affiliation or preferred format…except for Mr. Connaker.
After watching the video, I have to say, his behavior and attitude on that panel was far more offensive and innapropriate than I'd thought it was when I walked away at the panel's conclusion.
What's more, for a guy who essentially called me a liar, you'll see that the only "fib-rillator" on that panel was Connaker: I never said "vinyl was huge". Only he did in claiming that I did!
"Rewind the tape"? My pleasure!
(Note: most of the hour was taken up with things digital so for these purposes I edited them out. What you will see and hear is everything relevant to the vinyl discussion).
I did not edit out anything vinyl-related or engage in any editing hanky-panky. Speaking of what you will hear, the microphones, exacerbated by audio compression, picked up all of the noise emanating from the other side of the false "wall" behind us, which was the rest of the grand ballroom where all of the "marketplace" action was: software sales and vendors of all kinds of audiophile "stuff" you can see here.
The noise made it difficult for the panelists to hear the questions and you'll have the same problem but it shouldn't prevent you from "enjoying" the video.
<!- ------------------------------------>