100 Recommended All-Analog LP Reissues Worth Owning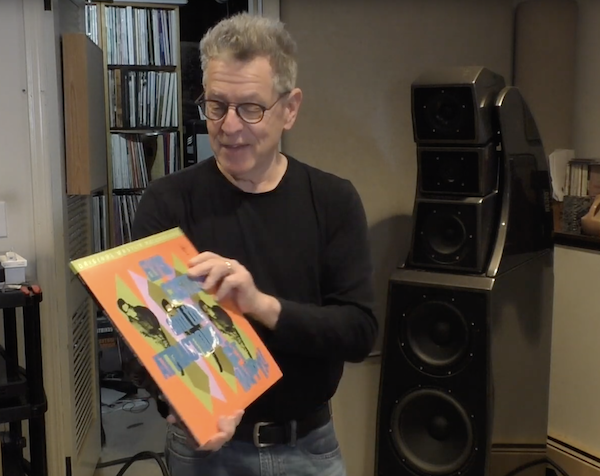 Here's 100 recommended all-analog LP reissues worth owning. The video runs two hours so unless you are masochistic, you might want to watch in shorter segments but covering 100 LPs took time! Plus there are the usual fun stories interspersed throughout. Okay, I got wrong the The Who's "Tommy"'s original issue date (I said November '68, was May '69) otherwise all of the information should be correct. Yes, too many superlatives, but that's video!
Note: A reader informs that the Uncle Meat is not AAA. Sorry. Also while I thought the stereo Axis: Bold As Love UHQR was sold out, it is not. There are still some copies left. Had I know, it would have been on this list. Also, The Nat King Cole Story box is MIA on the video.
1) Ellington Masterpieces (Analogue Productions)
2) Duke Ellington: The Feeling of Jazz (Deluxe ORG Music) )
3) Duke Ellington: Indigos (IMPEX) )
4) The Sound of Jazz (Analogue Productions) )
5) Art Blakey: Night in Tunisia (Music Matters SRX vinyl) )
6) John Coltrane: Blue Train (Music Matters SRX vinyl) )
7) Eric Dolphy: Out To Lunch (Music Matters) )
8) Larry Young: Unity (Music Matters) )
9) Coltrane's Sound (ORG Music) )
10) Sonny Rollins "The Bridge" (ORG Music) )
11) Ornette Coleman "The Shape of Jazz.. (ORG 2 45) )
12) Wynton Kelly: Smokin' At the Half-Note (Analogue P.
13) O. Peterson Trio: We Get Requests (Analog Prod.) )
14) D. Brubeck Quartet: Time Out (Analogue Prod.) )
15) Sonny Rollins: Saxophone Colossus (OJC)
16) Gerry Mulligan and Ben Webster (ORG) )
17) Kind of Blue (Mobile Fidelity) )
18) Miles Davis "Sketches of Spain" (Mobile Fidelity) )
19) Miles Davis "Nefertiti" (Mobile Fidelity) )
20) Miles Davis In A Silent Way (Mobile Fidelity) )
21) LeGrand Jazz (w. M. Davis) (IMPEX) )
22) Gil Evans & Ten (Analogue Productions) )
23) The Individualism of Gil Evans (Speakers Corner) )
24) Charles Lloyd: Forest Flower (Speakers Corner)
25) Desmond/Mulligan: Two of a Mind (ORG)
26) A. Blakey's Jazz Messeng W. Monk (Analog Spark)
27) Paul Desmond: Desmond Blue (Analog Spark) )
28) The Monty Alexander Trio: Montreux Alex. (MPS)
29) John Lewis&Sacha Distel: Afternoon in Paris (Sam) )
30) Chet Baker and his quintet with B. Jaspar (Sam) )
31) The New Standard: Saft, Swallow,Previte (R.Noise) )
32) Jerome Sabbagh: The Turn (Bee Jazz Records) )
33) Yuko Mabuchi Trio Vols. 1&2 (Yarlung) )
34) Armstrong/Fitzgerald: Porgy&Bess (Sp. Corner) )
35) B. Holiday: Songs For Distingué Lovrs (Analog Pro) )
36) Ella Fitz. Sings the C.Porter Songbk (Analog Spark) )
37) Ella Fitzgerald. Ella Swings Lightly (ORG) )
38) Cassandra Wilson: Belly of the Sun (Pure Pleasure) )
39) Cassandra Wilson: Blue Light 'til Dawn (P. Pleas.) )
40) Ray Charles and Betty Carter (Analog Productions) )
41) Johnny Hartmann: Once in Every Life (Analogue P.)
42) Dean Martin: Dream With Dean (Analogue Prod.)
43) Tony Bennett: At Carnegie Hall (Analogue Prod.)
44) Nat King Cole: Love is the Thing (Analogue Prod.)
45) Harry Belafonte at Carnegie Hall (Analogue Prod.)
46) Peggy Lee: Is That All There Is? (Pure Pleasure)
47) Joe Jackson: Night and Day (Intervention)
48) Judee Sill: Judee Sill (Intervention)
49) Gene Clark: White Light (Intervention)
50) Stealers Wheel: Ferguslie Park (Intervention)
51) The Flying Burrito Bros: Gilded Palace (intervention)
52) Jefferson Airplane: Surrealistic Pillow (mono): Mo-Fi)
53) Grateful Dead: American Beauty (Mobile Fidelity)
54) Aretha Franklin: Aretha's Gold (Mobile Fidelity)
55) The B. Boys: Pet Sounds (mono) (Analogue Pro.)
56) The B. Boys: Surfer Girl (stereo) (Analogue Pro.)
57) Elvis Costello: My Aim Is True (Mobile Fidelity)
58) Elvis Costello: Get Happy (Mobile Fidelity)
59) E. Costello: King of America (Mobile Fidelity)
60) The Crickets: The Chirpin Crickets (Analogue Prod.)
61) Buddy Holly: Buddy Holly (Analogue Productions)
62) E. Presley: Stereo '57 Essential Elvis (Analog Prod.)
63) Jimi H.: Live at the Miami Pop Festival (Exp. Hend.)
64) Jimi Hendrix: The Cry of Love (Experience Hendrix)
65) Van Morrison: Astral Weeks (WB)
66) Van Morrison: Moondance (WB)
67) Bob Dylan: Blonde on Blonde (Mobile Fidelity)
68) Neil Young w. Crazy Horse: Everybody Knows (WB)
69) Neil Young: After the Goldrush (WB)
70) Neil Young: Harvest (WB)
71) Carole King: Tapestry (Mo-Fi or ORG Music45)
72) The Band: The Band (Mo-Fi)
73) Love: Forever Changes (Rhino)
74) Joni Mitchell: Blue (WB)
75) Joni Mitchell: Court and Spark (WB)
76) Eric Clapton: I Still Do (Surfdog)
77) The Mothers of Invention: Uncle Meat (Zappa F.)
78) The Moths of Invent: Burnt Weenie Sand. (Zappa)
79) Cat Stevens: Tea for the Tillerman (Analogue Prod.)
80) Gillian Welch: Soul Journey (Acony)
81) Gillian Welch: The Harrow & The Harvest (Acony)
82) Janis Ian: Breaking Silence (Analogue Productions)
83) Peter Paul & Mary: Peter, Paul & Mary (ORG)
84) Shelby Lynne: Just A Little Lovin' (Analog Product.)
85) Dusty Springfield: Dusty in Memph (Analogue Prod.)
86) Phoebe Snow: Phoebe Snow (Analogue Prod.)
87) Samantha Crain: Under Br. &Thorn&Tree (Ramseur)
88) Son House: Father of Folk Blues (Analogue Prod.)
89) Muddy Waters: Folk Singer (Analog Prod.)
90) Ry Cooder/V.M. Bhatt: Meeting By River (Analog P.)
91) Unpopular Music (Various Artists) (Gearbox)
92) OST: TRON (Audio Fidelity)
93) OST: West Side Story (Analog Spark)
94) OST: A Fiddler on the Roof (Analog Spark)
95) D2D: C.Teal Trib. to Ella Fitzgerald (Chas. Dragon)
96) D2D: Syd Lawr. Orch: Big B. Spect.! (Chas. Dragon)
97) BOX: The Kinks The Mono Collection )(Sanct)
98) BOX: Buff. Springfield: What's That Sound (Atlantic)
99) BOX: Jimi Hendrix: Electric Ladyland (Exp. Hendrix)
100) BOX: The Nat King Cole Story (Analog Productions)
<!- ------------------------------------>