Abbingdon Music Research PH-77 Phono Equaliser
Why bother with three phono preamps most of us can't afford? For the same reason the enthusiast automobile magazines cover the newest Ferraris and Lamborghinis: just
reading
about them is fun.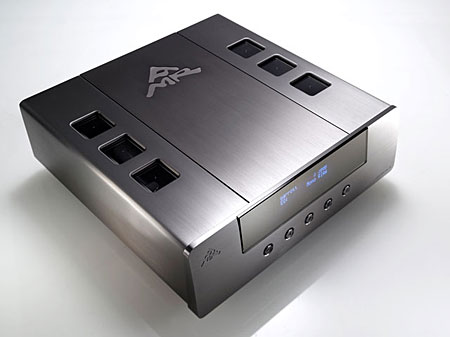 All three of these expensive phono preamps I review this month—the Boulder 1008 ($12,000), Vitus Masterpiece Series MP-P201 ($60,000), and Abbingdon Music Research PH-77 ($11,995)—share certain sonic attributes not found in less costly, less ambitious units: all are free of "electronica" and glaze. Their edge definition of aural images is smoothly and naturally delineated. All three produce music on a grand, effortless scale. All, to varying degrees, are without easily identifiable sonic signatures, while reproducing harmonically and physically identifiable individual instruments into the deepest recesses of the soundstage. And each one let me easily suspend my disbelief and experience reproduced music as if it I were hearing it live.
Compare with any phono preamp costing $1000–$2000 and, good as such models can be, you'll immediately hear the scale of their sonic pictures diminish in all dimensions. Individual instruments will begin to smear together the farther back you listen. Dynamics will diminish at both ends of the scale, harmonic structures will start to unravel, and edges will blur. Your wide-eyed amazement at the pricier players' sound will turn to a disappointed grimace.
Using an excerpt of a sonically spectacular reissue of Donald Johanos and the Dallas Symphony's justly renowned 1967 recording of Rachmaninoff's Symphonic Dances (45rpm LPs, Vox Turnabout/Analogue Productions AP 54145), remastered at 24-bit/88.2kHz by David Hancock, and using Benchmark's ADC 1 A/D converter, I made recordings as played through all three phono preamps, as well as through the Boulder 2008 and a reasonably priced, well-engineered solid-state unit. I used these files for comparisons in my evaluations here, and played them for others without identifying which preamp was which. When the recording of the perfectly fine, relatively inexpensive solid-state phono preamp came up, their faces fell.
While there are some genuine bargains in high-end audio, as there are in wines and automobiles, my mother's old adage still holds: "You pay, you get." With these three, you pay a lot and you get a lot.
Abbingdon Music Research PH-77 Reference Class Phono Equaliser
Beneath the gorgeous chassis of Abbingdon Music Research's tubed PH-77 Reference Class Phono Equaliser ($11,995) is a true dual-mono phono preamplifier with unprecedented, microprocessor-controlled features. Its limitless flexibility includes 21 phono equalization curves in addition to RIAA, eight gain settings, from 30 to 72dB, and 32 loading options each for moving-magnet and moving-coil cartridges—all selectable at the push of a series of touch-sensitive buttons, either on the front panel or on the remote control. The generously sized fluorescent panel announces the setting choices, including cartridge brand.
Cartridge brand? Yes. You can choose from a long list that ranges from the well-known (Lyra, Shelter, Shure, etc.) to the exotic (Allaerts, 47 Labs, SPJ). Also aboard is a 24-bit/96kHz A/D converter, accessible via a USB port on the rear chassis.
The zero-negative-feedback circuit, which operates in pure, single-ended class-A, utilizes a hybrid first gain stage, half of which was adapted from UK designed "Advanced Gamma Tracking Array" (AGATA) preamplifiers, with the second half comprised of NOS Mullard ECC81/12AT7 tubes, in a direct-coupled, zero-feedback configuration. 26 silver-foil coupling caps perform pure passive RC equalization (including RIAA). The second gain stage uses NOS Philips 5687WB tubes both for gain and to produce a low output impedance (<200 ohms). The PH-77 preserves absolute polarity at all gain and equalization settings.
According to an AMR press release, the PH-77's input stage is an adaptation of circuitry of extremely low noise that's used in quantum-particle research. The result is difficult to believe: a claimed level of input noise of –145dBV (0.056µV). The dual-mono power supply includes choke filtering, and tube rectification via a pair of NOS (new old stock) EZ80 tubes.
Curve Ball: The addition of various EQ curves is both useful and fraught with the potential for abuse. Most American companies adopted the RIAA curve in the mid-1950s, and by 1958 and the advent of stereo, almost all other US and European labels had followed suit. But before that, different record labels used various curves of their own.
<!- ------------------------------------>