All My Friends, 4LP Set Celebrating the Voice & Songs of Gregg Allman, Coming From Rounder Records on September 30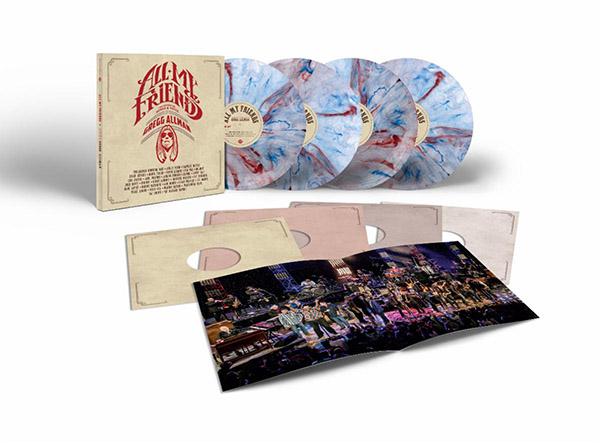 Gregg Allman left his mark on the music world at large as a natural-born blues-hewn vocalist, insightful and revelatory songwriter, and a consummately influential keyboardist. To properly fete him in style, a multi-generational all-star lineup of musicians from the worlds of rock, blues, and country joined together at Atlanta's historic Fox Theatre on January 10, 2014 for
All My Friends
, a once-in-a-lifetime concert event tribute.
Eight years later, All My Friends: Celebrating the Songs & Voice of Gregg Allman will finally be made available on vinyl via a 4LP box set that will be released on September 30, 2022 by Rounder Records. In addition to the standard black vinyl edition, a number of limited-edition color variants will be offered, including the colorfully dubbed American Marble (as seen at the top of this story), Iron & Blood, and Apple Red. These editions can all be pre-ordered directly from the official Gregg Allman Store. If you want to get your hands on the indie record store Gold edition, go here.)
The label confirms with me directly that All My Friends is being pressed at Memphis Record Pressing, and the lacquers were cut by Jeff Powell. The list price for this set is $49.99 — not bad for any 4LP release these days, imo.
To get a taste of the inherent magic of this event, witness how Allman and all the participating musicians gathered together onstage for the show's 8-minute-long finale, a rousing performance of "Will The Circle Be Unbroken," which you can watch and hear below.
All My Friends did indeed see a CD and video release at the end of 2014, but this is its first appearance on vinyl. The event itself was the brainchild of Allman's longtime manager Michael Lehman, and Blackbird Presents founder and CEO Keith Wortman. "Not a day goes by where I don't hear from one of our artists or the fans about how this was the greatest single concert event they ever experienced in their lives," offers Wortman. "I know it was a profound, life-changing experience for me, and so I am humbled to work with Michael and Rounder to make this experience available on vinyl for fans all over the world."
Gregg's son Devon Allman vividly recalls that evening. "The All My Friends tribute show was such a classy event. I remember Dad saying, 'Son, aren't they supposed to have shows like this after you die?' I laughed and said, 'Well. . . maybe so. . . but you get to jam at this one with your friends!' He was so deeply touched that night by the outpouring of love and music in his honor. A highlight of his career, for sure.'"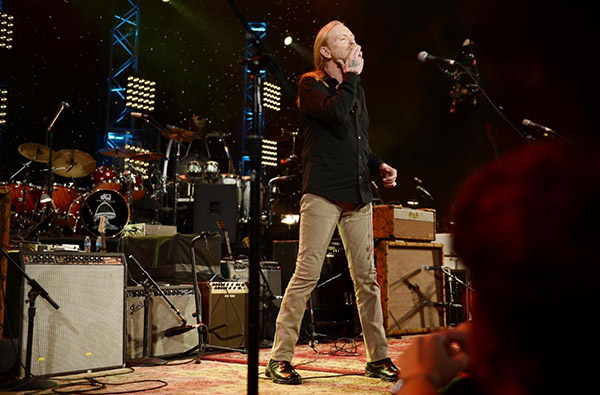 Me, I had the distinct honor of interviewing Gregg a few times over the years, the last time being in February 2015. When I asked him how he felt about the final run of The Allman Brothers Band at the Beacon Theatre in New York City in December 2014, he replied, "I am very proud of how the Allman Brothers closed things out; we did it on our own terms, and we went out on top. I never wanted us to become a parody of ourselves, and I know my brother [Duane Allman, who passed away in 1971] would have approved of how we kept the high standards he set for us, right up until the last note faded at the Beacon."
Naturally, my follow-up Q was about how long he planned on continuing to play live as a solo artist. "I'm gonna be like John Lee Hooker — they are going to have to drag me off the stage, man!" Gregg said with a laugh. "I want to play as long as I can, even though the traveling can be hell at that this point."
Allman did indeed keep plying the planks as long as he could into late October 2016, before he had to pause his touring schedule due to ongoing health issues. He passed away from liver cancer complications in May 2017. Allman would have celebrated his 75th birthday this December, and I'm told a number of events to commemorate the anniversary of his birth will be announced in the coming months, so keep an eye on his site for further details about all that, if you're so inclined.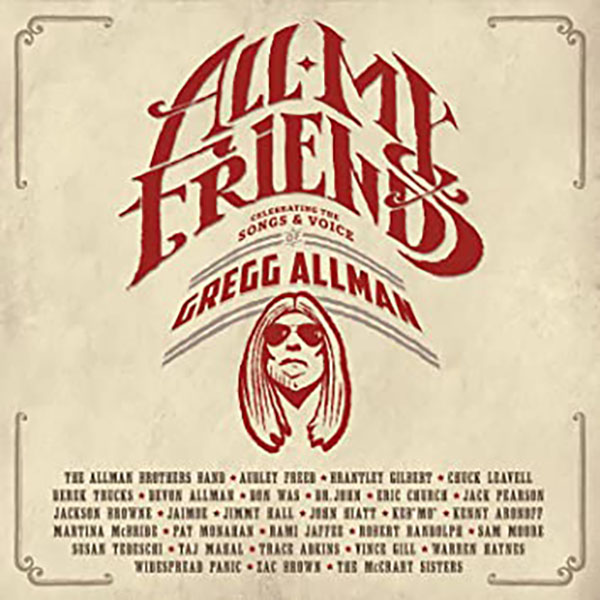 The variety of artists paying tribute to Allman, and the diversity of their interpretations of his songs, attests to the broad appeal of Allman's music, which transcended stylistic and generational boundaries. With musical direction by noted producer/musician Don Was, several of the guest performers were drawn from The Allman Brothers Band's extended musical family including Devon Allman, Warren Haynes, Jaimoe, Chuck Leavell, Jack Pearson, Susan Tedeschi, and Derek Trucks.
The wide swath of performers that night also included Trace Adkins, Zac Brown, Jackson Browne, Eric Church, Dr. John, Brantley Gilbert, Vince Gill, Jimmy Hall, John Hiatt, Martina McBride, Taj Mahal, Pat Monahan, Keb' Mo', Sam Moore, Robert Randolph, and Widespread Panic. (The full breakdown of who-played-on-what appears in the complete All My Friends tracklisting at the end of this story.)
The house band, led by the aforementioned musical director Don Was on bass, included former Allman Brothers Band members Leavell on keyboards and Pearson on guitar, in addition to guitarist Audley Freed (Sheryl Crow), keyboardist Rami Jaffee (Foo Fighters), and drummer Kenny Aronoff.
Incidentally, anyone who pre-orders the vinyl box set directly via Mandolin, one of the music industry's leading digital fan engagement platforms, will receive a complimentary viewing code for the exclusive stream of the concert in its entirety on Mandolin on August 18, in conjunction with Rounder and Blackbird Presents. [Note: The above Mandolin box set/livestream bundle direct link has been updated, as of August 16--MM]
As Allman himself later remarked of All My Friends, "That show was one of the highlights of my life. It was great to see old friends, and everyone was so gracious and really poured their souls into my songs. It was a very special night."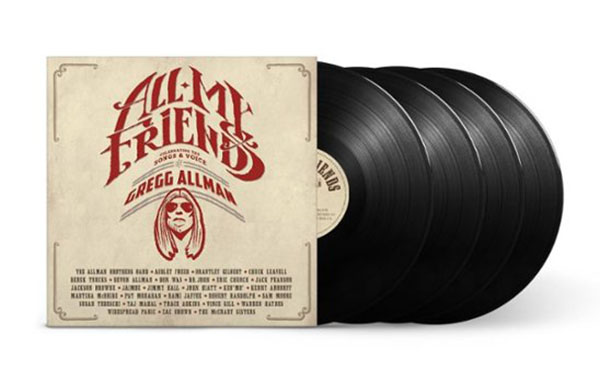 ALL MY FRIENDS:
CELEBRATING THE SONGS & VOICE OF GREGG ALLMAN
4LP (Rounder Records)
Disc 1 - Side A
1. Come And Go Blues - w/ Warren Haynes
2. End Of The Line - w/ Derek Trucks, Warren Haynes
3. Stand Back - w/ Derek Trucks, Susan Tedeschi
Disc 1 - Side B
1. You Can't Lose What You Ain't Never Had - w/ Devon Allman,
Jimmy Hall, Robert Randolph
2. Please Call Home - w/ Sam Moore
3. Just Another Rider - w/ Keb' Mo'
4. Before The Bullets Fly - w/ Brantley Gilbert
Disc 2 - Side A
1. Let This Be A Lesson To Ya - w/ Dr. John
2. Queen Of Hearts - w/ Pat Monahan
3. One Way Out - w/ John Hiatt
4. Statesboro Blues - w/ Gregg Allman, Taj Mahal
Disc 2 - Side B
1. Just Ain't Easy - w/ Widespread Panic
2. Wasted Words - w/ Derek Trucks, Widespread Panic
3. I'm No Angel - w/ Trace Adkins
4. Trouble No More - w/ Trace Adkins
Disc 3 - Side A
1. Multi-Colored Lady - w/ Vince Gill
2. All My Friends - w/ Martina McBride
3. Can You Fool - w/ Martina McBride, Pat Monahan
Disc 3 - Side B
1. Ain't Wastin' Time No More - w/ Eric Church
2. Win, Lose Or Draw - w/ Eric Church
3. These Days - w/ Gregg Allman, Jackson Browne
4. Melissa - w/ Gregg Allman, Jackson Browne
Disc 4 - Side A
1. Midnight Rider - w/ Gregg Allman, Vince Gill, Zac Brown
2. Dreams - w/ The Allman Brothers Band
Disc 4 - Side B
1. Whipping Post - w/ The Allman Brothers Band
2. Will The Circle Be Unbroken - w/ Brantley Gilbert, Derek Trucks, Devon Allman, Dr. John, Eric Church, Gregg Allman, Jackson Browne, Jimmy Hall, John Hiatt, Keb' Mo', Martina McBride, Pat Monahan, Robert Randolph, Sam Moore, Susan Tedeschi, Taj Mahal, The Allman Brothers Band, Trace Adkins, Vince Gill, Warren Haynes, Widespread Panic, Zac Brown
<!- ------------------------------------>