AnalogPlanet Visits CH Precision in the Heart of Swiss Watch Making Country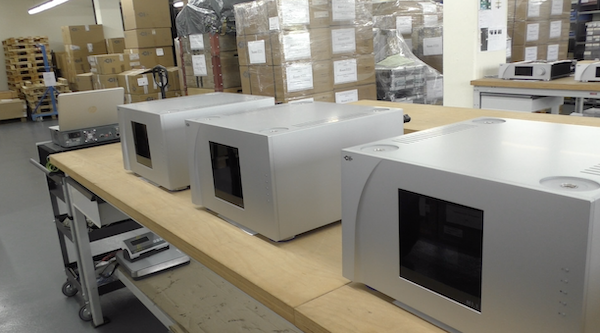 Following "Making Vinyl Berlin" and a week before "High End Munich 2019" AnalogPlanet editor Michael Fremer visited high performance Switzerland-based electronics manufacturer CH Precision (among others). This is the first posted video from that trip.
Founded by Florian Cossy and Thierry Heeb (hence the company name—although, coincidentally, CH also stands for Confoederatio Helvetica, the Latin abbreviation for Swiss Confederation), CH Precision is a relatively young company, though the founders have a long history in high-performance audio beginning in the 1990s with their work for Goldmund. The two left that company to form OEM Anagram Technologies, which quickly established a fine reputation for its DACs, among other products. In 2009, with the encouragement of a group of distributors, the partners founded CH Precision.
This video gives you a detailed look at how the efficiently operated company manages to produce more than a dozen highly regarded, well-engineered products with what some companies would consider a "skeletal staff". While final assembly is "in-house", CH sub-contracts with local businesses to produce circuit boards and the high quality chassis and enclosures, which are manufactured by companies also involved in the luxury swiss watch industry, particularly (as you will see), Savimec, the machine shop owned and run by Mike Cassanelli, who you will see in the video.
You will also come away better appreciating why CH Precision's products cost a great deal of money. As with exotic cars (and of course watches), this is a level of engineering, design and construction detail and luxury that's beyond the means (and perhaps interest) of many. Life isn't fair. At least it's free to watch how it's done. Also, please visit the Stereophile website where AnalogPlanet editor and Stereophile senior contributing editor Michael Fremer's recent CH Precision M 1.1 amplifier review was recently published on Stereophile's website.
<!- ------------------------------------>