Analogplanet's Best Reissues of the Decade!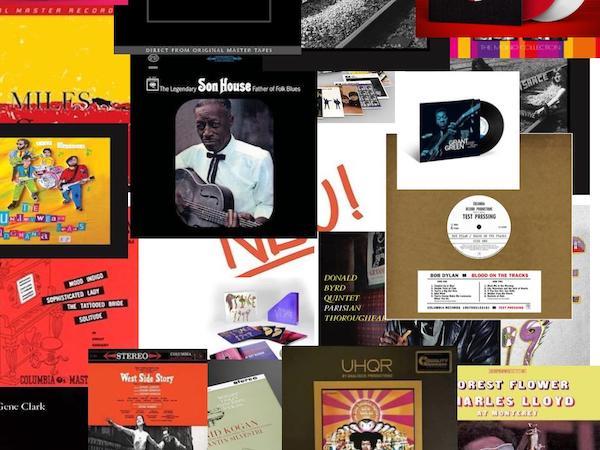 Here are our choices for the best reissues of the past decade. They include individual LPs, box sets and ongoing series. We decided to omit from the list re-mixes such as
Abbey Road
, because they are not strictly "reissues" as well as "newly found" older recordings such as John Coltrane's
Blue World
. Obviously, over the long decade—and one where vinyl again became
the
reissue format of choice—there were far too many worthwhile records than we could manageably list—Analogue Productions and Mobile Fidelity alone produced dozens of list-worthy reissues. Here are the ones we decided were most important and most worthy of your attention. Please contribute yours in the comments!
The Beatles In Mono (Apple/UMe box set)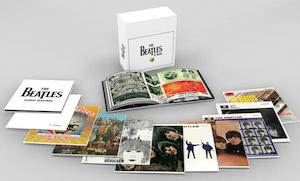 This all analog mono box was almost cut using the mono CDs, but Apple thought better of it and instead sourced directly first gen tapes. These records sound closer to the original tapes than any other mono versions, especially the original pressings where the bottom end had to be attenuated so they'd play on the kiddie phonographs of that time. Some top end "tubey" pleasantries lost, but overall, easily the decade's most significant reissue (unless you hate The Beatles), presented in mono, as said to be preferred by The Beatles themselves. (OOP).-Michael Fremer
David Bowie - Live Nassau Coliseum '76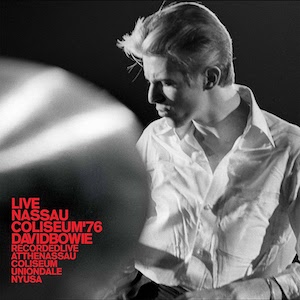 While there are seemingly endless reissues of David Bowie (Space Oddity), Ziggy Stardust, and Aladdin Sane, Bowie's 1976 masterpiece Station To Station wasn't touched until 2010, when EMI issued an extensive box set with a new album remaster, producer Harry Maslin's remix, the 1985 RCA CD mastering, single edits, and most fascinating of all, a March 23, 1976 live performance at Long Island's Nassau Coliseum. (Parlophone repressed the latter as part of the Who Can I Be Now? 1974-1976 box set and as a standalone double LP.) Bowie, at the time in the midst of a near-fatal cocaine dependency, was elusive, unpredictable, and often erratic, but the performances on this 2LP set are tight, energetic, and as entertaining as can be. Backed by a stellar band consisting of guitarists Carlos Alomar and Stacey Heydon, keyboardist Tony Kaye, bassist George Murray, and drummer Dennis Davis, Bowie works his way through live favorites including "Suffragette City" "Panic In Detroit," "Rebel Rebel," and "The Jean Genie," along with four Station To Station songs and an excellent cover of "Waiting For The Man." Not only was the Isolar tour musically great, but it also artistically strayed from the norm; instead of being greeted with an elaborate stage set a la 1974's Diamond Dogs/Philly Dogs tour, the audience sat down before Bowie's performance for a screening of Salvador Dali's art film Un Chien Andalou. The sound - captured on the Record Plant Mobile, mixed by Maslin, and cut at Abbey Road Studios - isn't that of an "audiophile" recording in the traditional sense but it accurately captures the show's vibe; you can feel the excitement as Bowie prepares to sing a few minutes into "Station To Station"'s intro. Live Nassau Coliseum '76 is the definitive document of Bowie at this time; a genius nearly completely insane, with barely the control to act normal enough for a 90 minute show. - Malachi Lui
Axis: Bold As Love (Analogue Productions UHQR box mono & stereo)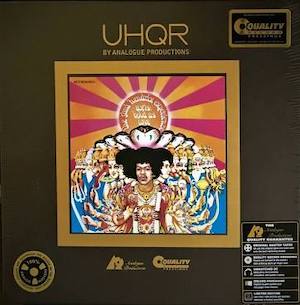 This AAA reissue of Hendrix's most psychedelic and solid songfest in either mono or stereo cut by Bernie Grundman from the original tapes sounds better than every other version to which it was compared including U.K. original Track and other reissues. The closest was original Reprise "Tri-color Steamboat" label but this UHQR 200g "flat profile" reissue was still notably superior sounding and the RCA Soria series-like slip-case packaging is first-rate.-Michael Fremer
Big Star - Complete Third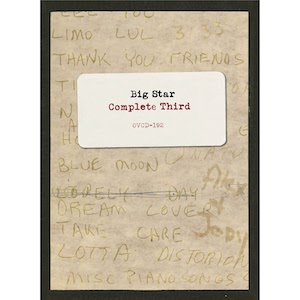 No matter their aspirations and efforts, Big Star unfortunately never reached commercial success. Maybe that's historically for the better; their lean discography left an indelible mark on indie rock and to this day sounds relevant. Still, this lack of a visible, immediate breakthrough mentally crippled Big Star's remaining songwriter (and therefore, creative leader) Alex Chilton, who during Third's creation spiraled into a deep depression. Recorded in 1974 but until 1978 not released in any form, Third (also known as Sister Lovers) is a downbeat album about self-hopelessness and romance (Chilton's girlfriend of the time, Lesa Aldridge, is the subject and collaborator of many Third songs) often recorded after excessive drink- and drug-fueled nights. The album, which never had a confirmed tracklist or even an intention for release, found itself available in a slew of variations throughout the years, but Omnivore Recordings' 2016 box set is by far the best. Thanks to Omnivore's Cheryl Pawelski and the team at Memphis' Ardent Studios, this 6LP, triple-volume set (also in a 3CD digipak) rounds up every last demo, session take, rough mix, and final master known to exist. Paired with insightful liner notes from those involved with Big Star and Third as well as musicians influenced by it, this is by far the best-produced Third set imaginable. The sound albeit not the absolute best, is decent, and while Rainbo's pressing is merely passable, don't let that deter you from buying this near-essential box set. - Malachi Lui
Mobile Fidelity Ultradisc One-Step Series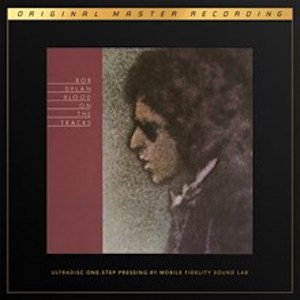 These double 45rpm single-step AAA boxed set pressings are as good as vinyl records get. If they don't sound good on your system, it's your system (with the exception of Bridge Over Troubled Water, which was cut from a "tired" tape, though it sounds as good as that tape can today sound). You may question some of the musical choices, but there's no doubt about the superior sound quality. Though most are listed as "sold out", some remain for sale in stores.-Michael Fremer
The White Stripes - Third Man album reissues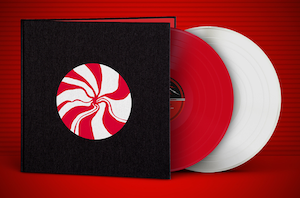 Shortly after Third Man Records' 2009 launch, Jack White and co. reissued the White Stripes' studio catalog as high-quality, affordable LPs with reasonable price tags ($21 for single LPs, $27-30 for double albums), great all-analog sound, and tip-on jackets with properly reproduced artwork. Even the usually mediocre United Record Pressing did a mostly good manufacturing job, and while I haven't done a direct comparison between any of the TMR presses and older Sympathy For The Record Industry, V2, or XL pressings, the TMR's absolutely obliterate their digital counterparts. Occasionally, TMR's Vault record subscription releases stunning expanded editions/counterparts to the core albums (specifically, the Icky Thump X box with demos and b-sides, and The White Stripes XX set with previously unreleased studio session and live material). Even without those accompaniments, for introducing younger audiences to vinyl these reissues are the template. - Malachi Lui
Blue Note "Tone Poet" Series and Music Matters Jazz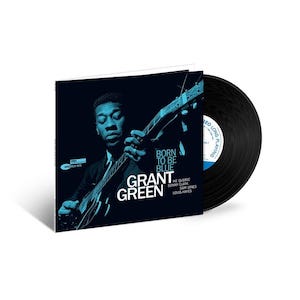 Music Matters set the standard for Blue Note reissues some years ago and the label still does. However, these moderately priced "Tone Poet" Blue Notes (and associated labels now in the Blue Note stable) curated by Joe Harley and cut from the original analog tapes by Kevin Gray, pressed at RTI and packaged in gatefold "tip on" Stoughton press jackets are as wildly popular as they are great sounding and they exist in great part due to the Music Matters jazz series with which Joe Harley is or was also involved. RVG was forced to cut the deep bass (and compensate by "bumping up" around 90 Hz) and dynamically compress what was on the tape so the originals would play on the budget turntables original BN purchasers mostly had. No need any more to do that and the solid bottom and wide dynamics on the tape are now on the vinyl. Added bonus: the new metal parts will outlast the tapes so future generations can enjoy these albums in mostly AAA sound (a few deserving titles are sourced from original digital recordings). -Michael Fremer
Neu! - Neu!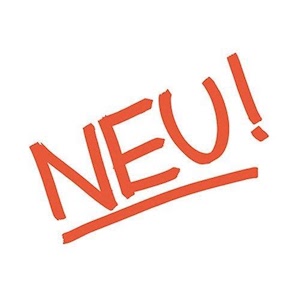 Often regarded as one of krautrock's defining albums, Neu!'s 1971 self-titled debut became hard to find until Gronland reissued it in 2010, bringing it, for $23, to every good new record store in the world. While I haven't heard any other pressings, this one sounds great; while obviously sourced from hi-res digital, with clarity it highlights every propulsive motorik rhythm and dynamic shift. Further, Optimal's standard weight white vinyl pressing is dead quiet, leaving the many quiet passages uninterrupted. For anyone who appreciates art rock's evolution over the past 50 years, Neu! is essential in any form, and this pressing in particular (save for the grainy inner gatefold scan) doesn't disappoint. - Malachi Lui
The Electric Recording Company Reissues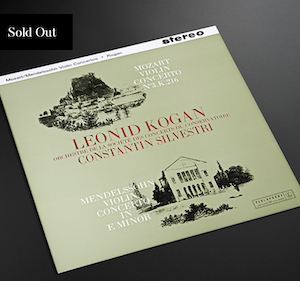 Costly, limited edition reissues cut using original master tapes, featuring "old school" typeset printed "fold-over" laminated jackets and all tube cutting using restored Lyrec T818 tape console, Lyrec SV8 lathe-Ortofon all tube cutting amplifiers (separate ones for mono and stereo) and mono and stereo cutter heads represents the vinyl world's most serious attempt at reissue authenticity. The label began with reissues of in-demand classical titles featuring legendary artists like Leonid Kogan and Johanna Martzy, original pressings of which still go for many thousands of dollars. ERC has now expanded to jazz and blues titles from the Prestige and Riverside catalog among others. While most titles immediately sell out a few are still in print including the sublime Elgar's Cello Concerto with Jacqueline Du Pre and Sir John Barbirolli conducting the LSO. ERC jackets feature paper stock similar if not identical to the original and the printing is done old school "hot lead" style.-Michael Fremer
Stereolab - 2019 reissue campaign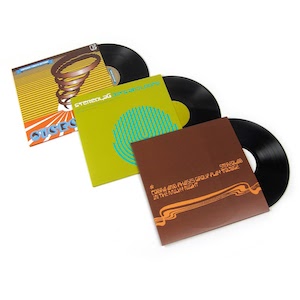 Dissatisfied with the 1972 label's CD-sourced reissues of their Elektra catalog, 90s avant-pop band Stereolab finally regained the rights to their music and properly reissued it. Indeed, it was worth the wait. While the master tapes are deteriorating, these digitally restored reissues nonetheless sound as great as they probably can given that these aren't necessarily hi-fi recordings, and the bonus content (mostly demo and alternate mixes) gives listeners insight into the albums' creative processes. Compared to the 1972 pressings, these new ones sound like actual music rather than thick sludge. The packaging for each set, while not faithful to the originals' layouts, consists of a capacity gatefold to hold the three LPs as well as a double-sided 24"x24" poster with the album cover on one side and lyrics, notes, and credits on the other. Optimal's pressing of the LPs, whether on black or clear vinyl, as expected is dead quiet. As $30 3LP sets, these offer stunning value, good sound, carefully curated bonus discs, and thankfully makes the Stereolab catalog available on high quality vinyl once again. - Malachi Lui
SAM Records Reissues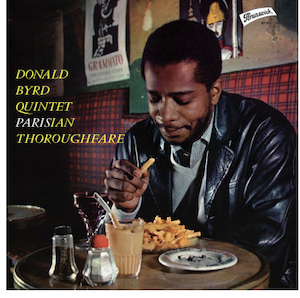 French mono jazz titles from the '50's featuring mostly American artists (John Lewis, Clark Terry, Donald Byrd, Chet Baker, etc.) either traveling through or "self-exiled" in Europe at an even more difficult time in American race relations. All-analog production using original master tapes, with high quality laminated "fold over" jackets using original cover and label art, and each containing a high-quality photographic print of the artist generated from original negatives. Well pressed and presented and the mono sound is up there with the best. Available in America through Acoustic Sounds.-Michael Fremer.
Captain Beefheart & His Magic Band - Trout Mask Replica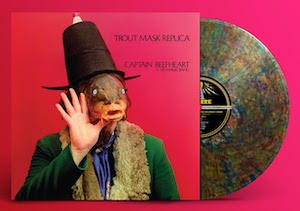 Upon its release, Captain Beefheart & His Magic Band's Trout Mask Replica immediately took on a life of its own. Its odd blend of blues, rock, free jazz, and purely avant-garde ideas make it sound more like a work of visual art than a conventional collection of musical songs, and makes you wonder if an album this strange can even be performed. In spite of the cult-like sessions, Trout Mask Replica really is a masterpiece for the ages; Beefheart's compositions on a piano he couldn't play truly question the boundaries of music, and each song warps your mind. This Third Man reissue is done 100% correctly: cut by Chris Bellman from hi-res digital files (the original master is unusable and the safeties from which much of this is sourced are incomplete), plated at Pallas, pressed at Third Man Pressing, housed in a Stoughton tip-on gatefold faithful to the original, and all for the price of $25. Currently, this reissue is backordered due to high demand, but you can likely expect a repress fairly soon.
Mobile Fidelity Miles Davis Columbia Records Reissues
Mo-Fi's Miles reissues keep coming. Porgy and Bess another atmospheric Miles-Gil Evans collaboration dropped early 2020. While all of these Miles albums are musically significant and many are sonically excellent on both original pressings and on these reissues, the biggest sonic surprise was how much better the reissued quintet (Shorter, Hancock, Carter, Williams) recordings sound compared to the originals. Whatever happened in the original mastering has been vastly improved on Nefertiti, Miles in the Sky and Filles De Kilimanjaro. If you have originals and think, you're covered, you're not! Get these while you can. -Michael Fremer.

SPONSORED VIDEO
<!- ------------------------------------>