Beatles In MONO Event at Electric Lady Studios Monday, Sept. 8th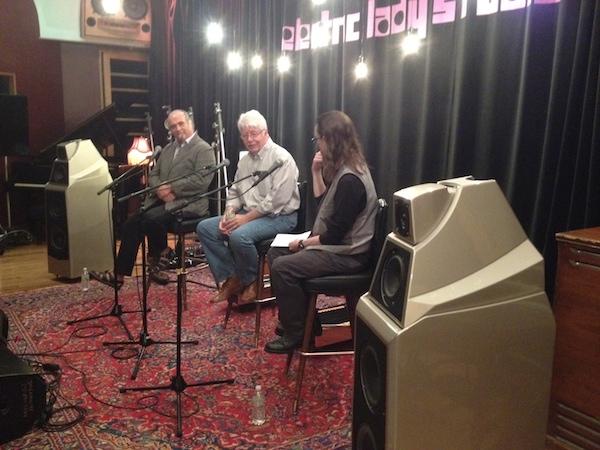 Last night's Beatles in MONO listening session at Electric Lady Studios played to an overflow crowd of fans, young and old, male and female. The event and the one Wednesday night September 10th at the Grammy Museum in Los Angeles, both sponsored by UMe feature Beatles engineer Ken Scott (center in photo), reissue mastering supervisor Steve Berkowitz (left) in a panel discussion moderated by Sound & Vision music editor Mike Mettler (right).
Mr. Scott had invited me a few weeks ago but otherwise I had no knowledge of the event until I was contacted last Thursday by someone at UMe asking if I could help with a sound system.
On very short notice I made some calls and within an hour had it all arranged on both coasts thanks to the willingness to get involved of: New York Audio retailer Innovative Audio, Los Angeles retailer The Audio Salon and Wilson Audio Specialties.
I volunteered to install an Ortofon Cadenza mono and Ortofon USA overnighted to Los Angeles a higher priced mono cartridge. UMe asked if I could bring my box to the event (which I thought, for a record company was a rather comical request but under the circumstances I understood) so I shlepped it in last night. I was also asked if I might be capable of doing the "needle drops" to which I replied, "it's my job".
When I arrived in the afternoon the Innovative team had the system up and running while they did the final speaker voicing before spiking them. The system consisted of a Spiral Groove SG2 turntable, a Lamm LP2 phono preamp, D'Agostino Audio Momentum preamp and amplifiers, Wilson Alexia speakers and all Transparent Audio cables (custom calibrated Transparent REFERENCE XL analog interconnects as well as Transparent PowerIsolator REFERENCE power conditioners for source and preamp components, and a PowersIsolator MM for the power amps. The power cables throughout were a combination of REFERENCE PowerLink and PowerLink MM). This was a six figure system, the kind I was sure most attendees had never before heard. The entire set-up including the three chairs, the microphones and the system looked great in the room. The seats had yet to arrive.
Once Innovative's Scott Haggart had finished his set-up I installed the Cadenza after which I went into the green room to discuss things with Michael, Ken and Steve. They were happy to have me play DJ especially given he time crunch and that at the June press event Steve had to attend to the record playing and talk about the production, which was both awkward and a time-waster.
What songs to play? After some discussion the set list was finalized:
"I Saw Her Standing There"
"Boys"
"I Should Have Known Better"
"Help"
"Yesterday"
"I Feel Fine"
"Taxman"
"A Day in the Life"
"Within You Without You"
"I Am the Walrus"
"Glass Onion"
"Revolution" (crunchy single version)
And "All You Need Is Love" to be played while the crowd exits
The crowd filed in (the photo shows only part of the audience) and after a short video featuring mastering engineer Sean Magee, we filed in, the three sat down and I took my place by the turntable. After everyone was introduced I let everyone know to what they were listening and explained that other than the cartridge it was all American-made. Then, after some back and forth by the panelists I played the first tune. It and every one of them was met with applause at the end of the intensity you usually hear at a live performance. It was amazing!
The stories that were sandwiched in between were great and the crowd loved all of it (I hope to get the audio recording and post as soon as possible). Following the final song came a Q&A and comments that were all extremely positive and enthusiastic, the gist of many being "I've never heard these songs sound like that. I heard things I never heard before and I never heard them sound so great".
After a question from the audience a last second decision was made to substitute for "All You Need is Love" Lennon's wailing "When I Get Home" from side 2 of A Hard Day's Night
While it was a great system, it wasn't meant to be played in a large, absorbent room filled with absorbent people, so it got pushed hard and I've heard the components involved sound better but it still sounded great and the receptionist at the desk by the door later told me that the people leaving had the excitement and energy level you usually see and feel after a live concert. I wasn't surprised.
Thanks again to Innovative's Elliot Fishkin and (in advance) The Audio Salon's Maier Shadi, who I'm sure will be setting up an equally great system at the Grammy Museum. Spiral Groove designer Allen Perkins is driving down for the turntable set-up.
I will get to experience it live because last night's event went so well that I was invited to play DJ at the the Grammy Museum event in Los Angeles. So if you're going, I will see you there!
<!- ------------------------------------>