The Beatles "1+" Packs Visual, Sonic and Emotional Punch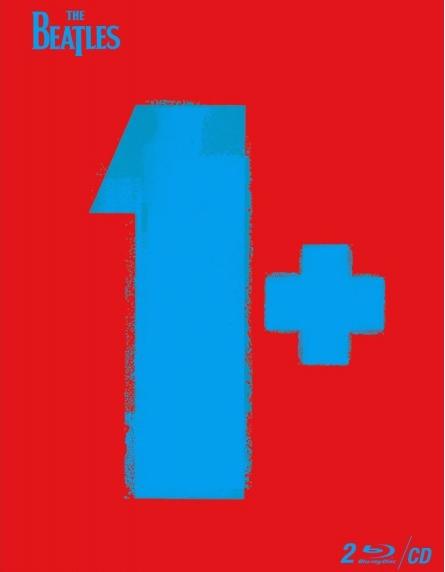 It's easy to forget in today's image and video drenched world how little we got to see during the 1960s of The Beatles and other rock groups.
Most of what we did see were black and white photos or black and white television. It seemed that The Beatles were black and white! Shooting "A Hard Day's Night" in black and white was a good idea for more than a few reasons, but perhaps one was to avoid shocks to our black and white image of The Beatles.
I remember seeing them in color for the first time in Life Magazine and it was jarring! Same when watching "Help!" for the first time. Seeing them in color almost ruined the pleasure of loving them from a comfortable distance, separated by the color divide.
Pre-teens probably got to see more Beatles images than did high schoolers and college kids who didn't read the fan magazines. Mostly, we had album covers and occasional newspaper sightings, plus of course the memorable Ed Sullivan show appearances that have already been released in various DVD boxed sets.
This double Blu-ray video, single CD set, packaged in book form, reprises on one Blu-ray and one CD the twenty seven number one songs found on the original 1 CD and double vinyl set issued in 2000 (yes, it's been that long), plus on the second Blu-ray disc there are an additional twenty songs (three of which are presented twice for a total of twenty three).
The biggest difference, of course, is that this time, all forty seven are accompanied by videos, many of which you've never before seen, I don't care how big a Beatles fan you are (though excerpts of some of this material was probably on the "Anthology" laserdisc and DVD sets but I can't remember).
Another difference is that all of the music has been freshly restored, remixed and remastered by a team headed by Giles Martin, who, having produced the "Love" mixes knows his way around the tapes.
The videos and films, some of which are now more than fifty years old, have been restored as well. During the recent Apple Corp event I reported on here, we were shown split screen images of the before and after video restoration and played "A/B" audio comparing the previous digital remastering (that most of us were not so keen about) versus the new ones, and both produced visual and audible improvements.
Sometimes when "product" like this appears, it can reek of exploitation and seem to be a cynical attempt to squeeze the final drops from a long ago dried up revenue stream. Of course with The Beatles, it seems the spigot will always be open and flowing as new generations discover the musical magic these four guys produced so long ago and over such a short time span.
Just keeping the music in print in whatever formats of the day people desire would seem to be enough, so it's understandable that some might wonder if we need yet another Beatles package. For Beatles fans, the answer, after spending an evening binge-watching the two Blu-ray discs and later reading the well-produced hard covered book that houses the discs, is clearly "yes", we do need to see what we've mostly only heard.
Assembling videos for the early number one singles was no easy task as early television performances of "Love Me Do" for example, have been lost. In August of 1963 The Beatles performed it on a BBC-TV documentary and that provided the footage that produced most but not all of the video, since not all of the performance was broadcast. Careful editing and additional footage filled in what was not broadcast to produce the finished video under which went the original UK single music bed (the one with Ringo, not Alan White on drums).
Other TV appearances in the UK, Sweden and France, in which The Beatles lip-synched, provided the footage for other early songs. But soon after these early television appearances, the pioneering group began recording promotional videos for their upcoming single releases and there you get to see that from the minute the cameras were pointed at them, how inventive, spontaneous irreverent and entertaining they were.
Some liberties had to be taken to produce visuals for some songs. For instance, you get to see them perform at Shea Stadium, though with most of the footage being a montage of incidental Shea Stadium material behind which is "Eight Days a Week"—a song they did not perform at that scream-fest.
Rather than go through the videos, because if you're reading this you surely will get the box and watch them yourself, just a few observations: at first John doesn't appear particularly comfortable on stage or with a camera fixated on him: he doesn't know where to look or how to look. Instead, he stares uncomfortably into space while Paul, the consummate ham, and even George seem relaxed and camera-relatable. A few videos in, John quickly gets better, much better, mugging and making funny faces to the camera. Paul, however, remains the camera-magnet. You just want to look at him.
On the day after Christmas, 1965 Paul had a Moped accident resulting in a chipped front tooth and split lip. Incredibly, he didn't cap it before videos were shot for "Paperback Writer" and Rain". Paul looks on those two video obviously banged up. On later ones behind dark colored sunglasses they all appear to be somewhat or very stoned. But always they are having fun and always so will you watching their antics, subtle and large.
One of the set's highlight is on the +1 Blu-ray. The "Hey Bulldog" video is one of the only chances you get to see them live at Abbey Road recording a song as it appears on record. Another is the film shot for the orchestral recording for "A Day in the Life". Perhaps you've seen some or all of that in one place or another but what a scene! Keith Richards, Donovan and others parading around. The classical musicians all dressed in tuxedos and adorned with cartoonish sized nose masks and fake bald heads. Of particular interest: a promotional video for the "Love" album that combines "Within You, Without You" and "Tomorrow Never Knows". Also here are videos for the posthumously released "Free As a Bird" and "Real Love", based on Lennon cassette demos. Ringo and Paul provide commentary for many of the videos.
As for the audio, Giles Martin and his team have done an outstanding job of improving many of the stereo mixes without harming the original intent. Where possible they've centered the vocals and corrected mix mistakes. A/D conversion has come a long way since 2000. I think you will be impressed—especially by the work done on the later, better recorded tracks like George Harrison's "Something" and "The Long and Winding Road". The vocal clarity and transparency, even on the CD, is mesmerizing. There are 5.1 channel surround mixes in Dolby Digital and non-lossy DTS-HD, but I preferred the familiar mono and stereo (re) mixes.
The book annotation has been superbly produced, with each song getting a two page spread with recording dates, locations, producer and engineering credits, release dates and chart information plus a picture and backgrounder annotation.
This is a classy package visually, sonically and physically, one intended to be repeatedly poured over and enjoyed. Tears of joy and of sadness flowed (you do get over George Harrison's death by disease, sad as it was, but you just never get over John Lennon's death by assassination), there were laughs, a sense of amazement, appreciation, L-O-V-E and especially gratitude that all of this happened, and for Baby Boomers, just at the right time. Following my binge-watch I drew one overwhelming and somewhat surprising (to me) conclusion: without Ringo Starr, none of this would have happened as it did. He was/is an absolutely incredible drummer.
<!- ------------------------------------>