The Beatles Singles Collection Cut Mostly From Original Singles Tapes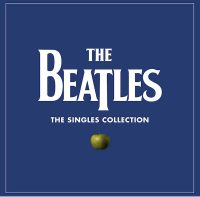 I have been assured by co-producer Guy Hayden that this 45rpm box was cut directly from TAPE and that whatever transfers were done (hence the credit) was done as they were for the AAA mono album box, to use as a reference before actual cutting in order to preserve the tapes. There are 3 unspecified singles not cut from tape due to degradation, and of course "Real Love/ Free As a Bird" because those were always digital and on Umatic 1610. Guy is 100% correct that the implication that these were not cut from tape is unfair to Apple, The Beatles and Sean Magee. The other 20 singles I was assured were cut from the original analog cutting masters from the archives, the same tape used for the original UK singles. Hayden claims every effort was made to ensure that they sound as close to their original UK singles as possible, comparing each with an original UK first edition pressing.
I of course stand by my sonic impressions. It's what I heard, but I do owe Sean an apology if I mischaracterized what he said, which I assumed was "on the record", but it's an assumption I should have first cleared with him. It's always my intention of evaluating sonics based upon careful listening and with no "agenda" for or against anyone or any company. I went back and listened again, and I stick with what I wrote. but I also think there's been an overreaction by some readers. I did not charge these were cut from digital. I wrote that's what they sound like for whatever reason or reasons.
<!- ------------------------------------>