"Beside Bowie-The Mick Ronson Story" Is a Flawed But Essential Documentary For Every Bowie and Mick Ronson Fan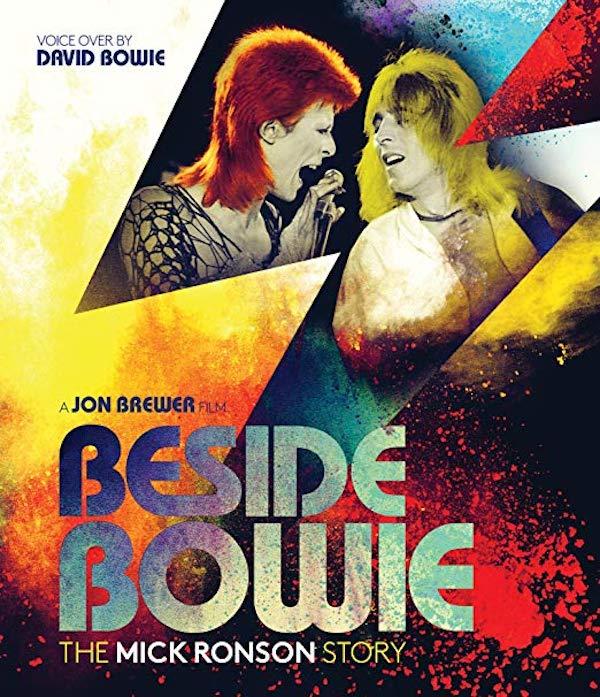 Filmmaker Jon Brewer's Mick Ronson documentary tells the truly sad story of the wholly under-apprecriated guitarist/arranger Mick Ronson, who is of course best known (if he's known at all) for his work with David Bowie. That being the case, Brewer spends a great deal of time (too much time) at the beginning of the 101 minute film on the rise of David Bowie before getting to the fall of Mick Ronson, better known to his friends as "Ronno".
Brewer seems afraid that his film would not find an audience if he didn't push the Bowie connection, including the cover credit "Voice over by DAVID BOWIE", which grossly overstates Bowie's narrative contribution.
Nonetheless, the film does a good job covering Bowie's early years, his casting about to find his musical identity, his dress-wearing sexual identity swapping, which, according to first wife, American-born Angie, featured onscreen then and now, was more exploitative play-acting than genuine and his connecting up with Tony Visconti who was instrumental (literally) in helping Bowie to fashion his sound.
Visconti, on camera, in an interview that appears to have been filmed some time ago, bemoans noisy recording tape, which you'll no doubt find amusing, while discussing early recording efforts. The movie moves on to Ronson's early musical years (he was born in Hull, England, 1946). Ronson was classically trained and played piano, violin and other instruments. Like Visconti, he also could read music. He got the "rock bug" in the early '60s and began playing local clubs as a member of various groups before setting off for London in 1965.
After kicking around London for a few years and making little headway and less money, he returned to Hull and became a municipal groundskeeper. One of his band mates in a group called The Rats returned to Hull to try to convince the contented gardener to travel back to London to become a member of David Bowie's backup band. Though hesitant after his previous experiences, Ronson made the trip and the rest, as they say, is a history in desperate need of telling, which this film manages pretty well so I'm not going to further synopsize it.
It's clear that Ronson was a masterful guitarist with a unique sound that's in part created by a partly open "Wah Wah" pedal that he matter of factly demonstrates on camera and that by the time Bowie's semi-breakthrough album Hunky Dory was recorded, he'd learned from Visconti the art of arranging and had become a brilliant one.
Rick Wakeman, who plays piano on that Ken Scott-David Bowie produced classic, says in his on-screen interview that Ronson, not Bowie, was the real co-producer and that his string arrangements on tracks like "Life on Mars" were, as all listeners know, nothing short of brilliant. While "Michael Ronson" receives arranging credit, it's kind of buried. Unfortunately, Brewer did not get the usually accessible Ken Scott's input on all of this.
Ronson contributes mightily to the breakthrough album Ziggy Stardust... and again, though he gets arranging credits, he apparently doesn't get paid for that work. Angie narrates much of what went on during this period when the group first toured America by bus building an audience and spending more money than it took in. Despite his critical contributions to the record and the live performances, Ronson was basically paid a stipend by MainMain Management run by Tony DeFries, who comes across in this film as one of the villains both because he reputedly made more money from Bowie than Bowie himself earned, and because once Bowie moved on from Ronson, DeFries pushed Ronson, almost against his will, to become a "front man". Ronson could easily have built a successful arranger/producer career. The under-appreciated album Slaughter on 10th Avenue (RCA APL 1-0353) featured a cover shot of Ronson playing a part, but it could very well also sum up his true feelings being pushed to the front when he was really a great side man.
Meanwhile Ronson's contributions to Lou Reed's breakthrough album Transformer were also undervalued. There are crucial interviews with Mott the Hoople's Ian Hunter. Ronson joined his group for a while, later playing with Bob Dylan's band.
The movie skips over the second Ziggy tour, which was not by bus but rather by airplane. That's the segment on which I was on the plane, covering the legendary Carnegie Hall concert, Detroit (where I sat next to Iggy Pop) and Chicago. It's also where I got to meet Mick Ronson, easily the most friendly, approachable, unassuming and charming rock star you could ever hope to meet.
So yes, DeFries comes across as a villain in this story and as is often the case with super-talents, Bowie comes across looking like a user, sad to say.
Speaking of airplanes, I watched this on the flight back from Amsterdam so I can't get into the technical aspects of the film or the sound, though I did listen on my Jerry Harvey Layla in-ear phones, which are amazing. My conclusion is that while this is a somewhat flawed presentation, it's one every Mick Ronson fan should see as should every Bowie fan. In fact, It's indispensable. When it was over, having "met" onscreen, Ronson's wife and family I was left beyond sad by how this super-talented man, who was never a money-grubber, left this planet too young, under-appeciated and with little money to leave his family.
<!- ------------------------------------>