Roy Orbison "Black&WhiteNight 30" Blu-ray Has it All (And More)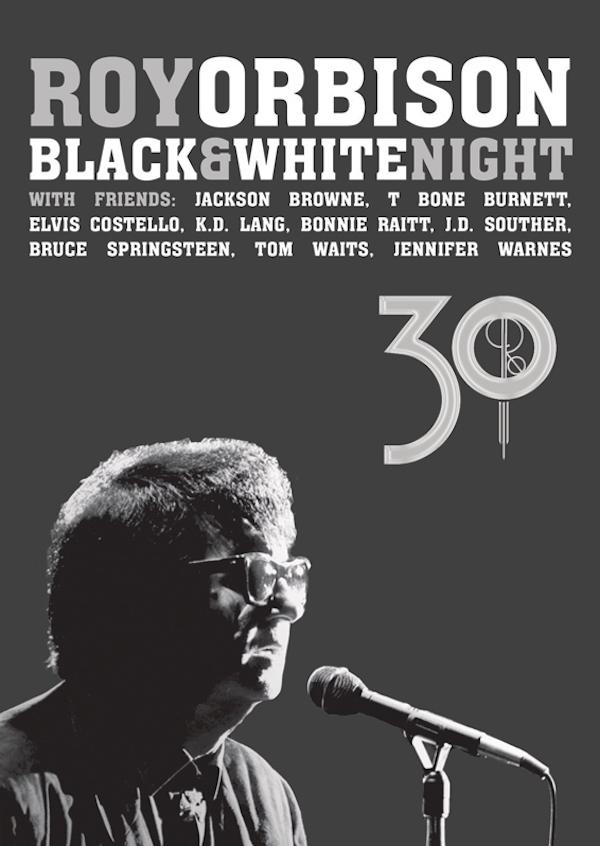 Thirty years after the stars came out in an unprecedented outpouring of love and respect to back Roy Orbison at L.A.'s Cocoanut Grove Ballroom, fans can finally see it
all
and hear it as never before in the original running order in which it was performed.
To create this superbly produced and presented set, Roy's son Roy, Jr. along with brothers Alex and Wesley went to the time and expense of re-transferring all of the available and re-transferred HD footage from the seven camera shoot (six on the stage, one on the audience).
The notes point out that the majority of the footage here has never before been seen—and that's just of the original concert. In addition, there's footage of the post-"official concert" concert, which occurred after the over-the-limit audience had been ushered out by nervous fire marshals. The band and Roy returned to the stage for another go-round of "(All I Can Do is) Dream You", "The Comedians", "Candy Man", "Claudette", and "Uptown". An alternative version of "Oh, Pretty Woman" recorded during the "official" concert has been inserted into the official concert running order (along with the previously used one).
But wait! There's more! There's also bonus rehearsal and interview footage and a photo gallery with Jackson, T Bone, Elvis, k.d., Bonnie, Bruce, Tom, Jennifer, J.D. and Steven (Soles).
What's more, it's all been remixed in both stereo and 5.1 versions and damn if that "perfect" digital hasn't been made more so yet again. In fact, this version's sound is astonishingly free of all of what you hate about "digital". It's rich, full and warm, especially Roy's voice, which will have loyal Roy fans reaching for Kleenex. All or most of the artificial reverb added to the original has been stripped away leaving among the most palpable and honestly textured of all recorded Roy—I got to hear that "live" once (once in a life-time experience), standing directly in front of the stage between Roy and the P.A. system at a not particularly well-attended special June, 1988 C.E.S. Chicago show at The Drake Hotel.
The original Blu-ray's ham-handed mix, which placed the background singers bright, hard and too loud in the surround speakers, has been replaced with a far more subtle and sophisticated mix. It might be fair to criticize it for being somewhat too soft and too Roy-centric at the expense of the band, but I'll take it! The video transfer as well is superb.
Now for the first time you can watch this love-fest unfold as it happened instead of being chopped up to create a false (but entertaining) narrative. It's actually more exciting seen this way, and more astonishing as well in so many ways: thirty years, everyone looks so young because they were.
In addition there's a remastered CD from the stereo re-mix also presented in the original running order and it too sounds really good, though in some ways I prefer the original stereo mix found on the LP (minus the annoying added reverb that Roy did not at all need!). IMO the background singers panned hard right are up in level too high.They are better tucked into the mix on the original. Otherwise, in most ways the new mix is warmer, smoother, more natural and less edgy and "digital" circa 1989 (when the LP was released). The clapping on the records sounds like rain on a tin roof. On the CD it sounds like clapping. But most importantly, Roy's voice both on the CD and on the video soundtrack sounds gossamer-like.
I never tire of watching all of these greats paying tribute to Roy Orbison and doing it all out of love and respect. That pours from the screen regardless of which version you watch and for those of us who never lost sight of Roy in the '70s and early '80s, this concert and of course The Traveling Wilburys was justice well-served! Highly recommended of course! Thanks Roy's Boys!
Sony/Legacy 88985404832 Blu-ray and CD+digital download of the bonus "secret post show" audio.
<!- ------------------------------------>